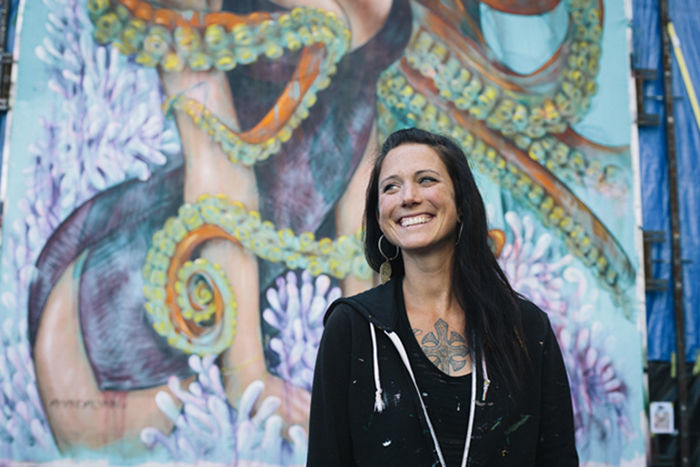 In conjunction with Arts in April, Flora Springs Winery & Vineyards will celebrate contemporary artists with demonstrations, installations and performances that showcase the artists at work, paired with wine flights featuring the winery's artist series labels.
Throughout the month, Flora Springs — The Room will feature artwork from metal artists Taped Metal Canvas and Snapped With Love Photography. In addition, the winery has invited visual artists working in spray paint, chalk, metal, paint to present live demonstrations, which will be accompanied by live music and Flora Springs and Jon Nathaniel Wines featuring popular artistic labels.
All events take place at Flora Springs-The Room, 677 South St. Helena Highway, St. Helena. The events are free of charge and open to the public.
Featured artists and musicians will be working with breaks between 2 and 4 p.m.
Sarah Reddish, chalk art — Founder of Arrow Art Studio in Napa Valley, Reddish specializes in calligraphy and letterwork. She often works in materials such as chalkboards, plexiglass, mirrors, butcher paper, and leather. arrowartstudio.com.
Rebecca Mimiaga is an indie rock vocalist known for her strong, intimate voice, piano songs, and orchestral arrangements.
Amandalynn, muralist — Inspired by the female form and spirit, Amandalynn depicts strong, seductive women and illustrates their strength through line work and decorative patterning. Visit alynnpaint.com for more details.
Brett Crawford, large-scale paintings — Painter, metal sculptor, printmaker, illustrator and street artist are a few of the titles the California native holds. His preferred medium for large works is spray paint, but he is versatile and not limited to one material. Visit startvault.com for details.
Katie Colver is a singer-songwriter and guitar player. Her voice is earthy and powerful, and her music is most influenced by folk and rock music of the 1970s.
Dominic Fontana, tape artist — Tape and metal artist Fontana uses various methods and materials to carve, weave, and layer colorful metallic tape. He transforms each piece into a balanced, symmetrical, and often abstract piece of artwork. Visit tapedmetalcanvas.com for details.
Lauren Hulbert is a folk-rock singer-songwriter with a sultry, warm voice and a wide variety of raw and authentic songs.