People think they know who Julia Child was. Ask anyone. They will tell you she was the tall American chef, author and television personality who brought French cuisine to the American public with her debut cookbook "Mastering the Art of French Cooking" and with "The French Chef" TV series. That's her image — but there is more.
What has been unknown about the celebrity chef until recently is that she had a sizzling relationship with the man she loved, her husband Paul Child, a sophisticated world traveler, artist and photographer.
Although the Childs had no children, two people who were like the couple's grandchildren, have provided a warm and intimate look into their life together.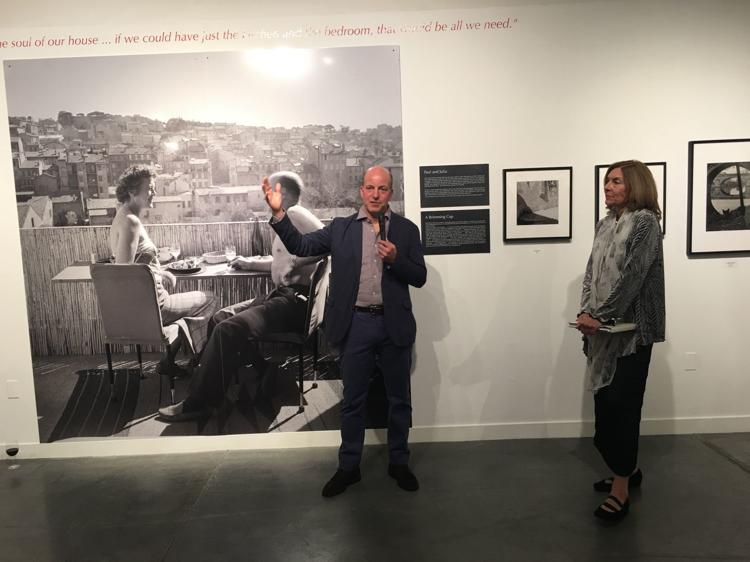 Alex Prud' homme and Katie Pratt have written "France is a Feast," a book with photographs taken by Paul Child. These photos document how his wife discovers French cooking and the French way of life between 1948 and 1954.
Inspired by the book, the world premiere of "France is a Feast – The Photographic Journey of Paul and Julia Child," curated by Katie Pratt, is now on exhibit at Napa Valley Museum Yountville through May 20.
This interactive exhibit, complete with audio, showcases rarely seen black and white photographs taken by Paul Child, rare objects and intimate pictures of Julia Child taken long before she became a celebrity cookbook author.
Clustered around a gigantic photo of the couple, several women visiting the exhibit sighed wistfully.
"Did you see what Paul wrote to Julia?" one asked.
"Yes," the other giggled. "Did you see what Julia wrote? I think this sums up their love."
"For us the kitchen is the soul of our house… If we could just have the kitchen and the bedroom, that would be all we need," Julia Child wrote long ago.
"You are the butter to my bread, you are the breath to my life," Paul Child had written to his wife.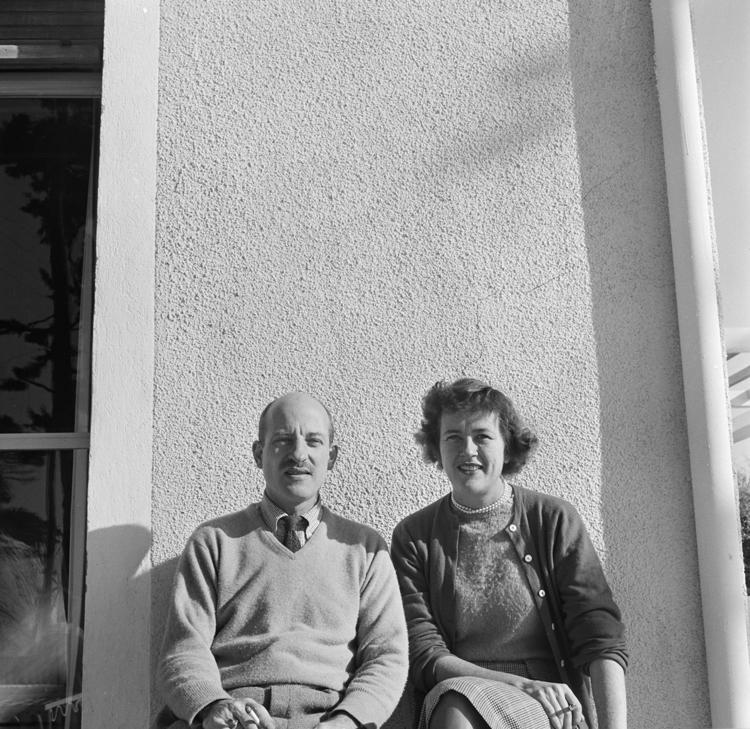 Not only did the romantic couple look forward to celebrating Valentine's Day together, they also liked to send playful Valentine messages to their friends.
"Paul and Julia, somehow, didn't get around to sending Christmas cards, but they sent Valentine cards to their friends. Paul designed the cards," said Alex Prud'homme, during a telephone interview this week.
Prud'homme is a great nephew of Paul Child's and the co-author of several books about the Child's life together.
At the center of the book "My Life in France by Julia Child with Alex Prud'homme, there are two full pages of the Valentine cards the couple sent to their friends.
"My father was Paul Child's twin brother, so Julia Child was my great aunt by marriage. Paul and Julia had no children of their own," Prud'homme said. "We were lucky enough to be treated like children or grandchildren."
Prud'homme said that his aunt's "getting into television was almost accidental." She was invited to talk about her cookbook on a local channel.
"On the set, she said 'I don't want to tell them how to cook. I want to show them.' So, she demonstrated making an omelet," he said. "After the show aired, all 23 people watching called in to say they wanted that book."
From then on, she was in demand as a television cooking personality.
As a very young child, Prud'homme would watch his great-aunt on black and white television and then "she would appear" in his home or hers. He admitted that it was at first confusing for him to reconcile the "two Julias."
"Eventually, I came to know the difference in the Julia on television and the real Julia," he said, laughing. "Actually, there really wasn't that much difference. In real life, she was very much the way she was on television."
Learn about the history, process, and artistry involved in creating chocolate at the Napa Valley Museum is opening a new exhibit "The Art of Chocolate," running from Feb. 10 through April 1.
Prud'homme has many rich memories of time spent with the Childs.
"At restaurants we'd always be put in the center of the dining room. Julia would go into the kitchen and talk to all the help. She'd already know something about the chef," Prud'homme recalled. "She'd ask all the kitchen help about their lives. She really cared."
"If you went to a dinner party at Paul and Julia's you never know who you'd sit next to," he continued. "On one side it might be a famous chef, on your other side, it could be the woman Julia met at the gas station that morning."
Prud'homme said that if he had to single out what left the greatest impression on him, it would be "Julia's curiosity and genuine interest in others" throughout her life that influenced him most.
There was a zest to being around the couple. They "loved life, they loved France and French food and they loved each other."
"Paul and Julia had a dining room but seldom used it. The kitchen was the center of their universe. Eating there was a participatory experience," Prud'homme said. "Everyone was given a task and put on an apron."
Prud'homme's co-author concurs. Like him, Katie Pratt grew up enjoying a close relationship with the Childs who were good friends with her parents, Patricia and Herbert Pratt. They were introduced to the Childs by Herbert Pratt's twin brother, Davis Pratt, when the Childs moved to Cambridge, Massachusetts in 1961.
"It was always fun to go Julia and Paul's. Most any visit would take place in the kitchen," said Katie Pratt. "We would all be involved in something, either washing lettuce, chopping vegetables, stirring the pot, or setting the table, selecting a wine with Paul from his wine cellar, or helping him make one of his delicious cocktails."
"We were treated as family and equals in creating a tasty meal with lots of laughter, lively conversation and full bellies," Pratt said. "Clearing the table and washing up was also a group effort. It was always participatory."
With Julia Child constantly developing and testing recipes, her friends, including the Pratt family, were often "guinea pigs."
"I remember the French bread days when my mother was testing Julia's recipe at our house," Pratt said. "Lots of baking sessions."
Pratt remembers going to the TV studio to watch and do homework as her mother "helped Julia" with the cooking show.
Pratt learned a great deal about, food, wine and art from the Childs.
"Julia was a natural teacher and always inclusive, Pratt said. "When she was cooking something, either at her house or ours, she would talk about what she was doing, and teach by showing. I especially recall us making fish chowder in Maine, with plenty of cream and butter."
"When I was a teenager, Paul would come to our house in Cambridge and give me art lessons," Pratt said.
Pratt has done the research and has so much material that she intends to do another book on Paul Child.
After the current "France is a Feast" exhibit here, she plans to take it to tour other museums.