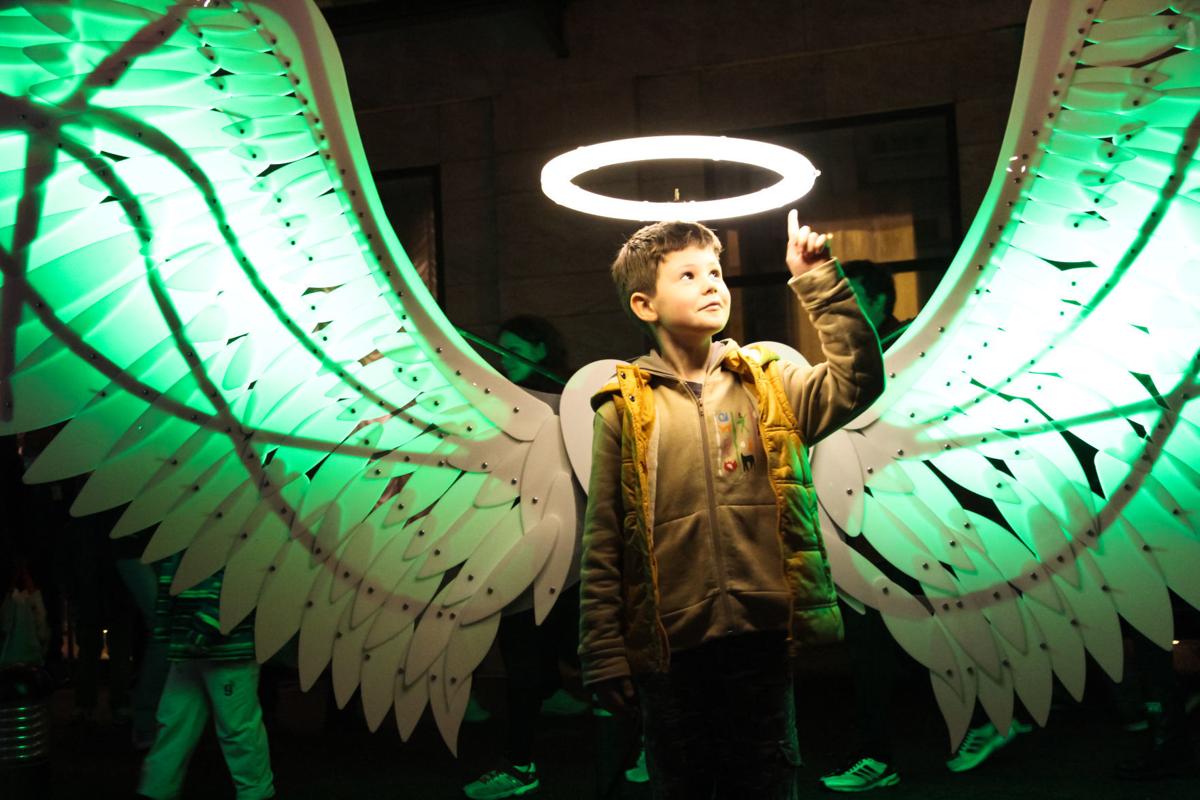 Napa's Art After Dark Lighted Art Festival, taking place Jan. 11-19, features original artwork created by local and international artists at 13 locations throughout Napa, including an Angels of Freedom exhibit at the CIA at Copia.
A celebration of creative arts, technology and lights, the artwork displayed at this year's festival includes light art, video art, 3D video mapping projections, lighted sculptures and projects that use technology or interactivity. Visit www.donapa.com/lights for details.
The 2020 Festival highlights include:
Lantern Parade: Veterans Memorial Park on Friday, Jan. 17 at 6:30 p.m.
This people parade will start and finish at Veterans Memorial Park after visiting art installations in downtown Napa. All ages are encouraged to participated and create a battery-powered lantern. No fire is allowed. Get details at www.donapa.com/lights
Night Bloom: Oxbow Commons (weather pending) Saturday, Jan. 11 and 18 and Sunday, Jan. 12 and 19, from 7 to 8 p.m.
Hot-air balloons will be part of this year's Art After Dark as tethered hot-air balloons light up the sky at Oxbow Commons.
Historical tours: Saturday, Jan. 11 and 18 and Sunday, Jan. 12 and 19.
The Napa County Historical Society will conduct four tours of the five historic buildings featured in this year's Napa Lighted Art Festival at 4 p.m. Reservations are recommended.
The CIA at Copia will be host to a variety of fun and free activities for the whole family during the Lighted Arts Festival. The Angels of Freedom exhibit, an interactive light installation, invites you to transform yourself into an angel with giant illuminated wings and a halo. The Angels of Freedom artists will be at Copia on Jan. 11 at 2 p.m.
Other activities include:
An indoor Angel's Grove beer garden with themed drinks and bites;
A "City of Angels" Los Angele street food guest chef pop-up;
An angel wing cookie decorating station, marshmallow class and other cooking classes;
a "Smells Like Heaven" palate challenge
Free evening tours of Copia, angel-themed merchandise will be available in the shop along with some giveaways.
The illuminated Le Petit Chef 3D Dining experience will be running throughout the week. This 3D, six-course tasting menu created by CIA chefs follows Marco Polo's Spice Trail.
The Angels of Freedom exhibit is created by the OGE Group and sponsored in part by Illumination Technologies.
Stay up-to-date on what's happening
Receive the latest in local entertainment news in your inbox weekly!