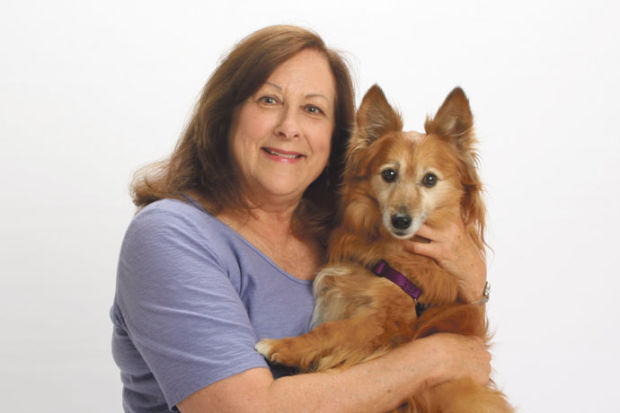 Foxy, the dog, tells his own story, and in the process, reveals a great deal about the couple who adopted him in "My Leash On Life: Foxy's View of the World from a Foot Off the Ground."
In the introduction, Foxy acknowledges getting help in writing the book from "his human, Ellie," as he refers to Lenore Hirsch, a retired Browns Valley Elementary School principal and columnist for the Napa Valley Register. After all, "paws can't type."
Hirsch will be at Copperfield's Books, 3740 Bel Aire Plaza in Napa, for a meet-and-greet to discuss the book Sunday, Feb. 23, from 3-5 p.m.
As a dog with his own blog and business cards, Foxy has become a celebrity in north Napa where he is affectionately greeted by dogs and people at Alston Park and Starbucks.
"No dog can buy this book, so two-legs, please take it home and read it with your favorite canine," Foxy instructs his readers. "The cats in the house probably won't be interested, but your special dog will curl up with you and help you to appreciate a story that he wishes he had written himself." .
The 156-page paperback, published by Laughing Oak in October, gives dog owners entertaining insights into what their pet might be thinking as Foxy shares his often humorous "dog's-eye view" of life.
Not only does Foxy shed light on the inner workings of a dog's mind, he lets readers know that their pets have a deeper understanding of them than they might suspect. For example, he explains that dogs can detect anger and fear by the smell that humans emit when feeling these emotions.
Like all dogs, Foxy finds human behavior baffling.
"You humans don't have the common sense to bury what it precious to you," Foxy observed. "How do you stand on those two legs all day and not get really tired?"
He views the way human greet each other by shaking hands instead of sniffing body parts, as dogs do, as impolite. No dog would ever display such rudeness and lack of curiosity when greeting another dog.
Before Foxy is adopted by "his humans, Jay and Ellie," he has some harrowing experiences that leave him fearful of people, noises and sudden movements. It takes time for him to develop trust in humans and other dogs, but he comes to enjoy life with the active couple.
The security he finds with them allows Foxy to throw himself into all the pleasures that come with being a dog — the sniffing, barking and exploring. He shares his visits to dog parks, beaches, kennels, hotels, coffee shops, schools and veterinarians.
Readers are given a hint of approaching tragedy when Foxy notes that Jay has stopped taking him for walks to Starbucks. Instead, Jay seems to sleep most of the time and Ellie's face is frequently wet with tears.
When Jay is taken to the hospital, Foxy is sometimes allowed to visit as long as people don't object to his presence. Told from Foxy's viewpoint, the story of Jay's death is all the more poignant by what is left unsaid.
The book does not end when Jay is no longer with them. Strengthened by their connection to each other, Ellie and Foxy help each other heal from their mutual loss. There are more adventures ahead for them.
"Foxy and I have been through a lot together. He's been a great companion," said Hirsch.
From the minute Hirsch first saw her part Sheltie Cavalier Spanish and part "mystery Heinz 57" canine friend, 10 years ago, Foxy has given her reasons to chuckle.
Now, at age 13, Foxy has developed a heart condition so he and Hirsch have shortened his walks to avoid overtaxing him.
"I was always playing with the material for this book but not going ahead with it," Hirsch said. "One day I realized that my dog was getting old and I might not ever be able to get it done in his lifetime if I didn't proceed."
Hirsch purposely limited Foxy's vocabulary as he narrated the story. Foxy describes what things look like because he doesn't know the names. Part of the fun, throughout the book, is figuring out what Foxy is describing. In the Grand Canyon Foxy encounters a "big four-legged guy with horns on his head.
"What a delightful book!" wrote Jean C. Ryan in an Amazon review. "Clearly, Lenore Hirsch understands Foxy on profound levels, and her ability to effortlessly translate this understanding is a gift to the rest of us. Her compassion and respect for this dog are evident, and the humorous anecdotes were spot-on. A dose of Foxy's reflections on the world is just the tonic we need."
Hirsch worked with D. Patrick Miller of Fearless Books to bring her book to its final stages. "He (Miller) was wonderful to work with," she said. "He is like a kindly professor. He knows a lot, and is willing to share it in a way that doesn't make you feel ignorant."
The book can be found locally at Copperfield's Books, Bookmine and Readers Books in Sonoma. It is available on Amazon in all e-book platforms.