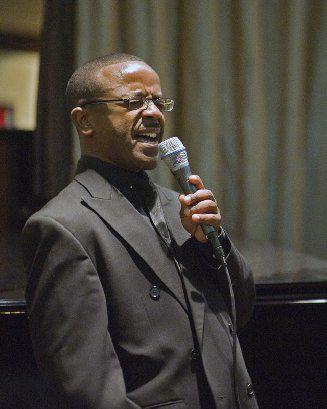 The Napa Valley Jazz Society presents Kenny Washington, considered by many to be the best male jazz vocalist performing today, on Sunday, Nov. 10 at the Robert Mondavi Winery.
The show is part of the Jazz Society's long-running Jazz@RMW Series.
Washington will be accompanied by a jazz trio anchored by Larry Dunlap on piano, with Gary Brown on bass and Jon Arkin on drums.
Among the many plaudits for Washington, Wynton Marsalis has said: "I love this man! He's a consummate professional, with impeccable intonation. He's a real improviser who brings depth to everything he does. We all love Kenny. If you love music, you've got to love Kenny!"
You have free articles remaining.
Dubbed "the Superman of the Bay Area jazz scene" by the San Francisco Chronicle, Washington is a jazz virtuoso who thrills audiences with his soulful interpretations, seemingly limitless range and rapid-fire scatting. The late Mark Murphy said that Washington was the only contemporary male vocalist carrying on the tradition.
Washington has performed and recorded with many of the finest jazz musicians around the world. Vibes great Joe Locke, who has toured with Washington, describes him as "one of the very greatest living male vocalists, without a doubt. He's a sublime storyteller and exquisite balladeer."
Tickets may be purchased by credit card or PayPal online at NVJS.org or reserved by calling 707-224-JAZZ (5299). Prices are $25 for NVJS members and $45 for non-members. The Jazz Society employs a check-in list at the door rather than issuing paper tickets. Payments at the door may only be made by cash or check.
While the music begins at 4, it is recommended that patrons arrive by 3:30, when the doors open, to select seats and enjoy the complimentary wine, cheese and charcuterie reception provided by the Winery.
Founded in 2009, the Napa Valley Jazz Society is dedicated to presenting live jazz performances of the highest quality in the Napa Valley, and to supporting jazz education. One of the early NVJS community partners was the Robert Mondavi Winery, where the Society has been presenting two shows each year for the last 10years.