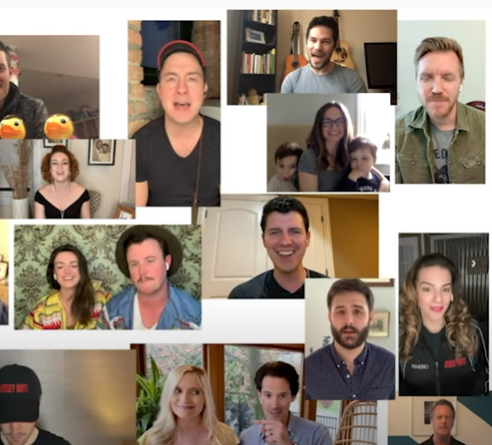 Has shelter in place got you down? Are you looking for a little cheerfulness amidst all the disheartening news? Are you bored and need a little pick-me-up? Are you a fan of Frankie Valli and the Four Seasons?
If so, go to YouTube.com, search "Jersey Boys Worldwide" and watch that video. It's composed of the touring companies from each international production of "Jersey Boys" singing Bob Gaudio's "Who Loves You" the feel-good anthem that ends the hit Broadway show.
The video was the idea of Sara Schmidt who played Frankie's daughter, Francine, for 11 years in the original opening and closing productions on Broadway. After the show closed, she came to Sonoma to work for the Transcendence Theater Company and loved wine country so much she decided to move here. She now lives in Napa and works as a wine educator at The Prisoner Wine Company.
Under the shelter-in-place order, she was feeling low and wanted a way to share the optimism and joy "Jersey Boys" gave so many. She was on a Zoom call with 20 of her cast mates when she suggested the video idea. The response was a resounding 'yes.'
She chose the song, "Who Loves You" because, she said, "it's an iconic song from 1975 that represents exactly the message I wanted to send to all of the front-line workers who are out there risking their lives to make sure we stay fed, healthy, safe, and alive."
The song goes, "And when you think the whole wide world has passed you by/You keep on tryin', but you really don't know why/Baby, when you need a smile to help the shadows drift away/Come to me/Baby, you'll see." Indeed, in this time, Schmidt and the rest of the singers think we could all use a smile to help the shadows drift away.
In order to do this, she had to make sure she had permission. When she consulted the legal department, they enthusiastically endorsed the project.
The job of coordinating the singers was given to Production Manager Richard Hester. In total there were 16 companies who produced "Jersey Boys" on 6 continents. Companies in La Jolla, Chicago, Las Vegas, Toronto, London, Australia, South Africa and New York participated, in addition to the U.S. and U.K. touring companies. Each performer recorded themselves singing the song individually and sent them to Hester. Then it was the job of Travis Cloer, a cast member from the Las Vegas production, to sort them by company and edit them together.
The result was a wonder of modern, pandemic-era, technology. While each singer is in a different location, they all are synchronized. And they sound as good as they did when they were on stage. The effect is seamless, and has the vibrant clarity and quality that make a Broadway show so invigorating. At the end of the video you see all 16 companies on the screen, holding the final chord that energized so many people and would make them happy as they left the theater. The video is a little taste of that brought into your home.
Schimdt hopes that the video will inspire all who see it to donate to a COVID-19 relief effort.
You can follow Schmidt's adventures in wine country on Instagram @broadwaytovine.
Stay up-to-date on what's happening
Receive the latest in local entertainment news in your inbox weekly!