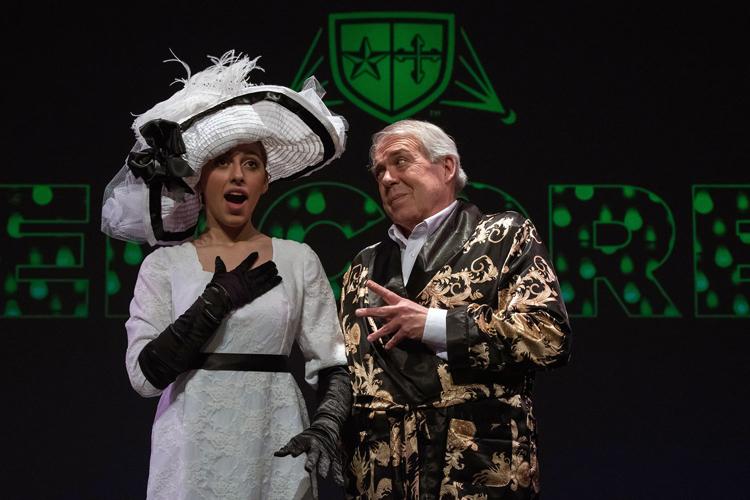 When the curtain opens on the Justin-Siena High School Theatre Department's annual musical production next week, a live scrapbook of 50 years of theatrical productions will fill the stage in "ENCORE," a retrospective celebration of musical theatre hits from across the decades at the school.
Opening night on Friday, March 15 begins a six-show run through Sunday, March 24 at Yountville's Lincoln Theater.
According Justin-Siena Theatre Director James Bailey, "ENCORE is a true celebration of the last 50 years of Justin-Siena Theatre comprised of current students and alumni guest artists through the decades, all performing the best numbers from beloved Broadway and Braves' favorites."
Justin-Siena's first musical production was "My Fair Lady" in 1969. This 50th anniversary show will feature favorites from that inaugural classic as well as "Pippin," "Oklahoma," "Annie Get Your Gun," "South Pacific," "West Side Story," "The Pirates of Penzance," "Godspell," "Singing in the Rain," "Les Miserables," "Grease," "Fiddler on the Roof," "A Chorus Line," "The Wizard of Oz," "The Wiz," "Little Shop of Horrors," "Phantom of the Opera," "Evita" and "Footloose."
"The set for ENCORE will feel like a rock concert with a giant video wall and lights. Costumes will range from contemporary/rock concert to full-costumed such as for 'My Fair Lady' a homage to the very first Justin-Siena Theatre production," Bailey said.
Bailey said that the Justin-Siena Theatre program has had an amazing reach and has made a lasting impression on many alumni who have gone on to stage and screen, "The life skills that theatre teaches continues to resonate through the years."
More than a dozen alumni representing every past decade are taking part in the show, along with a cast and crew of more than 70 current students. The returning Justin-Siena Braves (along with their year of graduation) who will guest star in the show include Lisa Clark-Schmeling '84 (Choreographer), James Day '72, Tom Durante '94 (Light Designer and Tech Director), Aaron Fidler '05 (violin), Anthony Hutchinson '85, Chris Marks '13, Vivian McLaughlin (also Musical Director), Annemarie Mendonsa '12, Louis Pierotti '72, Kristin Clark Siefeldt '88, Michael Starr '10, Graham Terry '03 (violin, orchestrations), Ellen Toscano '01, Lisa La Fontaine Vincenzo '87 and Mikayla Weiner '13.
Bailey added that in this production, "We are honoring the history of the program and the much-loved directors who have guided so many students through the years." Just eight directors (in one case a directing team) have led the program over the course of 50 years: Founding Director, Robert Morrish 1969-1979; Jerry Gardiner 1980-1982; Alex Urban 1982-1995; Mary Fullerton 1995-1996; Todd Decker and Kelly Daniel-Decker 1996-2002; Vivian Bayubay McLaughlin 2002-2005; Matthew Teague Miller '95 2005-2011 and James Bailey from 2011 to today.
While local audiences have been entertained, more compelling, and representative of the 50 years of theatre at Justin-Siena, is the impact the program has had on alumni, either in shaping their fortitude or in leading them on into a professional career in the arts.
Tom Durante (Class of '93) will be honored at a gala on March 17 as the Justin-Siena Theatre 50th Anniversary Honoree. Durante went on to start his own production company, The Lux Productions, which now stages events throughout California.
"Justin-Siena Theatre gave me the confidence that I could make a life in and around theatre arts. Learning stagecraft, lighting and sound from the network of dedicated people that Alex Urban surrounded himself with, showed me that hard work and enjoyment of the art, could turn into a career," Durante said. "Through those experiences, I decided to find a college with a technical theatre degree program that gave me the tools I am still using today."
Durante went on to graduate from Chapman University with a Bachelor of Fine Arts degree in technical theater and a Master's Degree in Fine Arts degree from California State Fullerton. Upon returning to Napa, he has supported the program.
Durante's advice to students: "To any student not participating, try it. I did and it made all the difference."
California State Senator Bill Dodd (Class of '74), participated as the Mayor of Munchkinland in the "Wizard of Oz" in 1973 and "Hello Dolly!" in 1974.
"Who would have thought being the Munchkin Mayor in the 'Wizard of Oz' would have led to a political career," Dodd said. "Not only did participating in theatre teach me that practice makes perfect, but it gave me a basic understanding of the complexities and work that go into a performance."
Diego Garcia (class of '94) has taken many of the lessons he learned at Justin-Siena with him through life. "Participating in theatre has made me a confident public speaker, compassionate listener, and team player," he said.
Louis Pierotti (Class of '72) who remained in the arts and went on to become a professional actor, director and now national theater consultant, recalls, "I learned important life skills of time management and how to work with a team," he also added this piece of advice to theatre students, "When you go on stage, don't act like a character, behave like one." Pierotti, currently on faculty at Justin-Siena, will also appear in this production.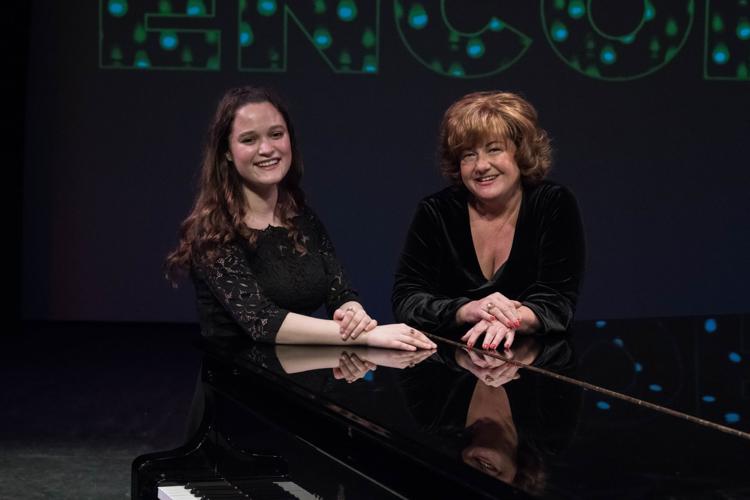 Jennifer Borchelt Quezada (Class of '93) said she learned that without the ensemble there is no show, and key life lessons such as the importance of hard work and dedication in the pursuit of excellence.
"Theatre can change lives," she said. "Because of theatre, I have the confidence to pursue my goals. I became an elementary school teacher and implemented many aspects of theatre in my teaching. I always say that without theatre, I would never have had the confidence to become a teacher."
Robert Francis (Class of '09) said that Justin-Siena Theatre had a huge impact on his life as he learned a lot about leadership, communication, and giving his all to deliver a quality final product.
"Not only is it the reason I am currently pursuing a career in entertainment, but it was also the foundation of so many of the skills that I took with me to my professional life. Through the process of creating and building theatrical productions, I learned basic skills that have enabled me to effectively communicate, manage teams of my peers, and achieve my goals in a professional setting."
Michael Starr (class of '10) went on to earn a degree in musical theater from UCLA and is working in the entertainment business.
"When you fall, get back up," he said. "It's a lesson I have to remind myself of quite a bit in the industry. But getting those first 'falls' out of the way early helped quite a bit."
Alison Bretches (Class of '95) earned a Bachelor of Fine Arts from in Musical Theatre from Emerson College, followed by a Master's of Fine Arts in Musical Theatre from San Diego State University. Bretches said that she gained her work ethic, collaboration, determination, perseverance, social skills and top-notch theatre training at a high school level at Justin-Siena.
Will Francis (Class of '15) who is scheduled to graduate from Duke this year, plans to make a career in writing and directing. "Theatre is one of the best ways I've ever come across to build a community of people, how different people with different skills can come together to make something amazing that none of them could do alone, how the act of performing can change who you are for the better."
Annemarie Mendonsa (Class of '12) said that participating in theatre, "taught her to see the world through different lenses with each character, how we brought their wonderful stories to life. Justin-Siena Theatre helped me break out of my comfort zone and proved that hard work will always pay off!" Her advice? "Leave it all on the stage."
"To see so many theatre alumni involved not only in their own arts scenes in the communities in which they live, but also to be so eager to come back to Justin-Siena to mark this milestone and work with our current students is wonderful," said Eileen Mize, Justin-Siena spokesperson, "What is even more exciting is for our students to learn their parts and roles within the context of such a rich tradition, with some of the alumni who have gone before. That's a real gift and the power of the Justin-Siena community."
ENCORE will take place at Lincoln Theater in Yountville for a two-weekend, six-show run March 15–24. For tickets, visit LincolnTheater.com.