Arts Council Napa Valley has recognized six students for excellence in the arts for February, four in the categories of instrumental music and choir and two in visual arts students. "This is encouraging news considering the restrictions facing music education during COVID-19, making it challenging to play instruments or sing together in person," the Arts Council's announcement read.
In March, all instrumental and choir students will be allowed to practice outside with precautions in place.
Support local news coverage and the people who report it by subscribing to the Napa Valley Register.
ACNV executive director, Chris DeNatale, said, "It's been a long, painful year for our young artists and teachers. We are grateful to the Napa County Health Department that has set out specific guidelines to keep us safe while allowing our students to play and sing together again. We look forward to seeing musical productions return this spring."
Here are February's winners: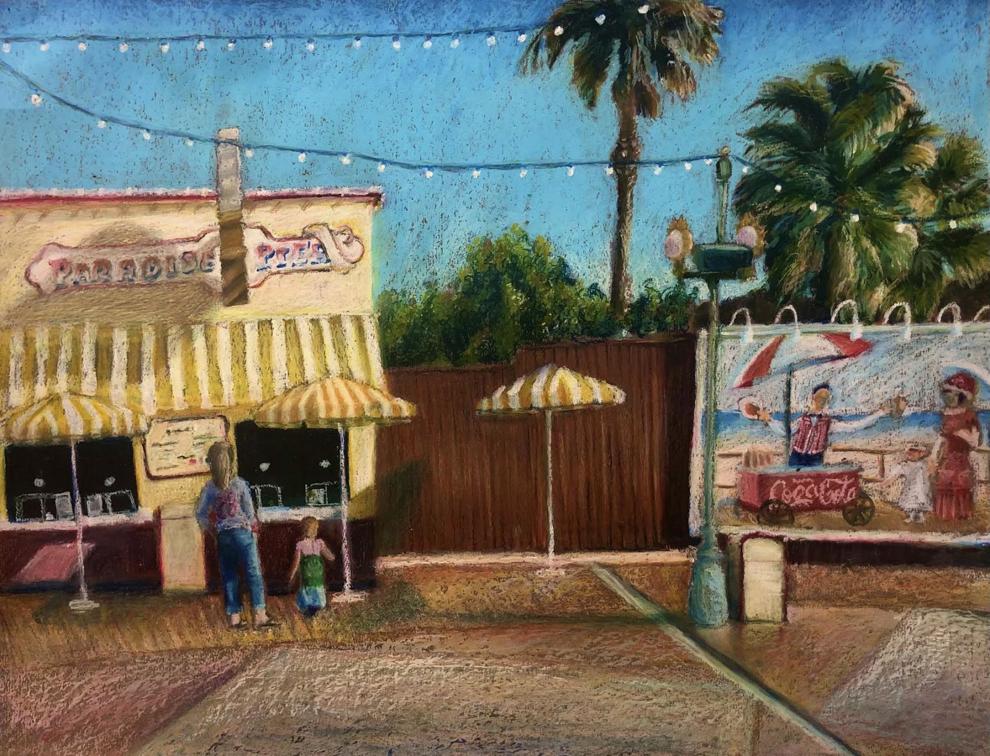 Studio Art: Elizabeth Milat, Vintage High senior (Tie)
Art teacher Crystal Clark recognized Elizabeth Milat for her engagement and for treating each project with exceptional care. "Her work is not only skillfully done, but highly creative, and she is already developing a clear style of her own.
"Her high expectations and self-discipline have kept the work coming. Not even a pandemic has stopped Lizzie from striving to grow and to mature her work."
Milat is currently enrolled in Advanced Placement Art and will be submitting her drawing portfolio this year. She is applying to art schools, hoping to attend one of her top choices next fall.
Clark adds, "Her contributions to our class environment (both virtual and in-person) have been very inspirational to her peers and me as her teacher/mentor."
Studio Art: Armand Shekari, Nick Cann Student/Vintage High sophomore (Tie)
While attending school, Armand Shekari has trained with Napa illustrator and graphic designer Nick Cann for seven years. Cann recognized him for his attention to detail, spending weeks on a single picture to get it right.
Cann said, "He defines the word perfectionist. His interest in architecture, particularly modern architecture, will no doubt lead to a career in that field."
Choir: Jane U'Ren, Vintage High senior
Choir teacher Liz Amendola recognized Jane U'Ren for her determination to persevere despite the challenges. Before the lockdown, she often performed a cappella numbers with perfect pitch to senior citizens and middle schoolers.
Amendola said, "Throwing in choreography and staging along with her lovely singing voice was no problem for Jane."
U'Ren was also helpful with mixing individual recordings to create virtual choral performances. Amendola added that U'Ren is self-motivated, which "translates into superior performances in whatever she undertakes."
Choir: Jerome Hernandez, American Canyon High senior
Choir Director Jamie Butler said, "Jerome is the type of student you wish you could teach forever. He is talented, humble, kind, a real leader that is beloved by his peers."
Butler added that despite this very disappointing senior year when Hernandez would have been section leader, "Jerome has continued to be a leader with his positivity and top-notch work. He even routinely gets the 'boys' together online to play video games and keep his peers connected."
Now that restrictions are lifting, Hernandez (and Butler) look forward to meeting on the field to raise their voices in song.
Middle and Elementary Level Winners
Instrumental: Jennifer Pan, American Canyon Middle School, 8th grade (tie)
Director Deborah Walden recognized Jennifer Pan for her talent, but more importantly, for her dedication to practice. She plays piano and cello.
Walden said, "Jennifer has been a gracious example to the other musicians at our school. Distance Learning has presented many challenges to our string orchestra, giving individual attention to our student musicians. Jennifer has been using much of our online rehearsal time to assist other students."
Walden added that Pan is a valuable resource. "Her willingness to help, the positive attitude with which she assists, and her dedication to update me on progress are beyond the scope of most middle school students."
Instrumental: Kaleb McDonald, River Middle School, 7th grade (Tie)
Music teacher Michael Rothbart recognized McDonald for going "above and beyond in his playing assignments for guitar, always challenging himself and adding extra "spice" to his video assignments."
Rothbart said, "He is a joy to have in class, still has a positive attitude and keeps his teachers' spirits up with a plethora of trivia questions."
ACNV is currently reaching out to teachers throughout the county seeking nominees for March 2021. All winners will be recognized with a certificate and invited to an award and scholarship ceremony in the spring. If you know someone, a teacher, or a student who deserves recognition, please direct them to the ACNV website, artscouncilnapavalley.org for details, including the Call for Nominees document. Only teachers and educators can nominate students for recognition. Nominations for March are due by 5 p.m., March 25.
WATCH NOW: TAKE A WALK THROUGH THE RAIL ARTS DISTRICT IN NAPA
CHECK OUT THE ART WORK OF NAPA ARTIST FRANK TROZZO
Catch up on Napa County's top news stories