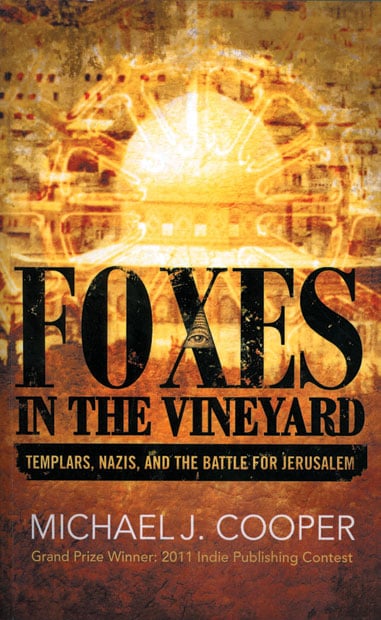 Imagine a novel in which you will find Mozart and Nazis, archaeologists and the British army, hidden treasure, Knights Templar, lost loves, metaphysics and a little quantum physics, and you have a glimpse of what's in store for readers of "Foxes in the Vineyard" the debut novel from Dr. Michael J. Cooper.
Cooper wrote his first novel while practicing full time as a pediatric cardiologist at Kaiser Permanente in Vallejo, but he laid the groundwork for the work during the 11 years he spent in Israel after graduating from Oakland High School in 1966.
"I went to Israel intending to stay for a year," he said. Instead, he found himself studying at Hebrew Teachers College, followed by work in biology at Hebrew University in Jerusalem. and medical school in Tel Aviv.
"The years between 18 and 29 are pretty magical," Cooper said.
Returning to the Bay Area, he completed a pediatric residency at Kaiser Oakland followed by a pediatric cardiology fellowship at UCSF. He has stayed on the faculty there in addition to his work in Vallejo.
After nearly three decades in medicine, Cooper said, "I turned from writing for medical journals to writing historical fiction."
"Foxes in the Vineyard" is set in Jerusalem in 1948 at the beginning of the Arab-Israeli war of independence, shortly after the birth of modern Israel. The name comes from a passage in the biblical Song of Songs, which reads, "Catch us the foxes, that spoil the vineyards."
"I wrote it at the edge of the assassination of Yitzak Rabin," he said, referring to the Israeli general and prime minister, a key figure in the birth of Israel, who received the Nobel Peace Prize, along with Shimon Peres and Yasser Arafat in 1994. When Rabin was killed by a right-wing extremist in 1995, "it was meant to end the peace process," Cooper said, "and it did."
Rabin is one of the historical figures who appears in the novel, which begins as a American professor of medieval history, Evan Sinclair, is notified that his father, an Oxford archaeologist, is missing from his post at a Jerusalem museum. In search of his father, Sinclair arrives in Jerusalem as the British mandate is ending. As war begins, Sinclair not only discovers he's been duped by survivors of Hitler's army, but that they are in Palestine, stirring up antagonisms between the Arabs and Jews. He is also catapulted into an increasingly mystifying world that links his own research in Scotland to the mythic treasure of the medieval Knights Templar, and the sacred site of the Temple Mont at the Dome of the Rock in Jerusalem.
It's a rich, complex and erudite story, which, Cooper said, is part of a series of books he has planned.
"People say 'Write what you know,'" he said, but after beginning a medical thriller, he decided to write, instead, the book he wanted to read. "It's a quote from Toni Morrison," he said. "Looking for a certain book and not finding it, you have to write it yourself."
Although he found himself writing late at night, after full days of medical work, he said, "It's a pleasure, because it's pure escape into another world.
"I learned a lot as I was writing," he said. "It's been an interesting journey."
For the past several years, Cooper has been returning to Israel several times a year to volunteer in Palestinian territories, providing pediatric cardiology services for children without adequate access to care.
"More and more, (the situation in the Middle East) has been taken over by the extremists," he said. "I'm doing what I can to promote healing and to bring dialogue, light — and love — back into the world."