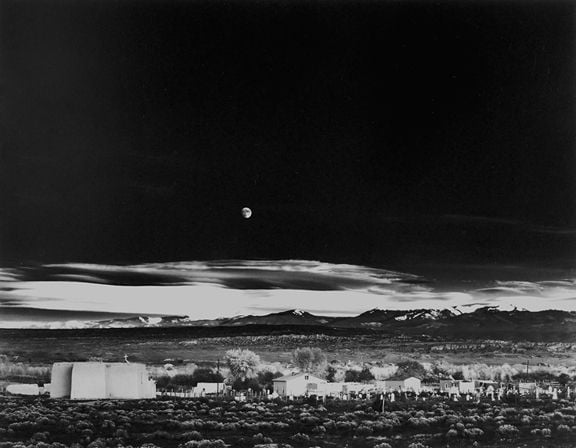 Napa Valley Museum opens Arts in April by bringing private art collections into the public eye.
Featuring more than 50 rare works from several notable private collections, "Napa Valley Collects" will be on display April 8 through June 26.
Museum curator Meagan Doud said, "Although this is our fourth year of highlighting artwork held in private local collections, the work on public display this year is all new. There is a diverse range of styles and themes represented, and you can expect the same high level of quality from our previous three Napa Valley Collects exhibitions."
Visitors will find work grouped thematically. Southwestern art features Ansel Adams photography and a Maria Martinez ceramic piece. A political/satirical section features contemporary work by Tsherin Sherpa. Abstraction is exemplified by the work of Gerhard Richter, while concepts of pattern and repetition are explored in sculptural pieces by both Karyl Sisson and John Woodall.
"Generous loans of art from local collectors, along with the financial support of the Napa County Visitor Management Grants, make this exhibition possible," said the museum's executive director Phil Kohlmetz.
"With Napa Valley Collects, we wanted to be a conduit to residents and visitors alike for world-class art," Kohlmetz said. "The exhibit showcases artworks held in the private collections of Napa Valley residents. These private collectors have generously agreed to let us exhibit these pieces for the public's benefit, in the safety and security of our galleries."
Among those sharing works for the show are John Anderson, Leslie Baggish, Peter and Kristen Bedford, Lizz Campos, Chandra Cerrito and Lewis deSoto, Francis and Eleanor Coppola, Wayne and Kara Fingerman, Dick and Ann Grace, Kathryn Hall, Austin Hills and Sara Bennett, Angela Hoxsey, Richard and Lizz Meese, Beth Nickel, Patrick O'Dell, Michael Polenske, Richard Resiman, Elizabeth Rindskopf Parker, Jim and Jacky Young, and Pam Zeidell.
Collector Wayne Fingerman said, "What's interesting about Meagan Doud's choices from my collection are that Jess Collins and Charles Seliger are both historically important artists, but are largely underappreciated and represented outside of small circles. I collect artists like Collins and Seliger because I deeply appreciate their work. The Napa Valley Museum makes it possible to expose others to these artists through this exhibition. The museum is a great venue to see these works, and to be invited to experience art that is eclectic and normally only viewed privately."
The artists in the show include Ansel Adams, William Theophilus Brown, Bihn Dahn, Oskar Robert Dogarth, Dave Eggers, Donald Farnsworth, Adolph Gottlieb, Jess Collins, Francisco de Goya, David Hockney, Maria Martinez, Yue Minjun, Joan Miro, Alphonse Mucha, Manuel Neri, Ruby Neri, Tucker Nichols, Gerhard Richter, Charles Seliger, Karyl Sisson, Laura Splan, Pat Steir, Mark Tobey, Paul Wonner and John Zurier.
Eight additional works by well-known 20th century masters will be on display in the museum's Spotlight Gallery through April 17. Featuring impressionism, abstract figurative work, landscapes, etchings and lithographs by Pablo Picasso, Henri Matisse, Paul Jean Hughes, Hughes C. Pissaro, Gabriel-Hippolyte Le Bas and Paule Gobillard, the pieces are on loan from the Yates Art Foundation.
Activities
A full program of events and activities runs throughout "Napa Valley Collects."
Doud will lead an hourlong tour each Wednesday at 2 p.m., focusing on in-depth examinations of the artists featured in the exhibition, the collecting habits of Napa Valley locals, and what it means to be an art collector.
Three Free Family Fun Days on April 9, May 14 and June 11 encourage artists of all ages to "Release Your Inner Artist." On April 9, explore the colorful world of abstract landscape and collage by creating torn-paper artwork in the style of famous artists like David Hockney and Jess Collins. Bring your own old magazines and craft paper, or use what's provided by the museum.
An excursion to artMRKT in San Francisco on April 30, led by Doud and Kohlmetz, will visit the Bay Area's top gallery booths, learn about new work from gallerists, and get an insider's look into the Bay Area's contemporary art scene. The trip will also include a 5:30 p.m. no-host dinner in the city for an informal artistic dialogue. Tickets are $50 and include carpool transportation, parking and admission to the fair. Space is limited to this special ticketed event.
Two additional exhibitions will also be on display in the museum's Spotlight Gallery during Napa Valley Collects: Justin-Siena High School's Student Art Show runs April 20 through May 1; and from May 4 through June 12, there will be an exhibition of text-based work by San Francisco artist Someguy (also known as Brian Singer).
Visiting the Napa Valley Museum
The museum is at 55 Presidents Circle on the grounds of the Veterans Home of California in Yountville. Museum hours are 11 a.m. to 4 p.m. Wednesday through Sundays. Admission is $7 adults; $3.50 seniors; $2.50 youth. For information, visit NapaValleyMuseum.org.