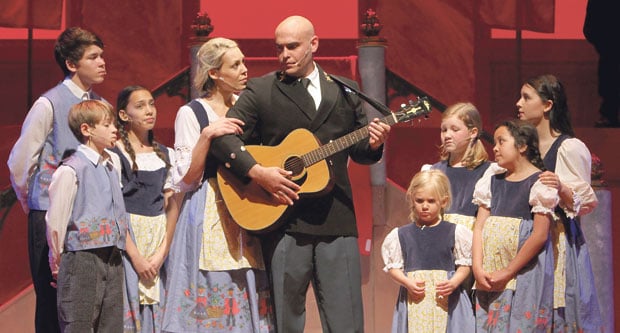 From the opening sound of a lone church bell tolling in a darkened theater to the finale ultimo of "Climb Ev'ry Mountain," sung by Mother Abbess and the nuns, the packed audience was held in thrall during Sunday afternoon's performance of "The Sound of Music" at Napa Valley College.
Playgoers were transported to the Austrian Alps circa World War II through the flawless performance that included outstanding music, acting, choreography and authentic costumes.
Tears, visible on the faces on many, flowed freely as the inspiring story was presented.
The entire cast, including its youngest members who played the seven von Trapp children, did a remarkably professional job of singing, dancing and acting.
"Sound of Music," which is Rodgers and Hammerstein's last work together, was based upon the true story of the Von Trapp family. The free-spirited Maria, who loves nature and singing, is studying to be a nun, but has a problem with following the rules of the abbey. The sisters suspect that she isn't ready to join their ranks, so she is sent to Captain Von Trapp's home in the hills, where she is to serve as governess for his children. She sings her way into the children's hearts and eventually the captain's too.
Rather than compromise their patriotic principles, the family flees their homeland when Hitler's Nazi forces take over Austria in 1938.
Since opening in 1959 at the Lunt-Fontanne Theater, this beloved musical has been revived many times. In 1965, it was made into a film starring Julie Andrews as Maria and Christopher Plummer as the captain and won five Oscars.
The multi-talented Taylor Bartolucci DeGuilio brought the playful, well-intentioned "Maria" to life so naturally that she carried the audience right along with her as she taught the children to sing and then fell in love with their father. Although she was prominent in almost every scene, Bartolucci DeGuilio never seemed tired or appeared to be acting. She made performing Maria look easy.
Gabriel Hernandez was convincing as the overly strict Capt. Georg von Trapp, who became a more loving parent under Maria's influence.
Ted von Pohle, frequently brought laughter to the audience as the compromising Max Detweiler, who was as eager to look out for his own self-interests as Von Trapp was to make sacrifices for the sake of principles.
Kim Markovich used her powerful voice as the mother abbess to persuade Maria to face her challenges instead of seeking refuge inside the abbey.
Morgan Harrington exhibited a lovely voice in her nuanced portrayal of Elsa Schradeder, the Captain's wealthy fiancée, prior to his marriage to Maria.
Scenes between Liesl and Rolfe Gruber, played by Deanna Maher and Rafael Manzo, as they fall in love are touching. By becoming a Nazi, Rolf earns the disapproval of her family, but then saves them by not disclosing their hidden location during their escape.
Director Jennifer King, along with musical director Dr. Eve-Anne Wilkes and choreographer Pam Rogers effectively combined forces in the retelling of this great American classic about the courage and resourcefulness of an Austrian family. The orchestra, under the direction of conductor, Harry Cadelago, provided a wonderful musical foundation for the production.
Stay up-to-date on what's happening
Receive the latest in local entertainment news in your inbox weekly!