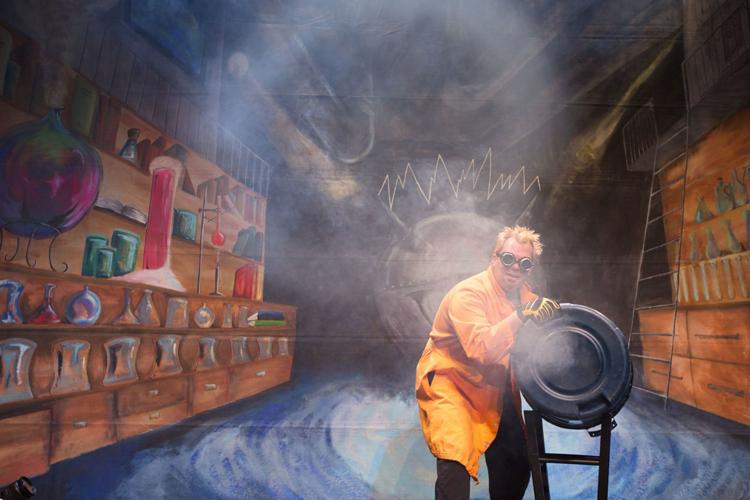 The study of science can simultaneously inspire wonder and generate fear among young students. Complex concepts, theories, math formulas as well as the sheer vocabulary of science can cause anxiety for adults as well.
"Get over it," says David Epley, also known as Doktor Kaboom. "Science is for everyone. If you apply yourself, over time, you can do science. It's not hard, but it does take effort. But that's not hard, that's just work, that's just life."
Epley's own life and work for the past 11 years has involved the creation and touring of five different solo shows performed by his alter ego, a character aptly named "Docktor Kaboom." While the German accent he has adopted is fake, the interactive science he brings to the stage, for audiences of all ages, is real.
Epley discovered a love of acting and comedy while studying to become a chemical engineer at the North Carolina School of Science and Mathematics. Combining his two passions, Doktor Kaboom was born, sporting an orange lab coat, chrome goggles, spiky hair, motorcycle boots and a wicked sense of humor. His comedic inspirations include Robin Williams, Steve Martin, Stephen Colbert and Alan Alda.
"The Wheel of Science," Epley's newest show coming to Napa on June 1, features a large spinning wheel labeled with everything from optical illusions to chemical reactions to a homemade hovercraft, and more. At least a dozen demonstrations will be ready for action wherever the wheel stops. Willing young audience members will be chosen to spin the wheel and assist in the experiments.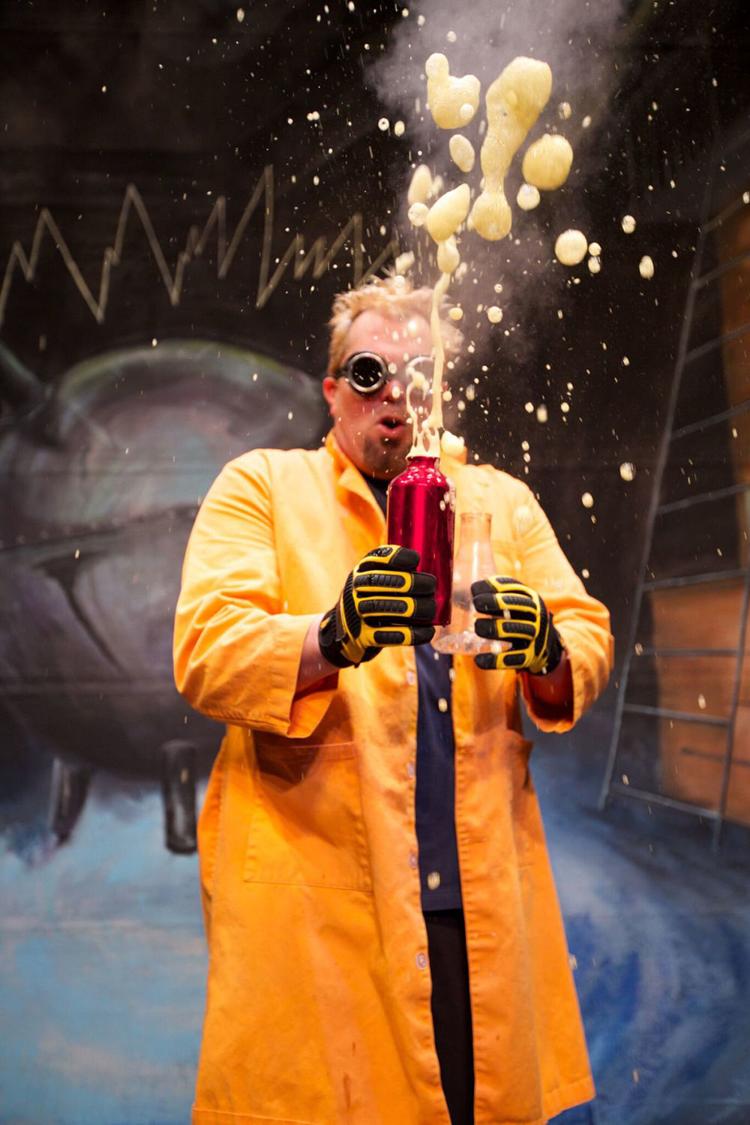 Epley gets many of the ideas for his demonstrations from ones he saw as a child in class or at science fairs. Filtered through his Kaboom persona plus audience interaction, Epley makes them bigger, bolder, more humorous and thoroughly entertaining. When asked about his favorites, Epley said, "This changes regularly. At the moment, I really enjoy the hovercraft. You'll see that in Napa.
"The audience brings a lot to the table and helps make every show more interesting and diverse for me," said Epley. "We just kind of explore all these things together. My show is not a children's show, it's a family show. There are routines and jokes and interactions that are for the adults. Parents generally have at least as much fun as the kids in the audience. One of my big messages is that science is not just for kids, and it's not just for people that are not already good at it."
Life on the road can be daunting when you're clocking 50 shows annually for audiences throughout the U.S. One more year and Epley will be hanging up his lab coat: "Seattle is still home, my heart is there," he said. "I plan to take the time to create an outlet for myself online. It is surprisingly difficult to have time and motivation to do anything else when on the road full-time. Travel gets old, especially as a parent and partner."