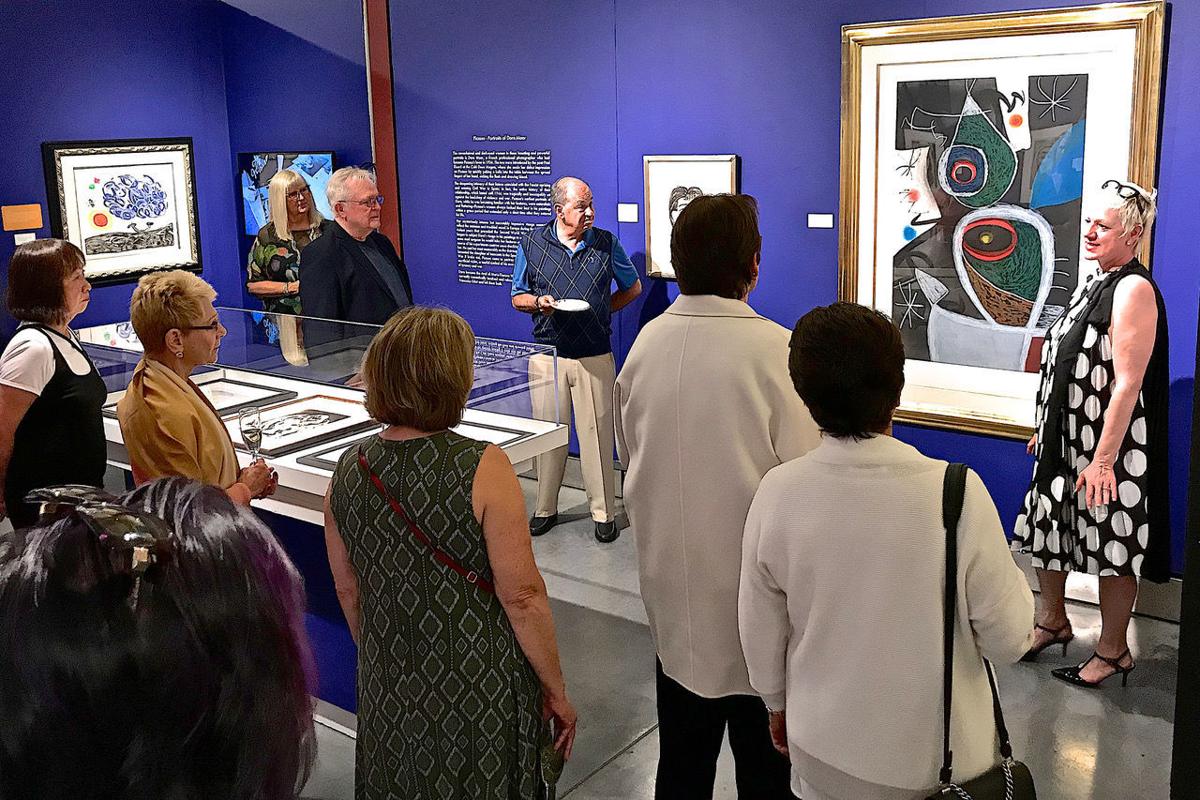 There are times when I almost have to knock myself on the head to be sure that, yes, I really am here in the quiet valley where I grew up where not much happened, and where the arts, whether it was ballet or the Beatles, were something you went to San Francisco to experience.
No, actually, I am not talking about BottleRock. While everyone else in the world was at the music festival, I was at the Napa Valley Museum, viewing the newest show "Picasso & The Masters of 20th Century Printmaking" on a tour with the curator, Kendy Genovese.
Printmaking? Picasso? I had not thought of the great artist as a printmaker until I made this tour with Genovese.
On its own, the show is stunning, artful and elegant. You might be stepping into a room in a great museum in New York filled with prints by Picasso, Chagall, Miro, Dali, Matisse, Braque, Matta, and Motherwell. Genovese and Napa Valley Museum director Laura Rafaty have secured the loan of 50 rare works and resources from private collections as well as places like New York's Metropolitan Museum of art for this show as well as printmaking tools and presses from the International Printing Museum and the California College of the Arts.
"During the time, 1900-1960s," the art of printmaking was approached as an art in itself," Genovese said, and on a tour with her, she explores not only the intense artistry with which these artists created prints — and why.
She covers lithography, mezzotint, engraving and woodcuts, linocuts, pochoirs, and carborundum etching. She will tell you also stories about Picasso's lovers, the man who was beheaded by a pot lid, how Joan Miro came to create his moving studies of night skies.
One series showing the steps by which Miro created a single print is an extraordinary demonstration of the complexity of this art, print-making. Another series is Marc Chagall's dream-like illustrations of the Greek legend of Daphnis and Choe is simply breathtaking in its beauty.
And not to be missed art the haunting and intricate works of a 21st century printmaker Robert Kipiss, the last stop on the tour.
"I love to play in my mind, how did (this work) get here? There are only a handful in the world," Genovese said.
It was the same question in my mind, the point where you have to knock yourself on the head.
Genovese will be leading more tours from noon to 1 p.m. on June 1, 15 and 22. The tours are free with admission to the museum.
The museum also presents "Flamenco — Picasso" from 5 to 7 p.m. on Friday June 21. An evening of flamenco music features master guitarist Mark Taylor and includes wine from Gen7 Wines, light tapas, and a curated tour with Genovese. Tickets are $30 ($20 for members) and include admission.
The Napa Valley Museum, at 55 Presidents Circle, on the grounds of the Veterans Home of California in Yountville, is open from 11 a.m. to 4 p.m. on Wednesdays through Sundays. Museum admission is $15 for adults (age 18-64); $7.50 for seniors (65 and older) and kids under 18 and free for members, residents of the Veterans Home and active-duty military.
Stay up-to-date on what's happening
Receive the latest in local entertainment news in your inbox weekly!