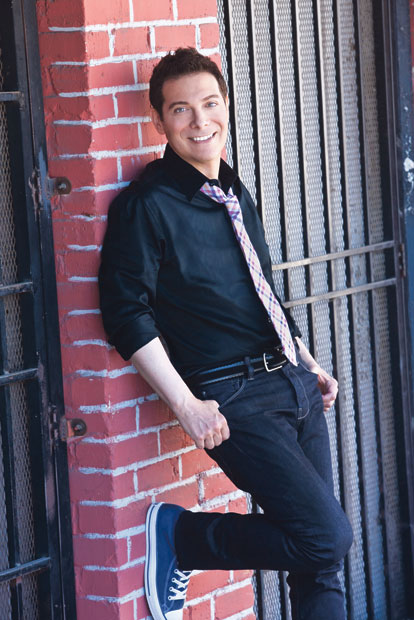 To say that Michael Feinstein is a champion of the great American songbook is an understatement.
For the better part of his life, the 55-year-old singer, pianist and music revivalist has been performing the hits along with the not-so-well-known works of Tin Pan Alley stalwarts live and on recordings.
This year, he launched the Michael Feinstein Great American Songbook Initiative — the only U.S. competition dedicated solely to the music from Broadway, Hollywood musicals and the Tin Pan Alley era of the early to mid-20th century.
"Through this competition, we are reaching a new generation to teach this music and the American history that inspired and influenced these composers," program founder Feinstein said.
Including Napa vocalist Tori Anna, finalists participated last month in a comprehensive "boot camp" on interpreting and performing American standards.
The winner, 16-year-old Nick Ziobro of Manlius, N.Y., is joining Feinstein as special guest for his summer tour, which includes his debut at the Napa Valley Opera House Friday night at 8 p.m. And for Friday night's show, so is second runner-up Tori Anna.
While this is his first appearance in the Napa Valley in quite a few years, Feinstein is familiar with wine country. He appeared twice at the Robert Mondavi Summer Music Festival — once opening for Rosemary Clooney (1987) and once as headliner (1998) — and was a featured guest for one of Auction Napa Valley's events.
Feinstein moved to Los Angeles from his Midwest home when he was only 20, already steeped in Tin Pan Alley traditions as he'd spent a couple of years playing in piano bars in his hometown of Columbus, Ohio. Through the widow of legendary concert pianist/actor Oscar Levant, in 1977 he was introduced to lyricist Ira Gershwin, who hired him to catalogue his extensive collection of phonograph records.
That assignment led to six years of researching, cataloging and preserving the unpublished sheet music and rare recordings in Gershwin's home, thus securing the legacy of not just Ira but also that of his composer brother George Gershwin, who had died four decades earlier.
Feinstein's extended tenure enabled him to also get to know Gershwin's next-door neighbor, singer Rosemary Clooney, with whom Feinstein formed a close friendship lasting until Clooney's death. Feinstein subsequently served as musical consultant for the 1983 Broadway show "My One and Only," a musical pastiche of Gershwin tunes.
For his Napa Valley appearance Friday night, Feinstein said he's more than happy to share the stage with the winner of the competition he's sponsoring.
"I'm so excited for people to hear young Nick Ziobro ... he was so sensational (during the competition) that I had to bring him on tour," the singer said during a phone chat this week. "I also want to raise awareness of the competition and how it is helping (people rediscover) the great American songbook.
"A lot of kids applied (for the boot camp and competition held in Indiana last month) who know and love this music. They know a lot of the songs. And if they don't, they're like sponges ... you can imagine their reaction to hearing 'S'Wonderful' and 'I Love a Piano' for the first time ... the joy of discovery is exciting to see."
Feinstein will be performing with a trio on Friday. He'll accompany himself on the piano for some of the program, with pianist Sam Kriger accompanying the singer when he steps front and center to the microphone.
Appearing with a trio "gives me the ultimate opportunity to do what I really like to do. I love performing with symphonies and big bands but with the small combo sound I can play off the audience and give voice to some new arrangements," Feinstein said.
He intends to offer a salute to legendary cabaret performers Mabel Mercer and Bobby Short and perform songs by Cole Porter and George Gershwin, along with "a few chestnuts." He's also including a Frank Loesser tribute that includes songs from a musical based in the Napa Valley, "The Most Happy Fella."
Not one to rest on his laurels, Feinstein has just wrapped up a recording session with Andre Previn. "It's an album of Andre's songs with Andre at the piano," he noted. He's also completed a new CD of George Gershwin's songs that will be included in a new book that Feinstein wrote about the noted composer and his lyricist brother.
The latest CD to be released is titled "The Good Life," and is the second part of what Feinstein refers to as "the Sinatra project."
Four years ago, Feinstein launched "The Sinatra Project," his ninth recording for Concord Jazz. Recognized for his efforts to preserve, protect and promote the songs and songwriters that shaped the golden age of American music, Feinstein wanted to pay tribute to the rich legacy of Frank Sinatra.
Feinstein says he "decided to focus on the aspects of Sinatra's art that people don't always think about; specifically, his particular taste and style in choosing music and how he pervaded it, paying close attention to the arrangements and orchestrations, which were important elements in making Sinatra great."
Feinstein took songs Sinatra had sung — some instantly familiar others relatively obscure — and reinterpreted them in "different ways that still reflected his style and approach. It was a way into the material that allowed me to honor him without copying, to bring the essence of him through without being an imitator."
Now, with "The Sinatra Project, Volume II: The Good Life," Feinstein has found another way in. "The second volume is really about Sinatra and his friends," said the recording artist. "It's about the people he influenced and who influenced him. The focus is more on the 1960s. The album includes a few songs Sinatra never sang, which was intentional because I wanted to encapsulate that era and show that, though he was still very important, music and styles were changing. It was the ushering in of a new sensibility, and yet the 1960s was still a time when rich, standards-type songs like 'For Once In My Life' were still being created alongside newer pop elements like rock 'n' roll."
Friends of 'Ole Blue Eyes'
Almost a dozen superstars, many of whom Sinatra counted as close friends and also deeply admired as artists, influenced Feinstein's song selections and his stylistic choices, including Dean Martin, Sammy Davis Jr., Peggy Lee, Rosemary Clooney, Ray Charles, Tony Bennett, Ann-Margret, Duke Ellington, Fred Astaire, Nancy Wilson and Antonio Carlos Jobim. Again. Feinstein combines familiar and comparatively obscure material, creating a 12-track playlist that extends from such signature Sinatra tunes as "Luck Be a Lady" and "The Lady Is a Tramp" to the extremely rare "C'est Comme Ça," co-written by Ellington and Marshall Barer for the 1966 Broadway flop "Pousse Café" (a musical adaptation of the 1930 Joseph von Sternberg film, "The Blue Angel," starring Marlene Dietrich).
Feinstein serves as artistic director of the Palladium Center for the Performing Arts, a $170 million, three-theater venue in Carmel, Ind., which opened in January 2011. The theater is home to an annual international Great American Arts festival, diverse live programming and a museum for his rare memorabilia and manuscripts.
As a composer, Feinstein is working with MGM to turn "The Thomas Crown Affair" into a Broadway musical. He also has designed a new piano for Steinway called "The First Ladies," inspired by the White House piano and signed by several former first ladies. It was first played to commemorate the Ronald Reagan centennial on Feb. 6, 2011.
With the Tisch family of New York, Feinstein owns a Manhattan nightclub, Feinstein's at Loew's Regency, which has presented the top talents of pop and jazz, including Clooney, Glen Campbell, Barbara Cook, Diahann Carroll, Jane Krakowski, Cyndi Lauper, Jason Mraz and Alan Cumming. Feinstein opens the room every September and appears there for a sold-out holiday engagement every year as well.