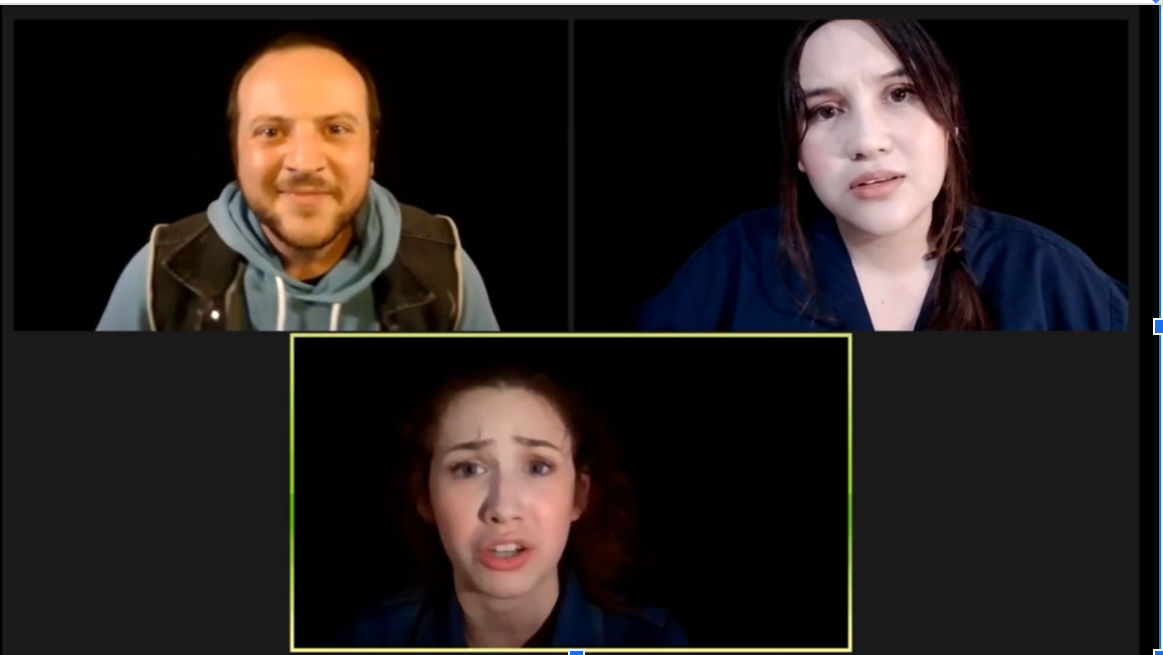 There were fewer than 300 people who watched Jennifer King and Kevin Kemp's recent online production of "Romeo and Juliet." And that was 10,000 too few. It was riveting. It was also the inaugural production of the student arm of Shakespeare Napa Valley, so these were not professional actors. But you would never know it.
With this "Romeo and Juliet," I was exhausted, devastated, but at the same time energized by its thorough art direction, and, again, amazing technical direction.
There are those Shakespeare purists who scoff at the modern interpretations of his plays. They hate that Reed Martin's "Two Gentlemen of Verona," from last year, took place in the 1980s. But what they don't realize is that it's the successful reinterpretation that makes them fresh. It is a testament to the durability of the story line that they transcend the Elizabethan stage at the Old Globe with their poofy shirts and pantaloons.
There were no poofy shirts and pantaloons here. This "Romeo and Juliet," was set in a postmodern, digital wasteland. The caste was clad in gray suits and denim jackets. Scene changes are separated by ones and zeros cascading across the screen and messages of "loading...connected," like any computer that now mediates our existence with the outside world. There was a digital assistant who came on screen at some points, and a proximity-sensing social network that alerted characters to the approach of one another.
There were no virtual backdrops or face lenses. Rather, every actor was set before a black curtain. Lighting was grainy, like sepia. The Capulets come across as some mob-like crime circuit, while the Montagues are a scrappy street gang.
Jessica Romero, who completely disguised herself as Juliet's nurse, wears nothing but a grey sheath and sunglasses, dark hair pulled back in a bun. At one point, she glamorously holds an electric fan before her face. The reason is unclear, but the novelty works.
Purists will also hate the fact that Romeo was played by Pilar Gonzalez, a woman who is no stranger to Napa Valley stages. Recasting the famous drama as a lesbian love story adds another layer of scandal, beyond just the forbidden love between members of feuding families. But with performances so devastating, love and despair so convincing, in a way, this is better than the original. Doesn't it make more sense that Romeo is pledged to a man, but falls in love with a woman, and will die for her, rather than live the rest of her life at the behest of a mansplainer?
And then there were the amazing interactions between the cast that were so beautifully coordinated, despite the actors being in different rooms in different cities. The fight scene between Tybalt and Romeo was perfectly contiguous. There was Juliet's graceful fall when she took the sleeping potion, bringing the web camera with her. There was the passing of letters from Juliet's father to a messenger. There was the passing of the sleeping potion from Juliet's father to Juliet. There was the passing of poison from the apothecary to Romeo. All of it seamless, all of it convincing, all of it perfectly coordinated.
Often, when one speaks of "Romeo and Juliet," they talk about the amazing power of love. But what they don't talk about is the violence. Mercutio's death at the hands of Tybalt, and the ensuing fight between Tybalt and Romeo where Tybalt dies, doesn't exactly evoke rainbows and unicorns. Further, the suicide of the lovers at the end is often romanticized for its perfection, not the gruesome tragedy it really is. The general darkness of this production underscored just how nihilistic the play is about human nature.
Despite the nihilism of human nature, back in real time, there is good news. "Romeo & Juliet" is now available on YouTube, as is the Streaming Theatre's recent online production of "The Tempest." I am happy to learn this, as they may garner many more viewers after the initial opening. Indeed, it is a perfect pandemic era artifact. When historians study this period in history, knowing how theater artists continued to create theater while maintaining social distance will be critical to understanding how we coped with these unprecedented challenges.
Schools, including Napa Valley College, have gone online in the fall. King, once again, is adapting by bringing her collaboration with The Streaming Theatre into the classroom. If you want to be a part of these amazing productions, and if your teenager, 16 or older, is despondent and bored at home, enroll him or her in a class at NVC that will not only teach about the magic of theater in a socially distanced world, but also give that teenager a thriving, supportive community that only the participation in a dramatic production can provide.
Watch it now: Russ Melgar on Shakespeare
John Henry Martin wishes Kevin Kemp would teach his professors how to use Zoom. Maybe Kevin could show him a thing or to. If you think so as well, email him at jhm@johnhenrymartin.com.