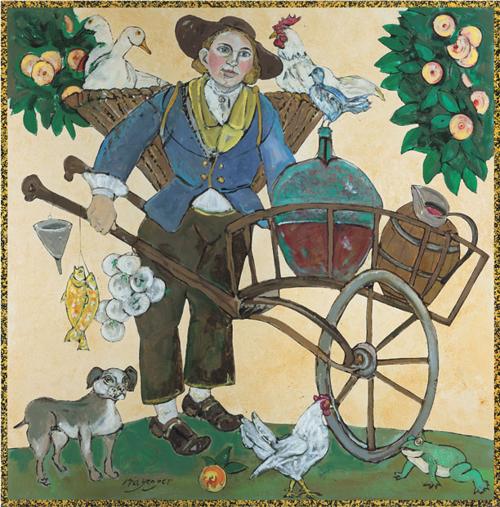 While many of the lots at Auction Napa Valley promise to age well, Lot 28 might be the one that promises the most staying power of all. It is one work of art that's not contained in a bottle but painted on a canvas.
For the first time in the 31-year history of the the Napa Valley Vintners annual community fundraiser, Calistoga artist Ira Yeager has donated one of his paintings. An original work commissioned for the event, its subject is one of the internationally known artist's favorite subjects: a farmer with his chickens, geese, dogs — and jugs of wine.
How it came about was simple, said Laura Rombauer, a member of the family chairing this year's event. "I asked him."
A designer and owner of Napa Valley Vintage Home, Rombauer said, "I've been a follower of Ira's since I was in my 20s — and that was a long time ago. He is one of my favorite artists."
Rombauer, collects his work and also has featured it in her St. Helena shop.
Past Napa Valley wine auctions have often incorporated works of art, Rombauer said, but this is the first time Yeager will be the featured artist. 
His work is more European than typical Napa Valley-inspired artworks, she said, but Yeager's often plump and cheerful peasants also vividly capture the joy that wine— and wine making — can often inspire.
The painting he created for the auction is "a depiction of peasant life in wine country of the old world," said Brian Fuller, Yeager's studio manager. "The peasant vintner is one of Yeager's favorite subjects."
Visitors to the valley may have seen other Yeager paintings of 17th- and 18th-century vintners. A series is on display in the Swanson Vineyard tasting room. Yeager's work is also in collections and museums around the world. 
During his 50-plus year career, Yeager has painted diverse subjects, from Native Americans to seascapes to modern city studies. "The 17th and 18th centuries are really his favorite time," Keller said. "He calls it the golden age."
Yeager, a native of Bellingham, Wash., studied in San Francisco and Florence, and lived in Greece before discovering the Napa Valley in the 1970s. Since then, he has worked in his Calistoga studio, and become part of the arts landscape of the valley, lending his support to organizations like the Napa Valley Museum and Copia, the now-closed American Center for Food, Wine and the Arts. 
"He likes to be a part of the community," Keller said of Yeager, who was spotted last year dancing with Margrit Mondavi at a wine auction party hosted by Clark and Elizabeth Swanson.
This year, the painter will attend Saturday's live auction, where his work will be on the auction block. 
Anyone, however, who wants to win this lot, might have to go up against Koerner Rombauer, patriarch of the Rombauer family.
"He's on a mission to own it," Laura Rombauer said.
For those who can't outbid Koerner Rombauer for the original, she added, they have also made 75  high-quality reproductions that will be for sale at both Friday and Saturday events for $135.
"It's one of the few times a reproduction has been made available," Keller said. "But the auction is all about giving back, and Ira wants people to be able to enjoy his work."
Rombauer said she has enjoyed bringing her own talents and background to this year's auction. Among her touches, she's designed the table linens that feature a geographically correct map of the Napa Valley showing the location of the wineries of Napa Valley Vintners, the hosts and organizers of the annual auction. "I'd been working on the project," she said, "and this seemed like the perfect time to launch it."
Her choice of colors, she added, as well as elements like the "world's longest wine" bar created from water troughs and reused boards, which will be on the fairway at Meadowood Saturday, were all selected to reflect a "Napa palette" she said. "I want guests to walk in here and know they are in the Napa Vallley."
Stay up-to-date on what's happening
Receive the latest in local entertainment news in your inbox weekly!