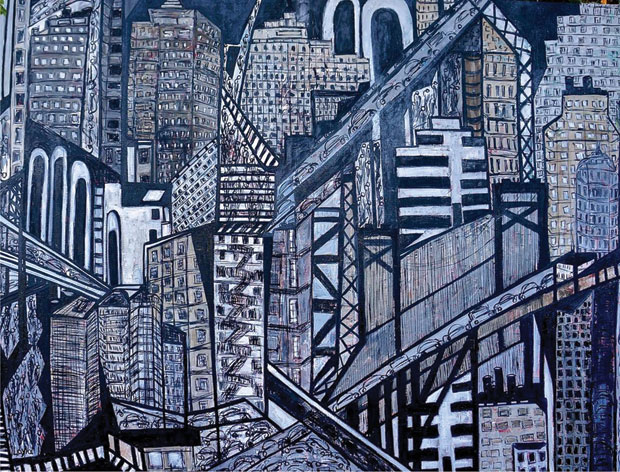 Many people say that winemaking is a scientific art, but wine isn't the only art produced by Napa Valley's winemakers, winery owners and viticulturists.
"Thinking Outside the Bottle," a new show at the Napa Valley Museum, explores other works from the multitalented people in the valley. The opening reception is on Friday from 5:30-7 p.m. at the museum. Admission is free for museum members and $5 for nonmembers. Wines from the artists will be poured. The show runs through March.
Among the artists in the exhibition are Kate Solari Baker, Larkmead Vineyards; Heidi Barrett, La Sirena; Eleanor Coppola, Inglenook; Layla Fanucci, Charter Oak Winery; Blair Guthrie, Stewart Cellars; Richard Mendelson, Mendelson Wines; Margrit Mondavi, Robert Mondavi Winery; Shauna Rosenblum, Rock Hall Winery; Kasandra Weinerth, Valley Girls; and Nile Zacherle, Zacherle Wines
"There is a lot of psychological pondering that goes into both my winemaking and my sculptures," said Rosenblum. "I think about emotions and life experiences, and with both, I am always trying to evoke emotion from the viewer or consumer. When I see the joy on someone's face because they just tried their first Teroldego and have discovered that it is their new favorite wine, it gives me great satisfaction because I was the catalyst that made that discovery happen.
"Same with my sculptures ... if someone views one of my sculptures and has a personal connection with it, then they're transported to a nostalgic, thought-provoking 'happy place,' and again, I was the catalyst that made them carefree, even if just for a moment."
The exhibition features a variety of media including watercolors, paintings, sculpture and ceramics.
"A creative personality has so much to offer," said Meagan Doud, curator of "Thinking Outside the Bottle." "Using the wine industry as a launching point, I was curious to discover the other talents of these artistically minded people."
Accompanying the exhibition is a series of programs and events. Reservations are strongly encouraged for all programs. These include:
• A showing of the film "Somm" on Jan. 23 at 7 p.m. Admission is free for museum members; $10 for nonmembers.
• Wine Tasting 101 on Feb. 15 at 10 a.m. Fifteen dollars for members; $25 for nonmembers.
• Rhone Rangers North Coast Chapter Tasting on March 23, 2-4 p.m. Admission is $20 members; $30 for nonmembers.