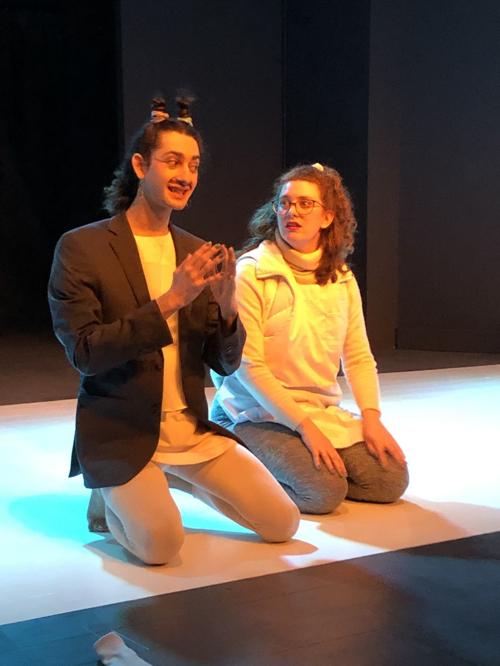 Confounding. Ingenious. Chaotic. Revelatory. These are just a few of the words that came to mind when I left the theater after Bodies in Space's latest show, "Three Movements," Jan. 15 in Left Edge Theater's cozy performance space at the Luther Burbank Center for the Arts.
They are an acting teachers dream. I would hate to compete against them for money in an improv contest. They are serious theater artists, pushing the boundaries, not only of what one can do on a stage, but of the very notions of self, power, sex and humor.
Bodies in Space is a duo of seemingly unlikely composition. Claire McCaffrey is a medium-build female with lots of red hair and glasses. Pronouns: she, her. Lulu Thompson is a slight individual with lots of long silky brown hair. Pronouns: them, they. Together, they take our collective presupposition about what gender can be, and turn it on its head.
I've seen "Of Time and Darkness" twice now and the second is just as poignant as the first. Two aliens are traveling across a glacier on Planet Winter, the same one from Ursula K. Le Guin's "The Left Hand of Darkness." Across this icy wasteland, they freeze and cuddle and have dreams about identity. They spar, cross examining each other about their gender roles. Gender, hilariously with a hard "G," is something the alien doesn't understand. The alien is just "person." Does one need to be anymore than that?
Then the dream comes: Lulu is transformed into an arrogant husband, putting on an unlikely swagger and booming voice. Claire, his belabored wife, can't stand his misogyny and lies to him: "I'm pregnant." He's silenced. "I'm not pregnant." He's caught off guard. "I'm pregnant." They're not going to last.
Then an interlude, apropos of nothing, from "Willy Shakes." Would a rose by any other name? It is frenetic, manic. Clearly an actor's homage to the father of all drama, inserted like a parenthetical dream into this arctic journey.
It gets colder. Food is running out. They huddle together. They've been going the wrong way. It's a metaphor for a lost identity, for the blank aimlessness of our gendered society.
Another dream. What is gender? Lulu is impatient with Claire's explanation of the human way of looking at things. In a huff they (Lulu) break the fourth wall and they (Lulu) go sit in the audience. Claire asks for questions. I ask, "Is it necessary to go to an arctic wasteland to get to the bottom of what gender is?"
Claire says simply, smiling, "yes." A pregnant pause. "Any other questions?"
Another act, another universe. They (Claire and Lulu) begin: "Once upon a time, everything changed."
"An Oral Wondertale" is just as frenetic as the first, but now it's a psychedelic "Into the Woods." Every fairy tale you've ever known, put in a blender, and laced with acid.
Claire is a clairvoyant crone, in a painted silk schiff, telling the future of this story.
Lulu, hair done up like antennae, in a winged, creme and pastel Donna Reed bikini, is Little Red Riding Hood, taking her basket to market to get some fairy dust for the garden. Claire plays the butcher, the baker and the candlestick maker, and she has fewer candles every day. If only there were a potion that doubles the things it touches. Lulu altruistically surrenders the potion.
Lulu is back home, sans fairy dust. Claire, also the mother, is disappointed by their (Lulu's) emptyhandedness. She is concerned about her pie in the oven. Oh her pie! She places it in the pie safe.
A plumb falls from a tree into Lulu's pocket. What abundance!
Claire is now that tree in the forest. The flaps of her silk schiff are branches and Lulu takes refuge thereunder. They (Lulu) are safe and sound. They (Lulu) prance and squirm. The tree is silent, stalwart, dignified, monolithic.
Then, suddenly, they (Claire and Lulu) swirl and dance. Lulu flutters and sits on the tiny chair. Claire takes a maternal position behind. They (Claire and Lulu) say, "once upon a time, everything changed." And the theater is black.
Standing ovations in half-full theaters are a thing to behold. I felt pounded, driven, like I didn't know what just happened, but happy. Bodies in Space defies categorization. They are a delicate blend, the pinnacle of a crystal sculpture, teetering on the edge, but never falling. I want them to do it again.
Follow Bodies in Space on Instagram @bodies_in_space. For more from Left Edge Theater go to www.leftedgetheater.com.
Stay up-to-date on what's happening
Receive the latest in local entertainment news in your inbox weekly!