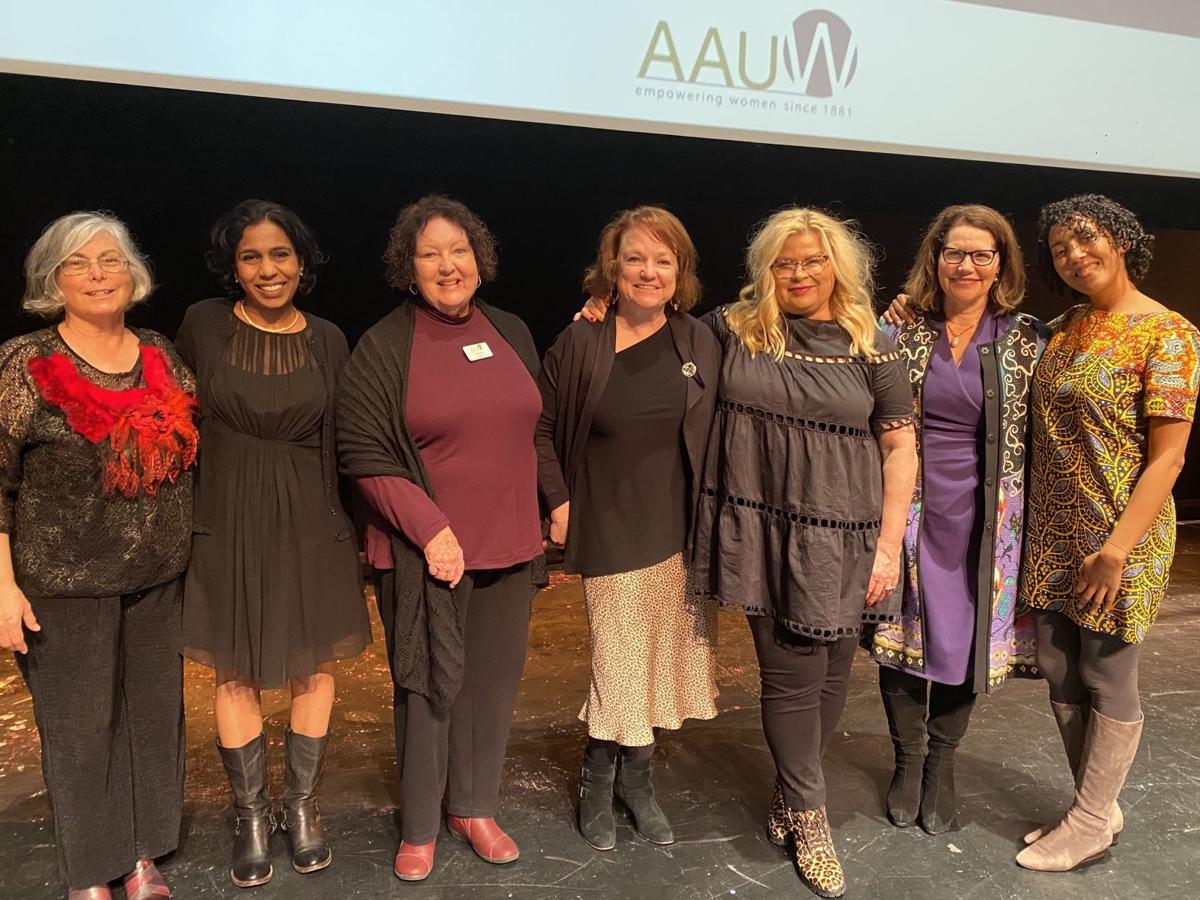 The Napa County AAUW Scholarship Foundation held its eighth annual Authors Forum last Thursday at the Napa Valley College Performing Arts Center.
This event for the American Association of University Women offered an opportunity for Napa book lovers to meet authors and hear stories from their books and their lives. This year's program featured four authors and raised more than $25,000 for scholarships for local girls and women.
Shobha Rao talked about her book "Girls Burn Brighter," which follows the bond between two young girls that begins in India and remains as their lives diverge wildly. The genesis of her book was a short story selected for Best Short Stories of 2015. She captivated the audience with her account of living in an isolated cabin in South Dakota in silence and solitude for two months in order to meet a deadline from her editor.
Sheri Salata, now living in St. Helena, brought a lot of laughter as she described her soul searching attempt to reinvent herself after her exhilarating years as executive producer of the Oprah show. Her efforts convinced Fast Company to name her as one of 100 Most Creative People in Business. Her memoir is called "The Beautiful No."
Namwali Serpell's book, "The Old Drift," set mostly in Zambia, follows the lives of three families over multiple generations. It was chosen as a Time Magazine Must Read of 2019 and one of The New York Times 100 Notable Books of 2019. She delighted the audience by reading from a small red journal that contained story ideas she came up when she decided, at age 7, to be a writer. Some of these early ideas made their way into her debut novel. Serpell is now both a highly acclaimed writer and an associate professor of English at UC Berkeley.
The last speaker was Julia Flynn Siler, a New York Times best-selling author and journalist. Her book, "The White Devil's Daughters," was Editor's Choice by New York Times Book Review. Siler used slides to share some of the research she had done about women who fought against slavery in San Francisco's Chinatown. Seeing photos of these women while hearing their stories was inspiring and a perfect finale for the evening.
During intermission and after the program, autographed books were on sale in the lobby. Naomi Chamblin from Napa Bookmine not only helped facilitate the event but also donated a percentage of sales to the AAUW scholarship fund. In eight years, the Authors Forum has raised more than $100,000 for scholarships that are used to send middle school girls to a week-long Science, Technology, Engineering and Math (STEM) Camp at UC Davis or Sonoma State.
Also $1,000 scholarships are given to all six Napa County public high schools and $2,000 awards are given to women graduating from Napa Valley College and moving on to bachelor's degree programs. A Napa Valley College Student is also selected to attend a leadership conference in Washington, D.C. NVC students and faculty were invited to attend the forum free of charge.
Next year's Authors Forum will be held the first Thursday in February.
Stay up-to-date on what's happening
Receive the latest in local entertainment news in your inbox weekly!