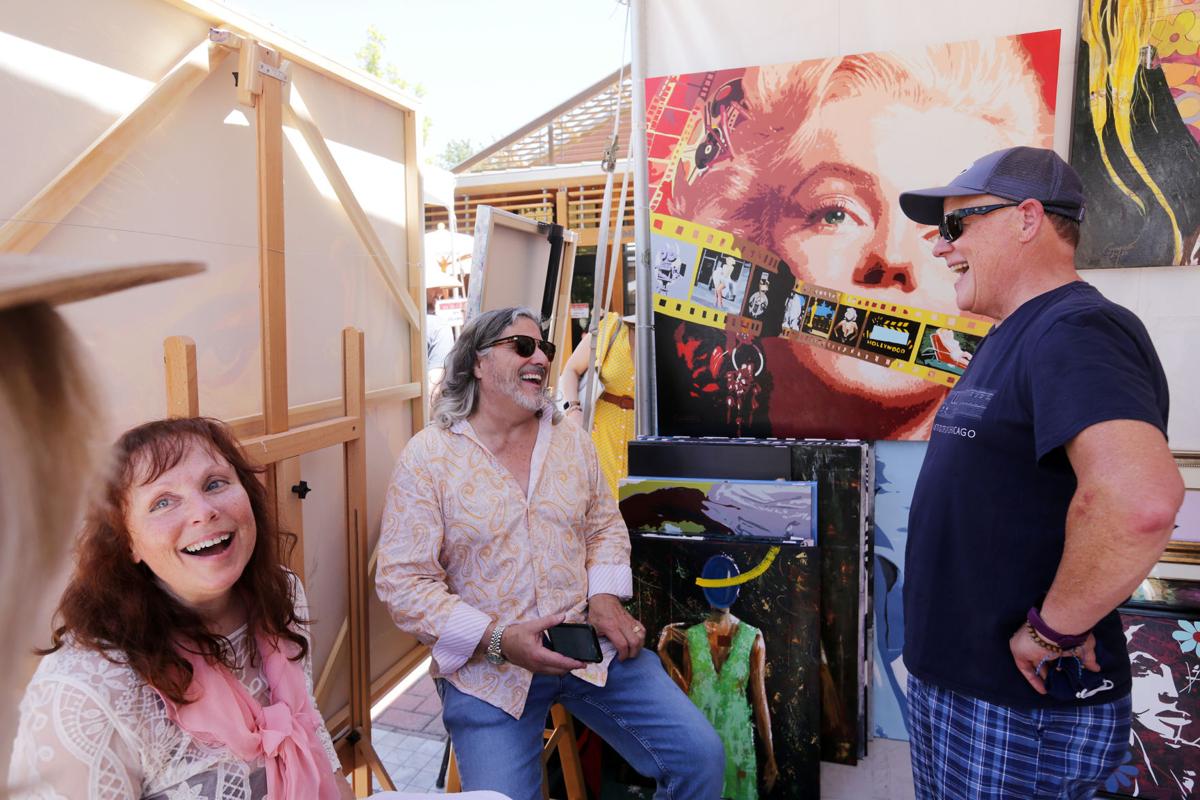 On the Green at Vintage High School
A second collaborative concert with the Revolutionary Poets Society and Vintage PhilmHarmonik presented itself the evening of June 5 on the Green at Vintage High School.
Masks and folding chairs were brought by all the audience.
Brendan Galvin Instrumental teacher said that this live concert with an audience "is our beacon of hope, something we have been looking forward to and something that we did not even think possible. After seven months of planning with hope we have a concert we are so excited to share."
Lizzy Soria Ceja opened the show by reading "A Mars Cento," written by me. Music arranged by Brendan Galvin.
O planet Mars of ruddy hue/How often have I gazed at you."
"Star Wars" music flooded around like a river vibrant with scenes from the original movie flickering on a large screen. Louis Deckman intoned an original poem "Ekphrastic #1" and composed music to accompany the verse.
Jenny LaMonte and Brendan Galvin fashioned a poem called "Wanderer." A lone cello played by Karen Murakami created a wonderful duet. 
"Somewhere someday/Will they hear the sounds of the earth/The warmth of our only sun"
 Jane U'ren sang "Maybe This time." Jackson U'ren elegantly played the piano, with original artwork by Alex Heikin. To add a bit of fun, Abree Barrett, Ken Lee, Kyle Link, Erin Meader, and Emily Thomas acted out a wonderful collage of scenes called "Check Please."
The orchestra brought "Jurassic Park" alive. The screen captured the amazing looks as the characters witnessed a world filled with dinosaurs We missed Emma Ordonez-Enos, but she recited an original poem on the scene. She said her favorite part of "The Tattoo Shop" she wrote was:
"Just as the word formed on my tongue/It took shape within my flesh"
Then a tearful, grinning audience beheld the students paid tribute to the graduating seniors.
"You showed me how to love music
Your creativity inspired my own
You included me in the music community
You were my friend when I need one
We will miss you so much"
Jenny LaMonte Vintage High School language arts teacher said "Living under Covid restrictions has led to a beautiful resurgence and revitalization of the arts and our campus community. Poets, thespians and musicians all working together to celebrate being alive. It has been the high point of my year and the thing that has kept me going"
The wonderful evening ended as Jane and Jackson U'ren and the orchestra graced us with their version of "Hey Jude." We were all invited to sing the nostalgic "Na na na na Hey Jude." We left feeling so blessed and wanting more soon.
Sculptures to Poems, Part 1
As a part of Yountville's Art Sip and Stroll amazing event on June 12, poets gathered under the redwoods south of town. They were invited to bring a short poem about one of the Art Walk sculptures. With smiles and quickening of steps, they walked to the podium and shared their masterpieces. Sounds of approval and admiration resounded after every reading.
"Link of Humanity," sculpted by Danette Landry inclined Brenda Davis to pen: One with another no link is an island/Arm in arm we create a chain/Reaching to the heavens
"McCaw" by Jacob Novinger encouraged artist and poet Jeff Spratt to write: I found plenty of talent searching this town/ But it's Jacobs McCaw #19, Hands Down!"
Cathy Carsell, inspired by the same work, added:  "From your perch you survey/ Sleep town come alive." –
Lenore Hirsch, enlightened by Dale Forest's "The Light Forest," read: We gaze at stars and dream of faraway places/We know from books other worlds only imagined
"Tail of a Heart" by Dominic Triglia heartened by M.L. Duffy's "Open Heart" arouses the reader to imagine your doggie. "You should feel it when a tail of a heart/Is flappin' against your leg."
Quatrains, sonnets, free verse, and haiku forms persuaded poets to engage with them to compose verse.
"The Chef" by Lorenzo Mills stirred maybe-hungry John Petraglia to write a few haiku to wet our whistle: "Follow the recipe/No invent adapt create/Chef's private dinner."
 "Rock Mushrooms" outside the post office persuaded Barbara Toboni to write one as well: "Why many mushrooms/An abundance of mushrooms/So mushrooms for all."
Yountville local Myna David reflected on "Raven and Poly," sculptured by Bruce Gueswel: "Two sides of the same coin/Two Sculptures by the same Sculptor/Never the twin shall meet."
Locals Marita Dorenbecher and Jeanne and Ernie Cabral gave voice to "The Future of the World" by Don Moore.
"Tiptoeing on the brink/Weighing every step/With no perceivable safety net/Praying for balance on Earth" -M. Dorenbecher
The world depends on us/Let us lead the way/Let us all join hands/And walk together as one"- J&E Cabral
I taught vocal music at Yountville Elementary School off and on during my teaching career. When I walk by the permanent "Y.E.S. Sculpture" by Richard Starks on my daily jaunts, I hold so many memories of the students I had the pleasure to persuade to sing. My poem honors those precious kids.
"YES to the alphabet ruckus laughter
YES to lasting friendships infinite memories
YES to long lives suffused
YES to bewitching wonder"
Please stay tuned for Part 2. More poets will be quoted. You will also be informed when the poems will be displayed with the sculptures. Looking forward to seeing you all. Stroll, view, and read the wonderful duets all around the heart of the Napa Valley. Many of the poems will be translated into Spanish. Will be in touch soon.
Catch up on Napa County's top news stories
Get unlimited digital access to the Napa Valley Register for just $1 for your first 6 months! Enjoy every article without restrictions and find tons of subscriber-only perks, such as access to our daily eEdition. Click here for details!
Marianne Lyon is Napa County's Poet Laureate.