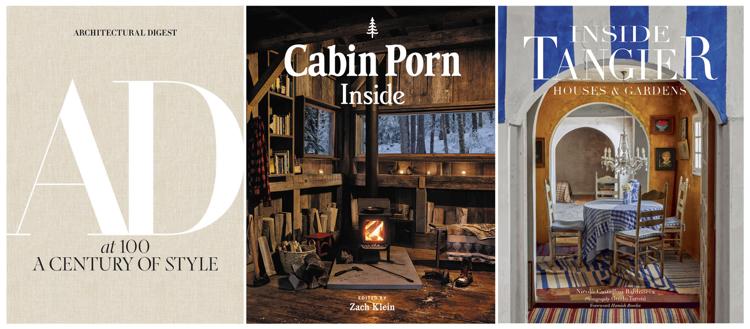 "Architectural Digest: AD at 100, a Century of Style," by Architectural Digest. Abrams.
In her foreword, Anna Wintour calls the book "quite the house tour." It's a centenary celebration of homes past and present. Marlene Dietrich lounges in Beverly Hills, circa the 1930s. Kylie Jenner stands atop a suede pouf next at home in Los Angeles. The studios of famous artists and the homes of legendary architects are included.
"Cabin Porn: Inside," by Zach Klein. Voracious/Little Brown.
More than a decade ago, Klein — co-founder and designer of Vimeo — began collecting tales of cabin life on a blog as he and his family set up camp in upstate New York. After publishing "Cabin Porn," about his unplugged return to nature, he's back with a second volume filled with the interiors and small details of how lay builders went about making their dwellings all over the world.
"Inside Tangier: Houses & Gardens," by Nicolo Castellini Baldissera, photos by Guido Taroni. Vendome.
Long a haven for hippies, artists, literary outcasts and eccentrics of all kinds, Tangier is also filled with properties reflecting the "Tangerine" lifestyle. Among those in the book: Sidi Hosni, where Woolworth heiress Barbara Hutton spent three decades.