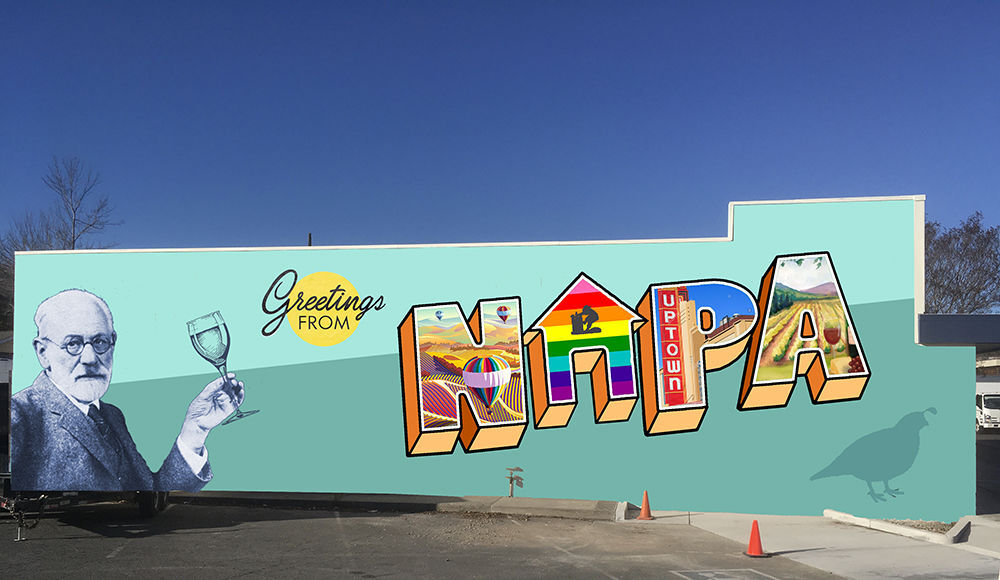 Napa is fortunate to host a flourishing public arts scene with original works sprinkled throughout a wide swath of downtown.
For example: murals commissioned by The Rail Arts District (radnapa.org); eclectic sculptures that dot our downtown streets (napaartwalk.org), and most recently, 13 utility boxes wrapped in imaginatively realized works by local artists and sponsored by The Downtown Association.
Support local news coverage and the people who report it by subscribing to the Napa Valley Register. Special offer: $1 for your first 6 months!
Every now and then, however, art appears where you least expect it, outside the realm of the more adjudicated, institutionalized public art programs.
Take, for instance, the nearly-completed "Greetings from Napa" vintage postcard painted by local artist/muralist Dusty Kramer. Adorning the approximately 20 by 50 foot south wall of Wyman Property Management (1625 Jefferson St.), the image pops with bright colors of exterior house paint and large three-dimensional letters that enfold recognizable icons of the Napa Valley. (The first "a" in the lettering pays homage to Wyman's company logo.)
"In February, as we were starting to anticipate a final move-in date to our new offices, my husband and I decided it would be fun to do something with the big, blank white wall facing the parking lot – it was just so big and boring," said Mindy Wyman, company president.
"We reached out to Dusty, as we knew he had done at least one other mural in the valley and asked if this would be something he would be interested in taking on. He came by and took a look at the blank wall and decided he would enjoy working on this project with us."
I caught Kramer by phone as he was leaving for a three-day fishing trip and learned about his extensive, impressive background and the multitude of unique projects completed during his 20 years as a full-time working artist.
Kramer's mural works include: the replicated historic "Drink Coca Cola" wall art signage that can be seen driving down St. Helena Highway at Oakville Grocery and a magnificent cow's head painted on the barn of a private residence on Big Ranch Road.
"I feel very lucky to make a living as an artist," writes Kramer on his website (dustykramer.com). "I don't take it for granted and love creating quality things for other people. Putting myself into a work, making something with my own hands, and then having it make someone else's life better, well, that is about as good as it gets for a career!"
Kramer landed on the new mural's design as he researched other "Greetings From" cards and brought the idea to Wyman. "As soon as we saw them, we knew we wanted Napa to have one as well," Wyman shared. "We are so excited about this being something both tourists and locals will be able to enjoy."
The original linen-embossed cards have a long and popular history, especially during the 1930s-50s. German born printer Curt Teich, who immigrated to America in 1895, first introduced the brightly-colored postcards in 1931 to portray an optimistic view of the U.S. as well as to document landscapes from small towns to natural wonders. Today there are over 150,000 different images and millions of printed copies.
There are also plans to create a second half to the mural.
"It will be a part of, but separate from the first," said Wyman. "Since my husband is a therapist who also has his office here, we thought it would be fun to somehow incorporate Freud into the mural as a bit of a shout-out to him. We are going to have a large Freud holding out a wine glass at the other end of the wall."
Bring your camera and pose with some of Napa Valley's most recognizable landmarks – all wrapped into a painted Napa postcard. While there, be sure to give a toast to Sigmund and then grab some lunch at Tannya's Taqueria's right next door.
You might even catch Dusty Kramer painting on the final touches.
Evy Warshawski serves on the City of Napa's public art steering committee and has a particular fondness for murals.