Editor's note: John Henry Martin continues his profiles of members of the class of 2020 in Napa County. This week, he goes to Napa High.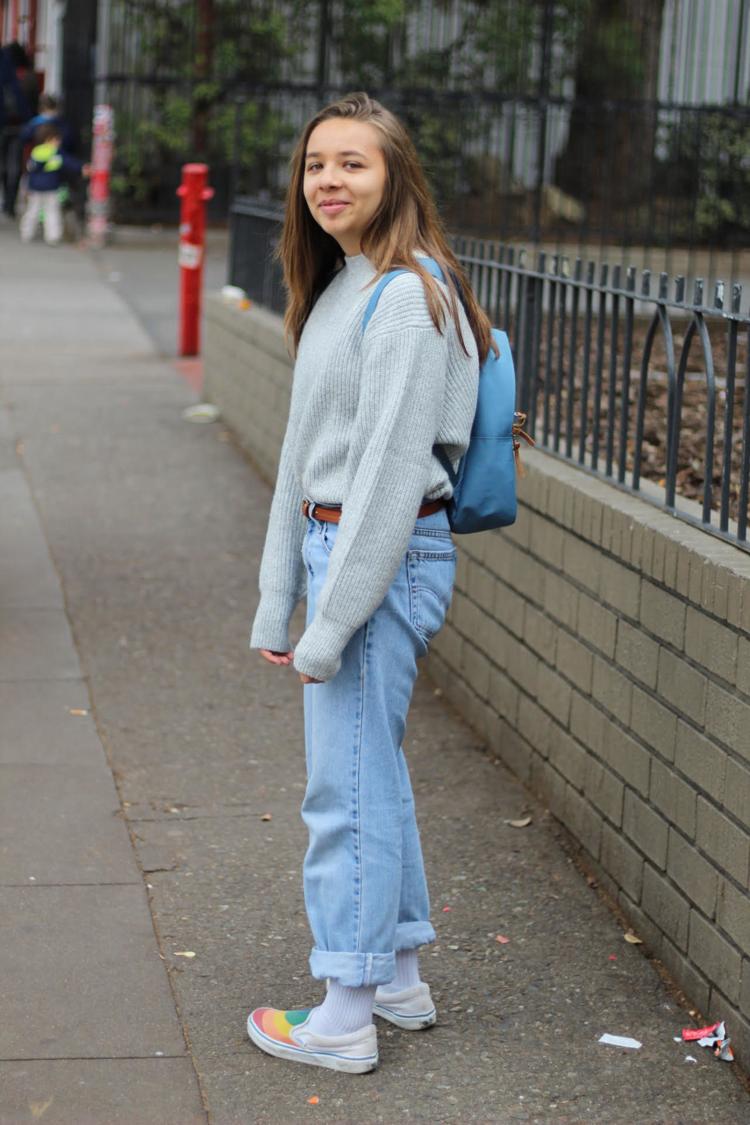 Senior Quote: "Do what you want now. We are not living in eternity. We have only this moment, sparkling like a star in our hand and melting like a snowflake..."—Francis Bacon
One of the many things I learned during my interview with Vivian Kammerer, a recent graduate of Napa High School, was that her GPA was penalized because she took choir classes. Her final GPA was 4.8, as Advanced Placement classes are worth five points, rather than four. But because she took one or two choir classes each year, which are only worth four points, she was deprived of a 5.0.
She does not regret the decision. "Choir was the most enjoyable thing I did in high school," she said. "I think a lot of people want to find the easy way out and just look at numbers. I think that taking a more holistic approach looking at how people have contributed to the culture or the community as a whole is more important than just looking at academics."
She started in Treble Choir her freshman year. Then through a process of auditions, she joined Concert Choir her sophomore year and progressed to Chamber Choir and Vocal Music Workshop her junior and senior years. Vocal Music Workshop is Napa High's a cappella group.
In Chamber Choir, Kammerer recalled two challenging pieces of music. The first was Josef Rheinberger's "Abendlied" or "evening song" written in 1855. The lyrics are taken from the Book of Luke in Martin Luther's German translation of the Bible. This required Kammerer and her choirmates to learn the German to evoke the right emotions in the song. Making it even more complicated was the fact that it was "polyphonic," which means that for most of the song, each person sings a unique part, requiring them to isolate themselves in their singing, while at the same time coordinating their timing with the rest of the choir.
The other piece of music was Ethan Sperry's arrangement of an Indian Wedding Raga called "Dwijavanthi." It was challenging because the lyrics don't mean anything. They don't have a story or stream of consciousness. They are merely sounds or chants that correlate with the music. It was about as far from 19th century German church music as one can get, and Kammerer said she enjoyed the perplexed look on the faces of her Napa audiences when they sang something so unconventional.
Kammerer performed around the valley in Napa High's choir. They sang in wineries and at elementary schools. Rep. Mike Thompson invites them to sing at his Christmas party at the CIA every year. Sometimes they would have four gigs a day, during finals, which was a challenge.
Kammerer was president of two clubs her senior year: Interact Global, a community service organization sponsored by the Rotary Club, and the California Scholarship Federation. But her junior year, inspired by a film course she took at Napa Valley College, she founded Napa High's Film and Arts Club where she would show movies and present works of art for discussion with the members. She wanted to present film as art, rather than simply entertainment. Membership also included a field trip to the Napa Valley Film Festival.
While Kammerer excelled in all of her classes, it was AP Art History that she said really ignited her passion to the extent that that is what she has declared as her major when she starts at UC Berkeley this fall. And after discussing perfunctorily her list of achievements. Opinions are important in the art world, and Kammerer definitely has hers.
What does she think is the difference between entertainment and art in film? She said that what separates the two is the viewer. "It's the motivation they're watching it for. I know that a lot of action movies get an audience because people want to see explosions and all this crazy stuff, but when it is done, they're not as fulfilled as they could be if they watched something where every individual shot looks like a painting. While there might not be a strong narrative sense, there is a sense of substance."
She compared a song overplayed on the radio with a piece of choir music in another language she had heard for the first time. "It comes down to that sense of excess, having too much of something that can be viewed through that lens of art or pure beauty rather than just action."
The AP Art History class consists of the study of 250 pieces of the traditional art canon, encompassing everything from prehistory, like Stonhenge, to ancient Egypt and Greece, Rome, Medieval art, all the way through the Renaissance, 18th- and 19th-century Europe, to the modern art of today. After studying all of that, she said if she had to do her thesis right now, it would be on "The art of destruction," she said. For example, Ai Wei Wei's "Dropping a Han Dynasty Urn" where the artist photographed himself dropping the 2,000-year-old urn onto a tile floor where it shattered. The idea was that the photograph of the act resulting from the destruction became more valuable than the thing that was destroyed.
"Destruction can still be creation," she said. "I think that is an interesting philosophical question that nobody has looked into."
What she doesn't like: "Lots of architecture. I think that architecture is something that can be cool, but you have to ask, why are you doing that? There's no reason for that. A lot of the post-modern architecture styles I wasn't really fond of." For example, Robert Venturi's "House in New Castle County."
"It looks like a fake colonial, like something you would see in a Disneyland ride as if they are trying to appropriate someone's culture," she said. "I want to ask, what are you doing? It's funny looking and off putting."
She liked the shamanism and mythology of ancient Egypt, as well as the classical art of 17th- and 18th-century Europe. But when asked about her favorite, she returned to Ai Wei Wei. In particular, his "Sunflower Seeds" installed in the Turbine Hall at the Tate in London. It consists of 100 million individually forged and hand-painted porcelain sunflower seeds, spread across the gallery floor. Spectators were invited to walk across them and touch them. Kammerer liked it because of its social commentary. "The concept behind it was the rise of Mao and communism in China. Mao was seen as the sun, and all the people were seen as the sun flowers coming towards him. I thought that story was one of the more interesting ones that we were told" she said.
She explained how modern art could describe the underlying zeitgeist of her whole generation. "What sets modern art apart from what was done in the renaissance is rather than focusing on divine intervention or nature, you are focusing on yourself and what's going on in the world and how it can be changed," she said. "It makes you question what is going on in the world and your place in it. It asks, what do you think about where you are in the world and what can you do about it?"
You can email Vivian to congratulate her on her accomplishments at vivian.kammerer@gmail.com and follow her on Instagram @viv.kammerer.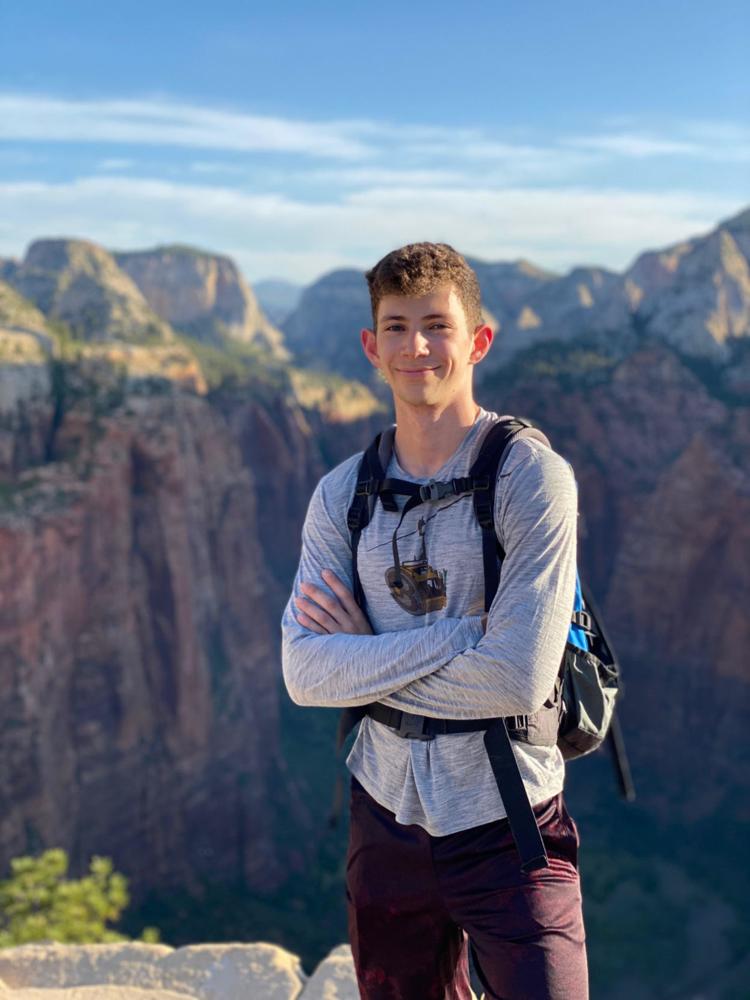 Senior Quote: "The mountains are calling, and I must go." John Muir
The summer of Cooper Stewart's sophomore year at Napa High School, he was selected by the U.S. State Department for a seven-week study abroad program in Tajikistan. That set the course for the rest of his life. That experience, and his 4.4 GPA, got him into the University of Utah's prestigious Middle East Center where he will study Middle Eastern culture and geopolitics with a Persian focus. He wants to some day work as a diplomat for the State Department. But given what I know about him now, I bet he ends up at the CIA.
A very close second attraction to the University of Utah was its ample access to the outdoors. Stewart is an avid hiker. He's been exploring the wilderness of Northern California, on foot, his entire life.
"I'm so lucky that my parents liked to camp growing up," he said. "But, once I could drive, I would take myself to all these gorgeous locations around California. That was the start of my adventuring on my own."
He's hiked the Sierras, Yosemite, Southern Colorado and Utah. "That is something when looking back I will be most fond of my childhood and teenage years. Seeing everything I got to see has shaped who I am," he said.
His favorite place to go hiking? With the relaxed, knowing authority of a connoisseur, who couldn't possibly choose his favorite given all he's experienced, he just said, "The Sierras. The coast is nice, man, but there is something about the Sierras."
Driving distance from Napa, what is his favorite hike? "Yosemite is one of the most beautiful places in the U.S.. Been there twice and both times were absolutely breathtaking. Viewing the sunset from the 10,000 feet above the valley floor is pretty incredible."
His choir teacher, Duncan Cooper, nominated him to be profiled. Stewart has been singing since elementary school. Once he had to pick which high school he would attend, he said he chose Napa High specifically for its strong choral program. He immediately auditioned for the Concert Choir, usually composed of only juniors and seniors, and got in.
"It was kind of daunting but also exciting," he said.
His sophomore year, he was in the elite Chamber Choir as well as the a capella group, the Vocal Music Workshop. In his junior and senior years, he did all three choirs.
By far, the most memorable piece he learned was "Kasar mie la Gaji" by the Spanish-Venezuelan composer Alberto Grau. The title translates from an unspecified African language to "The Earth is tired." It is a repetitive, percussive and complicated piece of contemporary classical music that not only showcases Stewart's and his choirmates' skill, but their ambition.
At the opposite end of the spectrum, was his participation in the Vocal Music Workshop's rendition of "Under the Sea" from the Disney movie, "The Little Mermaid." He performed this all over Napa, from elementary schools to the A cappella Extravaganza that takes place every winter. Their performance was animated. They incorporated snorkels, goggles and stuffed animals.
The best part of choir, for him, was being a member of the choir community. Freshman year was hard, being among juniors and seniors, but he said, "Once I began forming relationships with the people in choir, it became so much more engaging and fun." It was the collaborative aspect he enjoyed the most. "Having those connections with other people, getting multiple perspectives on things, working well with others, even from an academic standpoint, is so much more fun than being isolated and singing by yourself."
Stewart was also an athlete. He did track and field from 8th grade through his junior year at Napa High. His events were the javelin, discus and pole vault. Javelin has been banned in public schools, so he practiced that with a club team. But he was able to compete in discus and pole vault. Throwing a discus, he said, "some of the best high school discus throwers were not the biggest guys, but they just had the technique down."
Academically, his favorite subject was history. In fact, the book that was most pivotal in his high school career was Jared Diamond's "Guns, Germs and Steel," which, Stewart said, is about "geography as destiny."
"There is a cynical realism to history," he said. "The way the book portrayed humanity as a species—we are capable of great achievements—but the cost is always high. Never ending brutality and warfare seems to come along with every great achievement we've made. We're capable of great progress, but historically it takes a lot of violence."
Even still, he continued, "The ability for humans to change and adapt quickly to that change is pretty remarkable. In the way that we're able to overcome adversity. Looking back 20 or 30 years seeing how far we've come, it's pretty remarkable."
These are certainly lessons that will serve him well when he's studying the history of the Middle East.
Napa County's Class of 2020: Stars in the Arts
Since so many graduating high school seniors had their final year upended by the COVID-19 pandemic, the Napa Valley Register is profiling some of the outstanding students in the arts. 
Stay up-to-date on what's happening
Receive the latest in local entertainment news in your inbox weekly!