Editor's note: John Henry Martin continues his profiles of students from the class of 2020 in Napa County.
Barrett McMichael
Senior Quote: "The good thing about science is that it's true whether or not you believe in it." Neil DeGrasse Tyson
"Music transcends language. It is a language all its own." This is what fascinates Barrett McMichael about his lifelong career as a musician. He began playing the trombone in fourth grade, then switched to the baritone and euphonium when he started in Napa High's marching band. Once he got comfortable with those valved instruments, he was able to pick up other ones like the trumpet. Recently he has branched out beyond the brass section to drums and guitar. "They're all really fun," he said.
Marching band plays at football games, where they would often play the same songs over and over again. They got really good at "24K Magic" by Bruno Mars, which they would play as the "downfield" song, whenever the crowd or team needed a bump in enthusiasm.
McMichael was Napa High's drum major his senior year, which taught him some interesting lessons. Mainly, he realized that it's a lot easier to take direction than to give it. Furthermore, you need to "lead in a way that makes it seem that you're trying to help everyone. Not like you're in a position of power. No one wants to listen to someone that is just giving orders," he said.
This experience has given him empathy toward his teachers, whom, he now realizes, have pretty demanding jobs.
McMichael was also in jazz band, where he played trombone. He enjoyed the wider variety of music than what the marching band played. Favorites included the "Blues Brothers Review" and a standard of the high school jazz band repertoire, "Blues for Thara." But they explored other genres like bossa nova, Latin jazz, rock and funk. He enjoyed perfecting a song, then taking it to a festival and getting graded by a judge in the competition.
Outside of band, McMichael took 7 AP classes and finished with a 4.08 GPA. His favorite by far was AP Physics. This class changed his perception of the world. "In the most minuscule things, I'll see the forces that are acting upon it," he said.
What he has learned in high school comes together at his evening job as a busser at the restaurant Il Posto. As the low man on the totem pole, he has to take instruction from the manager. At the same time, he said he thinks about the actual physics involved when he clears the plates from a table or contemplates what the dishwasher does with them.
While he wanted to go to UC Berkeley, because that is where his parents went, 4.08 was not good enough to get into the engineering department. So, he decided to go to the University of Kansas. He has family in Kansas and his grandparents went there. He likes the layout of the college and is looking forward to colder weather.
McMichael struggled a bit in English, mainly because he wasn't interested in it. He didn't like that there wasn't a right answer. His favorite book in high school was Neil DeGrasse Tyson's "Astrophysics for People in a Hurry." He was impressed that one could write about physics in prose, not just do the mathematical calculations.
He realized that he likes math and physics for the same reason he likes music. That is, there is no ambiguity. Whether it be a physics calculation, or the musical note, you know if it is right or wrong. Though, it is this aspect of music that makes jazz so interesting. In improvisational jazz, there are no wrong notes, you just have to role with it. So McMichael sees the nuance in that. But interpreting an 18th century text in his English class is something for which he does not have patience.
The pandemic has also taught him an important lesson. "Sometimes you need to take a step back and look at what you have," he said. He didn't realize that that Thursday in March was going to be his last day in school. "Even when you think everything is fine, you don't know what happens next in the world. In the next week, you don't know everything can be taken away."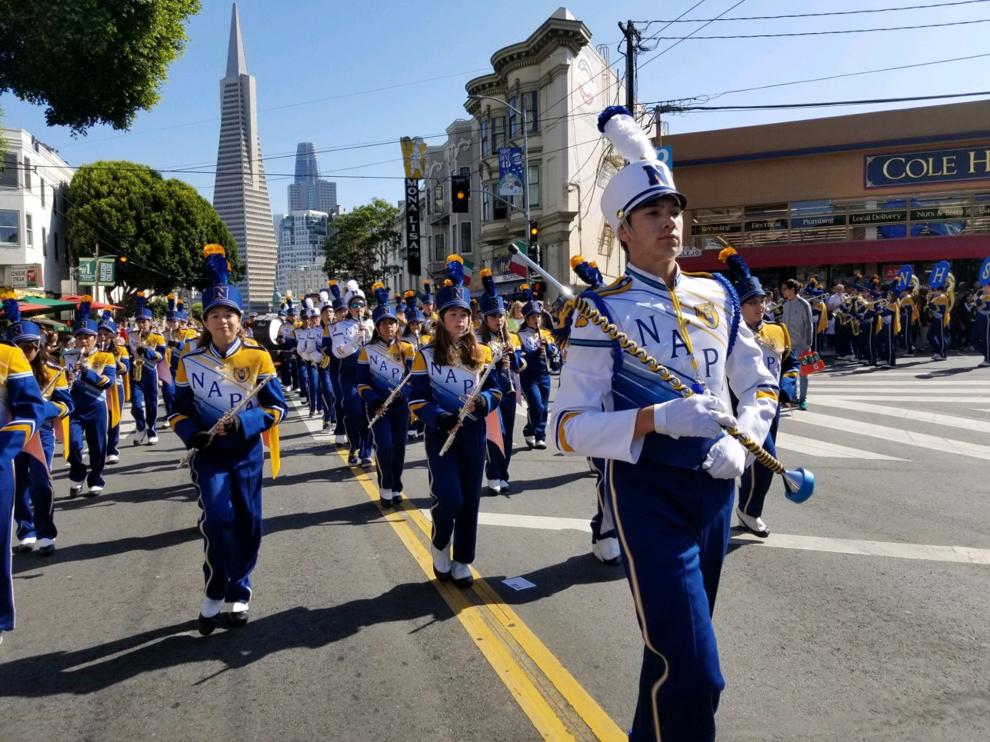 Sebastian Dinsdale
Senior Quote: "More air!" What the assistant band director, Alan Parks would say when he wanted the band to play with more confidence.
"There is nothing like being in marching band; it's awesome," Sebastian Dinsdale said, reflecting on his time at Napa High. "I have the best memories of playing half time shows with all my friends. It's super fun, and hyping up the crowd is great."
But Dinsdale was also in the jazz band, which he also loved, but for different reasons. "The music for marching band is loud, bombastic," he said. "But it's not that challenging. In jazz band, the music is very challenging, so it was through jazz band that I improved myself as a musician. And jazz music is fun to play. But if I had to pick one, it would be marching band."
Dinsdale reflected fondly on the final football game of the season, against rival Vintage High. They lost the game by one touch down in the final quarter. "It was very emotional," he said. But they still had fun.
Dinsdale has been a musician for most of his life. He began playing the piano at 4 years old. In fourth grade, he took up the clarinet and played it until his sophomore year at Napa High, when he switched to baritone. Then from baritone, he learned the trombone, which he considers to be his main instrument. In marching band he plays the baritone and is the low brass section leader, while in jazz band, he's the lead trombone.
Outside of band, he took a lot of AP courses, his favorite being AP World History. He said it was hard, but worth it. "It was cool seeing the different philosophies and religions that humans have gone through. I liked learning about Chinese Confucianism, Taoism and Buddhism. It just shows you a different outlook on life."
Dinsdale applied to several colleges, but has settled on attending the University of Nevada, Reno where he will major in kinesiology and minor in music.
The interest in kinesiology came about with a late desire to get into shape. He felt scrawny, at 120 pounds and started lifting weights in his garage before school. He then researched the optimum diet to gain muscle, and when he began to get results, he got a gym membership and really "went for it." He said, "That's one of my favorite things that I have done. It shows I can accomplish things."
Dinsdale summed up his high school years with a lesson about the benefits of persistence. He said that if you find something you like, you need to "let it flourish," which helps you build your work ethic and confidence. He said, "My continuing to play music has made me more responsible, it's strengthened my work ethic. If you learn that skill of sticking with something, and working really hard on it, you can apply it to other things in your life. And that can make you a better person."
Dinsdale has heard that because his generation grew up with the internet, some people think they're "cheating." But he said there are plenty of people in his generation that are just as comfortable interacting in person as they are on their phones. Neither is bad, you just have to have a balance. But he knows that the people who do strike that balance will be the most successful. "People like that in our generation are going to be fine," he said.