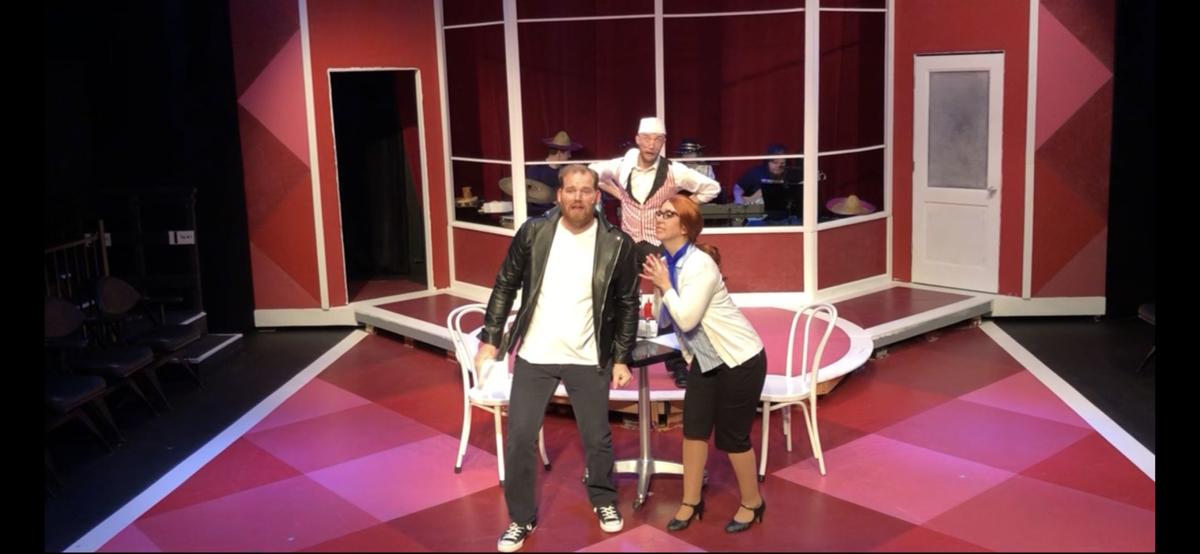 A trio of comedic chameleons lights up the stage in Lucky Penny's newest production, "Five Course Love."
Sarah Lundstrom, F. James Raasch, and Brian Watson slide in and out of 15 different roles in Gregg Coffin's musical consideration of the challenges of love.
The action takes place on an admirable set (designed by Watson who is a talented craftsman as well as actor and singer) that becomes in turn, Dean's Old-Fashioned All-American Down Home BBQ Texas Eats, the Trattoria Pericola, Der Schlupfwinkel Speiseplatz, Ernesto's Cantina, and the Star-Lite Diner.
In each dining place, Watson plays the waiter, morphing like a Chengdu face-changer each time as he witnesses (and takes part in) the many catastrophes of love, while Lundstrom and Raasch create all varieties of lovers deftly and delightfully.
The show opens as the wistfully nervous and nerdy Matt (Raasch) is in his car, heading for a blind date that he hopes will finally end his status as "A Very Single Man." Although what he thought was a sushi bar turns out to be barbecue, he is bowled over when his date appears. Barbie ( Lundstrom) is a Dolly Parton look-alike whose only qualm about Matt is "Am I Jumping the Gun?" Alas, just as Matt is about to depart with Barbie for his long-delayed night of bliss, she makes a tragic discovery: his name. Barbie, it turns out, has been relentless searching for her Ken. Apologizing with "I Loved You When I Thought Your Name Was Ken," she abandons poor Matt and heads for another table.
In short order, the restaurant its transformed into an Italian restaurant, setting for a showdown between the perfidious Sofia juggling the affections of Gino and her absent husband Nicky. Next, it is the Speiseplatz where the love tangle involves a dominatrix Gretchen and her two partners, one of whom is the waiter; and then at the cantino, a flustered Rosalinda has to choose between dashing narcissist Guillermo and the earnest Ernesto, who truly loves her.
You have free articles remaining.
Just when you might begin to wonder how many stereotypes a playwright can fit into one show, the work spins full circle, and it all comes together. Ah, there's a point to this: it's back to hapless Matt, still hoping for love, but hampered by the Barbie and Ken syndrome, the gap between fantasy and reality, but still reach for the stars, no matter how unreachable they are.
Gregg Coffin wrote the music, lyrics and book for the show, which premiered off-Broadway in 2005. And while his script has flashes of humor, the cliches often weigh it down.
There is a phrase that is overused in current press releases about events: "light bites will be served." It grates on our newsroom nerves, especially when it is spelled "lite bites." Our copy desk maintains it comes from people who may have trouble spelling "hors d'oeuvres." It indicates, however, that there will be refreshments, just nothing too elaborate. And it kept coming to mind as I thought about the play, that is certainly pleasant but not profound.
The reason to go see it, however, is to watch what the three talented actors and singers do with what they are given. Raasch switches from forlorn Matt to tough-guy Gino to black fishnet clad Kalus to self-smitten Guillermo to Clutch, the dumb, handsome hunk, just wandered in from "Grease." Lundstrom moves from Down-home Barbie to treacherous Sofia, terrifying Gretchen, and sultry Rosalindo, but she is most touching as Kitty, who dreams of love she finds only in books. And then there is Watson, swaggering in cowboy chaps, spooked as the uneasy trattoria waiter; excitable as the secret lover of the formidable Gretchen as well as Klaus; ardent as Ernesto, trying to win Rosalinda, and finally, aged into Pops, proprietor of the Star-Lite, happy to give love a nudge.
They add the sparkle, flash and fun, turning what could be an uninspired buffet into an entertaining feast. And they all sing beautifully too.
The production is directed by Heather Buck, with music direction by Ellen Patterson and choreography by Staci Arriaga. The music by Ellen Patterson, Jeff Patterson and Michael Clifford, whom you can view beyond a window on this set, is outstanding.
"Five Course Love" will be performed through March 1 at the Lucky Penny Community Arts Center, 1758 Industrial Way in Napa. Tickets can be purchased online at luckypennynapa.com or by calling 707-266-6305.
Stay up-to-date on what's happening
Receive the latest in local entertainment news in your inbox weekly!