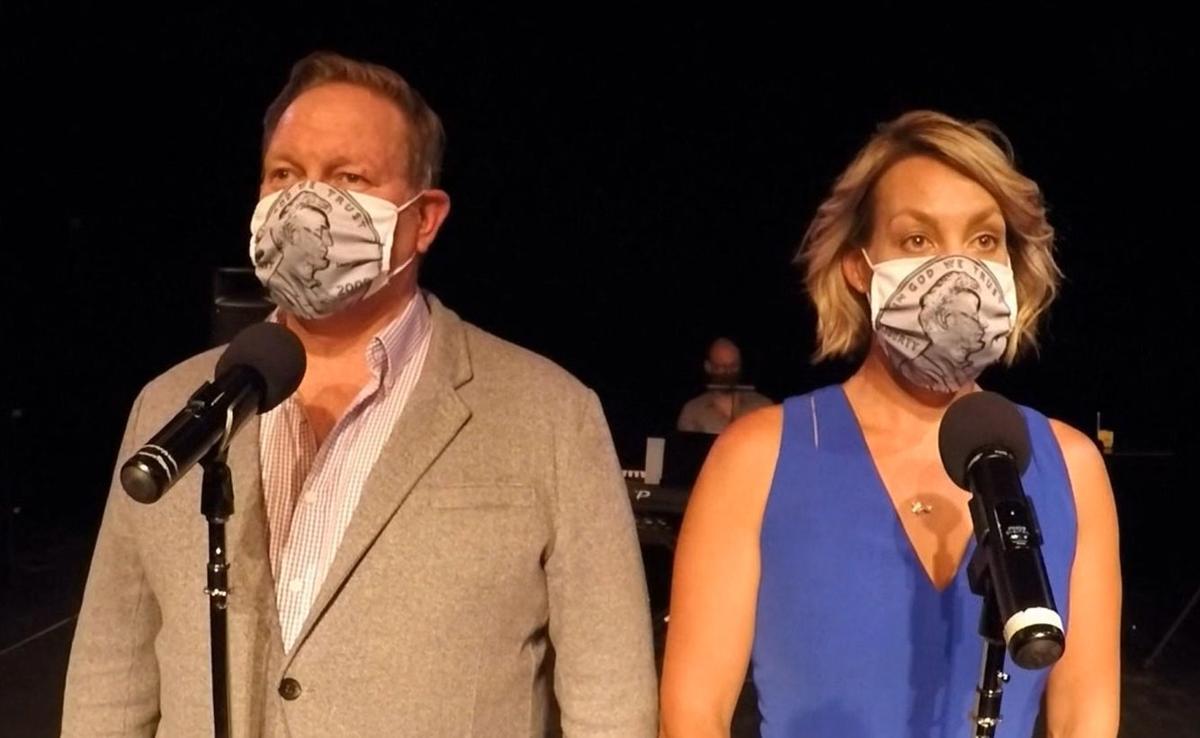 Barry Martin and Taylor Bartolucci opened their pandemic video presentation of "For the Love of It" with a cover of The Beatles' "Yesterday." They wore masks with a big copper penny printed on them. Then, when Craig Burdette's capable piano began to play, they took them off, and began to sing about how yesterday "all our troubles seemed so far away" — cut to a calendar in January — then, "now it seems they're here to stay," and they showed a calendar in March.
I could think of no more clever, but sensitive, way of describing this moment—what they, and so many other theater companies, are going through. They sang, 'Why we had to close, well you know, no need to say." Truly. "We did nothing wrong, now we long for yesterday."
The show was composed of stars from past Lucky Penny shows, singing songs from the canon of American musical theater. They called it a cabaret, as it was just a singer and Burdette, in a mask, playing the piano in a dark room. But the effect was as if they were singing in outer space. Isolated, alone, in a black expanse.
Art is a reflection of life, and this art reflected the isolation and loneliness of our time. It was sincere, and forlorn, but exquisitely beautiful. I wanted to hug and kiss and comfort each performer, but...social distancing, you know.
In producing the show, they kept pandemic kosher, sanitizing the room between performances, and rarely getting within six feet — with a few exceptions — of anyone else. Martin said it was hard because actors are huggers, and intimacy is a natural and necessary part of putting on a show.
After the clever cover of "Yesterday," Daniela Innocenti-Beem sang "Pure Imagination" from "Willy Wonka and the Chocolate Factory." I remember her from "Bingo! The Musical," that zany show from a couple years ago where she played an overbearing, bingo-obsessed battle axe. But here, with an expansive falsetto, she was majestic, regal, a godmother entreating her godchildren, the audience, to relax and dream.
Sean O'Brian sang "No One is Alone" from Sondheim's "Into the Woods." The song was an apt choice for our time, as it is sung at the point in the show where the characters — the Baker, Jack, Little Red Riding Hood and Cinderella — are lost in the wood, without anyone to guide them, not unlike us, now. The song gives comfort: "No one is alone," indeed, but "mother cannot guide you...nothing's quite so clear now…" It seemed like O'Brian was a gentle father, pensively steering us, his children, through a difficult time.
Tommy Lassiter sang "Without a Believer" from Sara Bareilles' musical "Waitress." I was captivated and heart-broken by Lassiter's sensitive, wistful embodiment of a young man reflecting on his youth, and the older woman who convinced him to believe in his dreams. I wanted to befriend him, hug him, take him out for coffee, and listen to those dreams he thought he should abandon.
Then, in the middle of the show, Bartolucci sang "Twinkle Twinkle Little Star" with her 3-year-old son Rocco. The cute factor was intense. My heart warmed like a chicken at 350 degrees.
There were many other acts from many other shows, 31 in all. Heartfelt, sincere, sensitive, and as optimistic as it was possible to be. Though it would be impossible to replicate the exuberance of "9 to 5: The Musical" or their enthralling "Cabaret" or the entertaining "Xanadu Junior" in this venue, Lucky Penny's "For the Love of It" shows that even if the theater is dark, and our times are darker, artists will find ways to practice their art. And even if that art is mediated by a screen, it's still just as powerful.
Barry Martin is making the show available at the Lucky Penny website for one more weekend, Aug. 14-16. To get details on viewing it and to make a donation, go to luckypennynapa.com.
Stay up-to-date on what's happening
Receive the latest in local entertainment news in your inbox weekly!