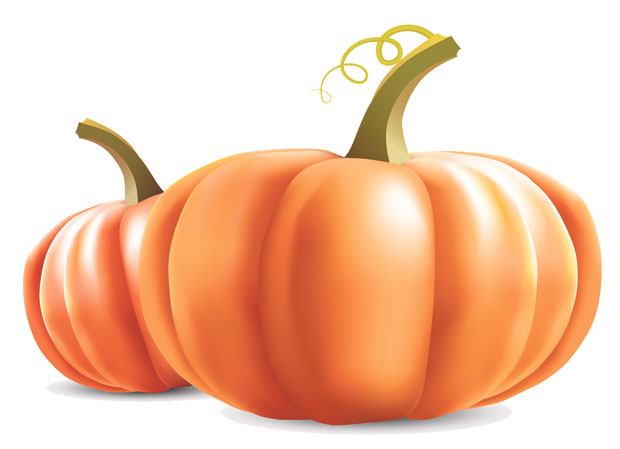 When fall arrives and Halloween approaches, chefs get pumpkin-crazy.
Restaurants serve many dishes featuring pumpkin, from Italian pumpkin risotto and pumpkin-stuffed ravioli to Native American recipes featuring the three sisters of the Southwest — corn, beans and squash.
For pumpkin is just a variety of winter squash. Recipes for hard squash like acorn and butternut can be interchanged with pumpkin, but unfortunately not with the jack-o'-lantern left over on Nov. 1. Aside from sanitation issues and likely partial cooking from the candle, large pumpkins used to make jack-o'-lanterns are too stringy to make good eating, although their seeds are fine toasted and salted.
For cooking, choose smaller decorative varieties instead. Chef Ken Frank, from La Toque restaurant in Napa, grows many varieties with his wife Sherylle at the Oxbow garden, and he especially recommends Rouge d'Etampes.
"It has rich flavor and great dark color too," Frank said, but he added a smaller ornamental variety can also be used.
Of course, if the recipe calls for pureed pumpkin, you can use some from a can.
And while it hardly calls for a recipe, cubes of pumpkin toasted in oil and salt, and then baked, can't be beat.
As I set out to collect recipes for this story, Mark and Teresa Haberger of Big Ranch Farms nominated Chef Frank's pumpkin soup. "It's delicious," Teresa said. The chef kindly shared it.
Lizzie Moore, the director of BOCA Farm (Building Our Community through Agriculture) in Napa, likes a pumpkin soup with southeastern Asian flavors, and flavors hers with coconut milk and red Thai curry paste.
Pumpkins are popular in Mexico, including the seeds or "pepitas," which are used like pine nuts or sunflower seeds. Catherine Bergin from C Casa at the Oxbow Public Market provided her seasonal recipe for Enchiladas with Spicy Pumpkin Sauce.
And, of course, there's the traditional autumn favorite: pumpkin pie. Cindy Pawlcyn, chef and owner of the Upvalley restaurants Mustards Grill, Cindy's Backstreet Kitchen and Cindy Pawlcyn's Wood Grill & Wine Bar, shared her own tasty version.
One 10-inch, partly baked pie crust
4 egg yolks (save 2 egg whites)
1/2 tsp. fresh grated ginger
A few gratings of fresh nutmeg
1 Tbsp. at most of molasses or honey
1 1/2 cups whipping cream
2 egg whites beaten until stiff
In a large bowl, combine pumpkin puree with the egg yolks, brown sugar, ginger, cinnamon, nutmeg, lemon rind, molasses and Grand Marnier. Mix well.
Beat egg whites until stiff and gently fold into the mixture.
Pour mixture into the par baked pie crust.
Bake at 400 F for 5 minutes. Turn down the oven to 350 degrees and bake for 30 minutes more or until set. A knife inserted into the center will come out clean. Cool on a baking rack.
On the pie top, arrange the pecans in concentric circles until covered.
In a small pot, combine the brown sugar, butter and cream and cook over low heat until dissolved, stirring frequently.
2 small pumpkins (can substitute 2 acorn squash or other smallish winter squash)
3 Tbsp. unsalted butter, room temperature
One 14-ounce can coconut milk
1 tsp. (or more) red Thai curry paste
2 tsp. fine-grain sea salt (or to taste)
Preheat the oven to 375 F and place the oven racks in the middle.
Carefully cut each pumpkin into halves (or quarters). Slather each piece of squash with butter, sprinkle generously with salt, place on a baking sheet with skin sides down, and place in the oven. Roast for about an hour or until the squash is tender throughout.
When the pumpkin is cool enough to handle, scoop it into a large pot over medium-high heat. Add the coconut milk and curry paste and bring to a simmer. Remove from the heat and puree with a hand blender; you should have a very thick base at this point.
Now add water one cup at a time, pureeing between additions, until the soup is the consistency you prefer — a light chicken stock would work here as well. Bring up to a simmer again and add the salt (and more curry paste if you like; I used just shy of 6 teaspoons, but the curry paste I use is not over-the-top spicy).
Drizzle the sugar mixture over the pecans. Cover the pie crust rim with a strip of foil and carefully place under a broiler until the topping becomes bubbly. Remove, let cool and serve.
2 lbs. fresh pumpkin, cut into large cubes
1 1/2 quarts vegetable stock (or chicken stock, or even water)
Optional garnishes: Kurbiskernol (toasted pumpkin seed oil), pumpkin seeds, diced apples
Place pumpkin cubes, skin side down, on a baking sheet and roast at 350 F for 25 to 30 minutes until tender.
Meanwhile, slice onion and the white of the leek into thin strips and sauté in a large saucepan with the butter until they just begin to brown.
Cut or scrape the skin from the roasted pumpkin and add pumpkin to the pan with the leek and onion. Add the stock, curry powder and creme fraiche and season with salt. Bring to a simmer and cook, covered, for 20 minutes.
Puree the mixture in a blender and strain. Verify salt seasoning and consistency of the soup, adding a little salt or water as necessary.
Serve in a soup plate with any combination of Kurbiskernol, toasted pumpkin seeds and sautéed diced apples as a garnish. For a dramatic "family-style" presentation, you can use a hollowed-out pumpkin as a tureen.
Enchiladas with Spicy Pumpkin Sauce
Makes 12 appetizers or 6 entrees.
4 cups pureed organic pumpkin (two 15-ounce cans)
2 1/2 cups chicken or vegetable stock
3-4 Tbsp. curry vindaloo, available at Whole Spice (depending on how spicy you want it)
Puree above ingredients until smooth.
3 cups shredded chicken, duck or pork
4 cups goat cheese and Oaxacan cheese
1/2 cup chopped green onions
Mix cheese with green onions.
Lime crema (Mexican sour cream with fresh lime juice)
Preheat oven to 425 F. Cover one large baking dish with olive or grapeseed oil spray. Pour enough of the sauce to generously cover the bottom of the baking dish.
Lay the tortillas flat. Add the protein of your choice. (You can also just do cheese enchiladas; in that case, use 5 cups of the cheese mixture.) Top the meat with some of the cheese mixture, then roll each tortilla tightly and place in baking dish, seam side down.
Pour the rest of the sauce over the enchiladas and top with remaining cheese. Cover with foil and bake for 30 minutes or until bubbling hot all the way though.
To serve, place one or two enchiladas in the center of a salad or dinner plate. Top the enchiladas with micro greens and toasted pumpkin seeds, then drizzle with lime crema. Finish with sea salt.
Stay up-to-date on what's happening
Receive the latest in local entertainment news in your inbox weekly!