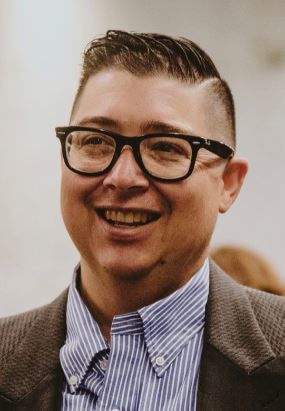 Aaron Robert Paddock, our beloved son, brother, uncle, nephew, cousin, and great friend, passed away suddenly to be with our loving God on May 1, 2020. He was born on January 13, 1977 in Napa to Terry Paddock and Clara (Reynoso) Willis.
After Aaron's father died when he was still a child, his mother and her extended family raised him. He grew up in Napa, and graduated from Napa High School in 1995.
In his youth, Aaron was always a bit of a dreamer, looking for new adventures. At 21 he moved to Corvallis Oregon. There he became a beer aficionado, learning how to brew his own beer. He lived in Seattle while working for the Job Corp., later moving to Wyoming to learn auto mechanics. He returned to Napa and worked for a few years in auto repair, as well as bicycle repair, butcher, sales, barista, construction estimator, security, and postal carrier. In his late 20's, he went back to school and completed his Associate Arts Degree in Sociology at Napa Valley College. And at 37 he obtained a Bachelor's degree in Anthropology from UCLA. He was so happy and proud that day as he had accomplished his goal to become educated. He went on to the University Chicago to study for his masters of Anthropology and participated in archeological excavations in the Middle East. He finally settled back in Napa and worked at Auberge Du Soleil and Solage for several years. He was studying to become a Sommelier when he suddenly passed away.
Aaron loved his dog, Mr. Wrinkles, his loving companion for over 14 years Aaron took his dog everywhere and treated him like a family member. They were always seen together in and around Napa. Though Aaron had many hobbies like cycling, hiking, playing tennis, cooking, music, being a sneaker-head and drinking beer; he was most passionate about his sports teams: A's, Raiders, Warriors and Sharks.
Aaron was always filled with joy and laughter. He loved being with his family, telling stories and making everyone around him laugh. He had the ability to relate to everyone he met and make them feel welcomed. He always made an effort to stay connected with his friends from high school and with those he befriended from his journeys. His smile always warmed your heart. He always wanted to help and to break bread and converse with everyone. He left us much too early. We miss our beloved Aaron, but are fortunate to have countless memories of his warmth, passion and love to remember him by.
Aaron is survived by his mother Clara Willis, step-father Steve Willis, brother Elliott Paddock (Sarah), sister Nicole Dawkins (Tim), grandmother Lorraine Paddock, nephews Jacob, Noah and Timothy, niece, Maya, uncles and aunts Victor Reynoso, Alex and Jean Reynoso, John and Kristy Reynoso, Sarah Reynoso and Mark Palley, Mike Paddock (Patty), and Christine Luchini (Romano). Cousins: Dan, (Lara), Cade, Maleah , Victor Jr. (Marie) Anna, David, Robert, Nicholas and Nathan Reynoso, Gabriel Reynoso-Palley and Amanda Reynoso-Palley (Synuhe), Merissa (Tyler), Mathew, Katherine Paddock, and Eric Luchini & Family.
A memorial will be held at a future date. Please go to claffeyandrota.com to share a memory or send a condolence to the family.
In lieu of flowers a memorial contribution may be made to an animal rescue charity of your choice
Obituaries Newsletter
Sign up to get the most recent local obituaries delievered to your inbox.