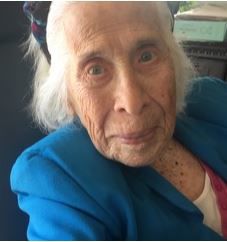 ANGWIN (Napa Valley), Calif. – The residents and staff of Linda Falls Guest Home, a family-owned and operated assisted living home overlooking the Napa Valley, regret the passing of Barbara Archey, the home's longest member at 102. Barbara's infectious smile, sharp wit and charm will be missed.
Born in Irvington, New Jersey, on August 25, 1917, Barbara was an advertising, publishing, and marketing professional with many years devoted to hospitality and travel planning. After her official career ended nearly 35 years ago, Barbara became a much sought-after volunteer for the City of Long Beach, California. Her passion was teaching children about renewable energy, water conservation, recycling and the mysteries of aquatic life off the coast of Southern California. In 2003 Barbara was awarded the prestigious Mary Mulvey Award by the City of Long Beach for outstanding volunteer service to her community.
In May of 2014 Barbara relocated from Long Beach to Linda Falls, a hillside community in the heart of the Napa Valley.
Barbara was proud to be part of a nation-wide collective of over 70,000 elders who are 100-years and older. This group represents the fastest growing segment of the US population.
From all of us at Linda Falls Guest Home and your Napa Valley friends – We send our love and admiration.
For more information about Linda Falls Guest Home and the care options they provide, contact Norbert Sacro at 707-963-1440.
Obituaries Newsletter
Sign up to get the most recent local obituaries delivered to your inbox.