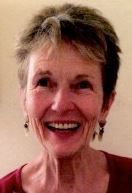 Carol Caywood, 73, died suddenly on Wednesday, June 26, in a traffic accident leaving everyone who knew her shocked and grieving. Her friends will miss her generous and welcoming spirit, her steadfastness in forgiving their fallibilities, the delicious meals she delighted in making and sharing, including the never-to-be-forgotten chocolate-covered fig balls (recipe now lost), and her insistence on being right (she often was but not always). Carol, a music teacher, leaves as her legacy, so very apparent in their recitals, students with an understanding of music as a conversation, a listening as well as a telling, an experience felt but not necessarily defined.
A Calistoga native who graduated from Calistoga High School and Sonoma State University with a bachelor's in music, Carol wanted to be the best she could be. To that end, she took her beloved dog, Maggie, and herself to Stony Brook University in New York and graduated with a master's degree in conducting. When her teaching responsibilities included teaching singing to children, she returned to school, earning a degree from Holy Names in Oakland in the Kodaly program, a highly successful method of teaching music to children compatible with their developmental capabilities. She conducted "Don Giovanni" in the earliest days of the Marin Opera, and as the musical director at Cinnabar in Petaluma, she wrote and directed "The Tailor of Gloucester," a children's opera.
Most of her professional career was spent as a teacher in Marin County schools—Marin Academy, St. Patrick's, and Kent Middle School. She always taught privately, piano and band instruments, continuing to do so after retiring in 2008 from Kent Middle School and returning to her family home in Calistoga to live full time. There she became an active member of Highlands Christian Fellowship Church, enjoying very much her years serving as the children's ministry director and sharing her musical talents. She was dearly loved by the children at Highlands and by the many children she taught over the years.
Those who knew Carol understood she loved her friends, her church, her cats (all of whom serially appeared on her doorstep just when she needed them), her garden (her glorious garden of vegetables and fruit and a riot of flowers), the outdoors—she was a hiker, a swimmer, a kayaker. She was unique. Although we suffer her loss as we celebrate having known her, Carol would want us all to know that she is now safely at home with the Lord.
Carol was predeceased by her parents, Del and Ruth Caywood, and her brother, Tim. All are invited to a celebration of Carol's life, July 13 at 1:00 pm at Highlands Christian Fellowship, 970 Petrified Forest Road, in Calistoga. Family assisted by Parent-Sorenson Mortuary & Creamatory, Petaluma.
Obituaries Newsletter
Sign up to get the most recent local obituaries delivered to your inbox.