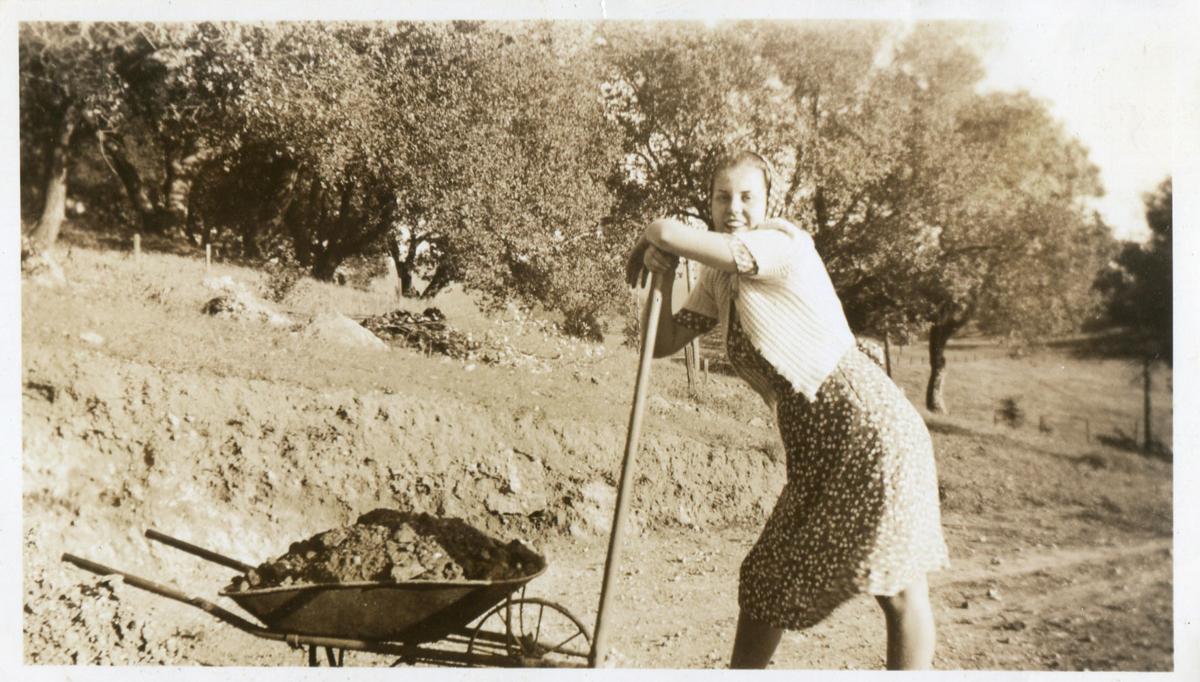 In the musical "Hamilton", a running theme is "who lives, who dies, who tells your story?". I am my mother's storyteller. Because of my own grief, only now, almost a year after her death, am I ready to tell her story. Today would have been her 96th birthday.
Constance Mary Jacks Fortune was born on November 22nd, 1923, on a stormy night at her grandmother's house on Coombsville Road. A late in life child, she was the youngest of the four Jacks children with 14 years between herself and her sister, the oldest. She grew up outside, playing with puppies and exploring the woodlands. She attended Napa's Lincoln School and graduated with honors from Napa High School. She studied librarianship later in life. My very feminine mother, who loved fine French perfumes and beautiful linens, was a highly skilled gardener, a grower of bearded iris, a fly fisher, a dog trainer, a crack markswoman in her youth, and a wonderful cook. Her artistry shined as a magnificent seamstress, making beautiful clothing as well as bed coverings, window treatments, and quilts. She was a voracious and intellectual reader, absorbing history, archaeology, and biographies; a pile always stacked on her bedside table. She met her beloved husband William Patrick Fortune in 1941 and was married in her parents' home in the summer of 1942. As a couple, they made their home on Jacks family land and started a family of their own.
Tragedy struck in 1967 when her husband William died in a horrific medical debacle at Queen of the Valley hospital. He was only 51. Connie never remarried. She kept an immaculate home and cared for her elderly parents, her older sister, and her youngest child (me). She kept her property and gardens park-like. She made swoon-worthy lemon meringue pies, laughed out-loud frequently, and made jokes to the very end. She always made her home a holiday wonderland for her grandchildren.
She loved ripe tomatoes from the garden, crispy fried potatoes with shallots (topped with sharp cheddar cheese), and steaming hot coffee with homemade oatmeal cookies. She loved the crashing waves of the Pacific Ocean at Bodega Bay and Mendocino, and homemade clam chowder. She lived an active, outdoor life. Our matriarch was a fiercely proud, liberal Democrat and cared deeply about human rights and social justice. She encouraged higher education or skilled trade apprenticeships for all the young people in her life. She believed in generosity of spirit, heart, and hand.
In her 90s, a great pleasure was planning and making holiday gift bags and providing classroom supplies for the children of Mr. Matthew Lernhart's second grade class at Shearer school in Napa. She loved Matthew as though he were one of her own children. She never smoked a day in her life but lung disease tortured her. Her lifelong asthma worsened in correlation with the area's vineyard expansion, pesticide spraying, and mining drift. Draw your own conclusions about pesticides, herbicides, sulfur, and silica. Lung diseases and cancers rank highly in Napa county's illness and mortality rates.
As the archivist of the family, she collected and preserved the Jacks Family Papers, documenting a history that spans so far back, few remember their vivid and lasting contributions to both San Francisco and Napa history. Historians and journalists came to her many times in search of evidence and documents that tell the story of the famous Jacks Brothers silver and goldsmiths. Their silver marks are Jacks Bros., Jacks & Woodruff, and Samuel Jacks. The Jacks brothers were the very first silver and goldsmiths in San Francisco. Coming from New York for the Gold Rush they established a thriving business and made magnificent things for the local luminaries of the time. Notable pieces include a commemorative California gold medallion for Henry Clay thanking him for his role in establishing California's statehood. Their shop was on Montgomery Street. They were also experts at setting ships' chronometers, a task entrusted only to the most skilled craftsmen.
The Jacks brothers came to Napa in 1851, purchased land, and did much to create a strong and lasting community. They served on the first board of trustees as founding members of Tulocay Cemetery. They also helped found the Presbyterian Church and gifted the church their first hand handmade silver challis. Jacks Point on the river marks another place where they lived and had a nursery of exotic palms and citrus plants. My mother recalled taking walks with her grandfather Samuel Jacks, who was a Civil War Veteran of the Union's California Infantry. Remarkably, he was injured and survived. He told of the horror of how his infantry was instructed to kill native people in California, which he refused to do.
Like her ancestors, our mother died with dignity and independence in her own Coombsville home, in her bedroom, with her small and devoted tribe surrounding her with love, and with her kitty at her side. She was quick-witted to the end, fought to live for 95 years and one month, and left us on December 21, 2018.
Constance is interred at Tulocay Cemetery next to her beloved William. Constance is survived by her two daughters Catherine Delacy (Cliff), and Deborah Fortune Walton (Thomas), her granddaughter Laura Grijalva (Richard), grandsons Charles Walton (Natasha), and Henry Walton (Andrea), and great grandsons Russell and Ethan.
My sister and I would like to thank the extraordinary Collabria Hospice nurses, counselors, and gentle home health aides for their kind and skilled support and care. A lover of nature and animals, wild and domestic, our mother would encourage shelter adoptions over breeding.
Contributions may be made in her honor to Napa Wildlife Rescue, Napa Humane, and Napa Vision 2050, an organization that works to save Napa Valley from further watershed destruction and vineyard over-development. She fought for the preservation of our dwindling native oak forests and wildlife habitat, and given her 95 years in this valley, she saw the damage with clarity and perspective. I made her a promise to continue the fight. Ring a bell, have a shot of fine Scottish whisky, and say her name. May her memory be a blessing.
Obituaries Newsletter
Sign up to get the most recent local obituaries delivered to your inbox.