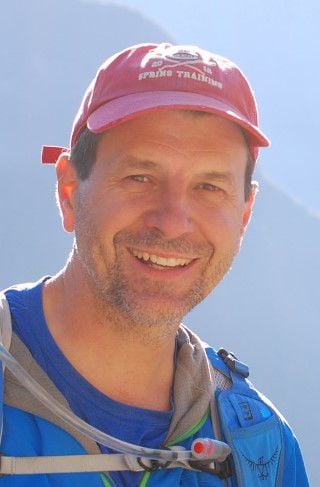 David Ladley Swanson, 53, of Durham, North Carolina, died on September 2, 2019. David was born to Lois and Bill Swanson in 1966. He attended high school at Justin Siena in Napa, California, and college at Brown University. He received his masters degree in International Public Policy from Duke University. David married Sally Rosenberg in 1992, and they had two children, Terra, now 26, and Hayden, 25. For the past 25 years, he worked as an investment advisor with his father.
David died of sudden cardiac death while hiking Roan Mountain. Hiking was one of David's passions – he hiked the Pacific Crest Trail and trails around the country and the world. But David had many more passions. He worked tirelessly to improve health care in developing countries, especially in Africa. He wrote prose and poetry and songs. He fought for racial and economic justice. He loved music deeply – both listening to it and performing it. He danced brilliantly. He surfed with gusto. He threw himself into friendships and had so many friends, new and old. He loved nature, from the farm he worked on outside of Durham to every wild place he could find.
Most of all, David had a passion for family. Everyone in his family – his parents, his brothers and sister, his nieces and nephews, and especially his wife Sally, his daughter Terra, and his son Hayden – knew that David loved them unconditionally. His joy in being with family was boundless and contagious and effortless. David was a model of how to be a loving spouse and nurturing parent, and his and Sally's home is a place of laughter and true affection.
David lived a life that was true to his deepest values. He worked hard to make the world a better place. He accepted everyone for who they were. He brought so much joy and life and love to those around him – to family and friends and strangers. His spirit and energy will live on in everyone who was lucky enough to know him.
David was preceded in death by his mother, Lois. He is survived by his father, Bill; his wife, Sally; his two children, Terra Camille and Hayden Ladley; his brothers, Ed and Jonathan; his sister, Kristen; and his many nieces and nephews. Should friends desire, memorial contributions can be made to the Equal Justice Initiative (www.eji.org) or the Sunrise Movement (sunrisemovement.org), two groups close to David's heart.
Obituaries Newsletter
Sign up to get the most recent local obituaries delievered to your inbox.