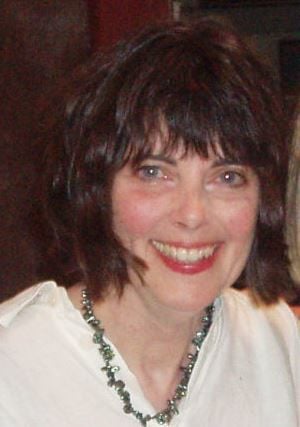 Deborah Caulfield-Foster passed away on the Fourth of July this year. Her husband of 30 years, Chuck, along with her sister and best friend, Leslie, were by her side.
Deborah was born in Boston and grew up in Sleepy Hollow, Marin County. She moved to Yountville in the early '70s, as the town was beginning its rejuvenation. She was a pillar of Yountville's rebirth.
Deborah's default position was kindness and caring. It came naturally to her. When she entered a room she looked across to people, never up or down at anyone. She was always accommodating but never a pushover. She was genuine and not surprisingly a role model for her peers and youngsters. She maintained long term friendships on both coasts. She also stayed close to her neighbors in the small coastal village of Fanore, Ireland where they have a cottage. Everyone loved Deborah.
Deborah studied fine art at Sacramento State. Her working carer centered around fashion and art. She first made her chops in a popular retail clothing chain and later opened a designer woman's fashion store in Yountville, named Cocoons. Cocoons drew a well heeled clientele with a taste for forward classic clothing. After some years she took positions at Neiman Marcus and Saks Fifth Avenue in San Francisco. She enjoyed helping her clients finding exactly the right things. At Saks and was number 1 or 2 in sales quarter after quarter and year after year. But Yountville was home and where her heart was. She returned after 15 years to be the Director at Images Fine Art until she retired from the conventional workforce.
She had a over-sized love of animals and art. Her love of horses began when she was very young in Sleepy Hollow. As an adult, living on a rural road on the outskirts of town seemed like a good place to have a horse. Her husband would learn that the thirst for equine companionship is insatiable. It started with two miniature donkeys (Tim & Larry). In the end that led to three giant American Quarter horses, some llamas and always pairs of dogs and cats. On the art side, she painted on canvas and small furniture which folks loved to buy. She very much enjoyed the wonderful local community of artists. It was also obvious how much she loved and enjoyed people. She treasured their friendship and hosted large holiday dinner parties in grand style.
She did all of that in spite of having Parkinson's Disease over the last 20+ years of her life. She never once complained. She took it all on and looked good doing it.
Deborah leaves behind her husband, Chuck Foster and her sister, Leslie (John) McGuigan. She will be forever remembered by her nephews: Brian (Cassie) McGuigan, Brendan McGuigan and her niece, Lauren McGuigan. She was preceded in death by her parents, Edward and Rosemary Caulfield of Napa and her brother Ted Caulfield.
Donations: Deborah was very big on modest monthly donations. One of her favorites was OperationSmile.org. Another favorite is Continuum Hospice https:/continuumhospice.com. Our family is so very grateful for these caring and talented people. Also thanks to everyone at Napa Valley Care Center. A private memorial will be held at the end of July.
Obituaries Newsletter
Sign up to get the most recent local obituaries delievered to your inbox.