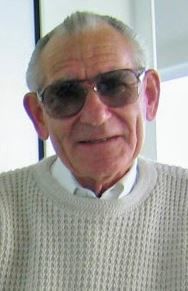 Donald "Papa" Rossi, surrounded by family, entered eternal life on Tuesday, January 7 at the age of 88. Don was born in El Cerrito, California. His spirit is carried on by his wife, three children, and four grandchildren. Donnie, Don, Dad, Daddy, and Papa were the names you might often hear called around the ranch. Papa loved his family. He also loved his home and his John Deere Green tractors and "putt putt," which he used as a shuttle for himself and his friends visiting the ranch. Don had a workshop that anyone would envy, that is until the 2014 earthquake hit and the entire family was summoned to help organize each nut and bolt into its respective container. He loved to tinker away at the barn and could repair or build everything and anything. In fact, as a teenager, Don, his brother, Leno, and their father built the family summer cabin in Russian River using only a hand saw, hammer, and level.
Don was an accomplished baseball player and served in the Navy during the Korean War. Upon completing his service, he entered the International Brotherhood of Electrical Workers where he celebrated 60 years of service, retiring as a highly skilled electrical foreman. He spent the last 15 years of his career at the UC Berkeley campus and was regarded as the best electrician and problem solver. He was a 4-H Youth organization leader, an active member of St. Apollinaris Catholic Church, a lifetime member of the Galileo Club in Richmond, and a 15-year member of the Breakfast Club.
Don's spirit is carried on by his loving wife, Bette Mae, of 64 years, his three children Gary Rossi, Sharon Ross, and Michael Rossi; and his four grandchildren Tasha, Cameron, Amanda and A.J. He was recently preceded in death by his older brother, Leno Rossi.
Don never missed a celebration of the family regardless of where it might be even though he dreaded travel by air. He often wore sweatshirts bearing some name of school or association for one of his children or grandchildren – his way of showing his love and pride of family. He was a man of few words, except to his family who knew at any point what he was thinking by the look on his face or by the words he used. Don was a hard worker and instilled his work ethic in his children. His passing leaves a void, and his spirit will forever be cherished.
A Rosary is scheduled for Monday, January 20, at 6:00 p.m. at St. Apollinaris Church. Mass will be celebrated at St. Apollinaris on Tuesday, January 21 at 11:00 a.m. with a military service and blessing of the gravesite at Tulocay Cemetery followed by a reception.
In lieu of flowers, a memorial garden will be created in memory of Don at the family ranch. Live shade plants are welcome or donations to the Veterans Home of California, Yountville, Independent Living Account – Volunteer Services, 105 California Drive, Yountville, CA 94599.
Obituaries Newsletter
Sign up to get the most recent local obituaries delivered to your inbox.