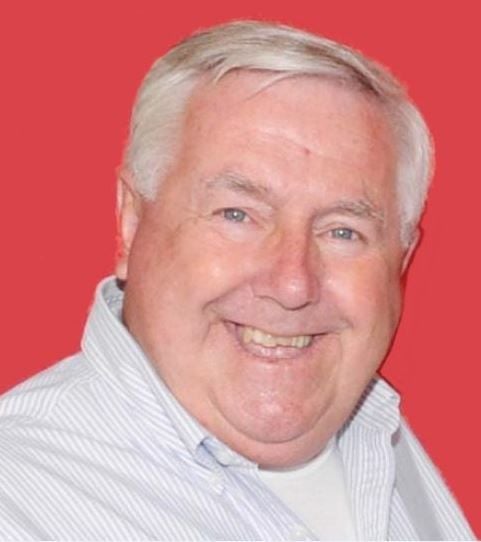 Don Evans, a much loved and admired member of the Napa community, passed away on July 3, 2019 at the age of 76. He passed away after battling prostate cancer, in the comfort of his home, surrounded by his loving family.
Born in Indianola, Iowa to Gloria and George Evans. Don's family moved to California in the mid-1940's and eventually settled in Napa when Don was in the fifth grade. Growing up in Napa, Don was in the first class to attend Ridgeview Junior High and then, when his family moved into the new Bel Aire subdivision, was in the inaugural Redwood Junior High School class. After graduating from Napa High School in 1961, Don earned his Associate Degree from Napa Valley Junior College. During his time at the JC, Don began driving buses for the Napa Valley Unified School District and a local charter company. After graduating, he attended Sacramento State University and began working at the San Juan Unified School District as a school bus driver, while still driving charter buses on the weekend. In 1966 Don moved back to Napa and married the love of his life, Mary.
Throughout his life Don always had a strong work ethic and zeal for his work; Don rarely held only one job. When growing up, he was the neighborhood paperboy while also mowing lawns and picking prunes. Once old enough, Don started working at a service station and helped his father in construction, grading homes for new subdivisions.
Don held numerous positions within the Napa Valley Unified School District, starting in Transportation as a school bus driver while attending the Napa JC; returning in 1966 as the Bus Driver Utility Person, working his way through all roles in the Transportation Department, including dispatcher, mechanic, driver trainer, and more. In 1970, with a fleet of over 55-buses, Don became the youngest school Transportation Supervisor in the State of California. In 1978, Don was promoted to the new role of Administrator of General Services which oversaw Transportation, Maintenance, Operations and Food Service. By 1983, due to declining enrollment, Don was involved in closing one-junior high and four-elementary schools. Don then took a 5-½ year break from the District to focus on his growing business, Evans Airport Service. In 1989, as District enrollment began to increase, Don was asked back to assist in reopening the shuttered schools. Don retired as the Director of School Planning and Construction in 2010, but was asked to remain with NVUSD as a consultant in that same role. Don retired fully in 2018, completing over 50-years of service to a District he cared for immensely.
Even during his early career with the schools, Don drove charter buses on the weekends. In 1975, with a newborn at home, the Napa City Manager asked him to make a bid to run a small shuttle business to transport Napa residents to and from the San Francisco International Airport. Don was the successful bidder to take this previously public service private, thus creating Evans Airport Service. It started with two 10-passenger vans and grew into a highly successful operation. In 1983, the business expanded into charters and tours with buses, limousines and town cars. It later served the Oakland International Airport and was open 364 days a year. Don was a generous man and was a key supporter of the Napa Valley Wine Auction providing transportation for the event. He owned and ran Evans Airport Service until 2003 when he sold it as he began to scale back his work life. Evans buses are still regularly seen traveling Highway 29 and throughout the Bay Area.
Earlier in his career at NVUSD, Don competed in school bus roadeos and earned many titles culminating as the State of California Champion with a perfect driving score and only one missed question on his written test. He helped create the first computer bus that travelled to Napa elementary schools and gave students their first experience with computers.
During his tenure with the school district as the facilities Director, Don was instrumental in retrofitting the District Auditorium, rebuilding Memorial Stadium, and the new construction of American Canyon Middle School, American Canyon High School and Canyon Oaks Elementary School. As the enrollment grew over the years, Don guided expansion of existing schools by adding over 250-relocatable classrooms, giving each school a multi-purpose room, converting Lincoln Elementary into New Tech High School, and recommissioning Ridgeview as the now Harvest Middle School. After the 2014 Napa earthquake, he worked diligently on the plans for Measure H which will fix or replace schools impacted by the earthquake – including renovation of existing classrooms and school facilities, as well as construction of new structures – this work remains underway. With hundreds of millions of dollars in new and improved schools, Don's fingerprints can be seen throughout all the district's schools, impacting generations of NVUSD students and the community.
Don leaves behind his loving wife of 53 years Mary Evans, his daughter Dana Fowers (Mark) and his grandson Dylan, all of Napa. He is also survived by his sister, Patricia Evans-Bechtold (Stephen) of Rocklin and his mother and father-in-law Jo and George Lavin of Napa, along with an extended family including nieces, nephews, cousins and his beloved kitties – Mitzy and Hopscotch.
A memorial service will be held at 2 p.m. on Saturday, July 27, 2019 at the Napa Valley Unified School District Auditorium, 2425 Jefferson Street.
The Evans Family would like to thank those that have helped during this time. A special thanks to his doctors, Collabria Hospice Care and especially to Lorie for her love and compassionate attention to Don and the family. Don will be truly missed by not only his immediate family, but by all those whom he had the opportunity to work with. Don would say he couldn't have had such a successful life without the support of his family, friends and the community. Thank you all for the love that you have for Don.
In lieu of flowers, the family requests memorial contributions to the Napa Valley Education Foundation, the Queen of the Valley Foundation or your local school.
Obituaries Newsletter
Sign up to get the most recent local obituaries delivered to your inbox.