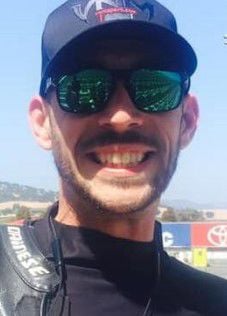 Eric Michael Jensen, a warm, loving, quick to laugh, son, brother and friend to many, died at the age of 39 on September 18, 2019 in Napa, Ca. Eric was born on August 16th, 1982 Bob and Debbie Jensen.
As a child, Eric was full of life, funny, quick to smile and giggle. At a young age, his artistic talent was recognized as he was entered into the Talented and Gifted program for art. It was there that his first Passion was developed. In addition, Eric was very athletic. He tried his hand at baseball, but it didn't move quite fast enough for him. Soccer seemed the perfect fit. Soccer is where he was able to expend his boundless energy through non-stop running. At the age of 10, his team was given the opportunity to go to Europe to play. For three weeks, they played teams in Germany, France, Switzerland and Austria. They played in the Olympic stadium in Germany and that is where he was able to score on a team that had never been scored on!
Eric never met a stranger. He had the ability to make everyone feel like the most special person in the room. The special trait enabled him to build a strong bond with another family-Kristy, Arron and Nick Brown. They became much more than just friends, but a bonus family which enabled him to move to Napa in 2000. This is when his passion for wine and motorcycles began. Like everything in his life, when Eric found a passion he wanted to know everything about it and the people involved in it. The more knowledge he gained, the more people he met, the more friendships he made. His first and foremost love was for his family, friends and Timber (Timmy).
He will be remembered for his Bright Smile, incredibly goofy laugh, his legendary hugs and the way he made you feel when you were in his presence. He will be forever in our hearts.
He is survived in death by his father Robert Jensen and wife Tami Jensen, mother Debbie Bain and husband Paul Bain, sister Heather Wozniak and husband Lance Wozniak , bonus family Mama B, Arron and Nick Brown an infinite number of friends and extended family. A celebration of life will be held Friday September 27th 2019 at Kennedy Park in Napa California from 11 a.m. to 2 p.m.
Obituaries Newsletter
Sign up to get the most recent local obituaries delivered to your inbox.