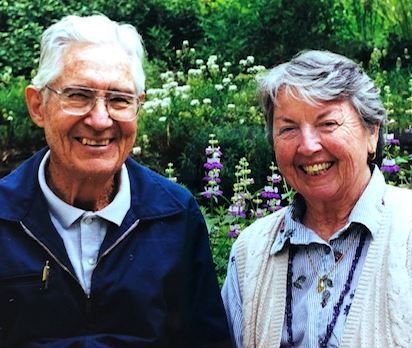 Dad passed away on Memorial Day, at home here in Napa, with his children. To the end his vitals were perfect but his cartilage was gone, too fragile to continue. In the morning he was alert and thanked his caregivers; by afternoon he fell deeply asleep after a long and quiet life. He felt lucky to marry Teresa in 1949, enjoying 65 years until she passed in Oct 2014. His three brothers all departed decades ago; now Fritz leaves behind four children, two grandsons and their families.
Fritz was born in Willard Ohio, a Baltimore & Ohio rail town named after "Uncle Dan" Willard, the Railroad president. Dad's early memories were packed with a wild 1927 mix of cheers for Lindbergh's stunning flight in May, followed by endless summer rains and woe. Storms from Idaho to Appalachia kept coming, pouring up to a foot per week into the Great Ohio-Mississippi Flood of 1927 .. still the worst natural disaster in US history.
The Mississippi ran up to 80 miles wide with no high ground in sight; every radio played Bessie Smith's lament "Back Water Blues". Millions straggled north; commerce died and the B&O sent its president Dan Willard right to tiny Willard OH. Dad recalled that flags were flying as Mr Willard announced the company would celebrate its 100th year 1827—1927, with gift passes for railroad families on any route west! But as rain fell, it was also Willard's job to say farewell to B&O railroaders as their jobs drowned in floods. MidAmerica's Great Depression had begun, two years before Wall Street fell.
When a distant aunt in California offered to take in Dad's family, they used those B&O passes to board a train, leaving behind a swampy mess. Two days later they were in Santa Monica, and six months after his ragged arrival, Fritz was invited to join a school-family for July at Echo Lake above Tahoe. Little Fritz was happy beyond any dream as he learned to swim, read maps and row at sunrise to fish for trout in a blue blue snowmelt lake. From that summer on through the years, Fritz felt lucky to live.
When an earthquake rattled Venice High, Fritz felt lucky to attend class in tents. When a dozen students transferred in from Hawaii, Dad made friends with a Japanese-Hawaiian family who helped him make a surfboard in wood shop. He felt lucky when their daughter taught him to count in Japanese, lucky to earn a bicycle with his paper route, and lucky to heft his surfboard to the beach and catch waves "like Duke.".
Pearl Harbor launched the Army draft, and Fritz felt lucky to pass the pilot test for the Army Air Corps. He never saw his friends Midori and Zumi again, but a few months after riding his bike to work at Douglas Aircraft, he was a fighter pilot in North Africa for General Patton's campaign vs Rommel. When Patton transferred to a British base, Fritz was assigned to General Jimmy Doolittle's new U.S. Air Force in Italy, flying the new P-47 fighter from the same airfield as Redtail pilots trained by Doolittle. He logged 115 missions to halt all supplies to Nazi armies in Italy, by destroying ships in Genoa and trains in the Alps. Doolittle's new strategy forced Nazi retreats from Sicily to Naples to Genoa to Marseilles and north of Lyon into the Alps. Fritz felt lucky to ship home from Marseilles, alive.
Dad was always cautious of those describing the war with excitement; he just felt lucky to do his job for good leaders. He admired Eisenhower's citizen-soldier rule requiring civilian handshakes, not salutes, when service time ends .. to let Life bloom.
We got to bloom in care of a fireman who was pleased to see us thrive in school, on sailboats and in National Parks all over the west. Fritz and Teresa retired from the fire department to enjoy a sailing life, until settling into Napa closer to family. Their grandchildren loved to join Grandpa Fritz at his workbench, and to sing with Grammy Teresa on bike rides to Model Bakery.
A family memorial will be held Fathers Day weekend, near the Veterans Home in Yountville. Covid19 rules are strict at the Veterans Cemetery so please join us in spirit, as quietly as Fritz would have liked.
Obituaries Newsletter
Sign up to get the most recent local obituaries delivered to your inbox.