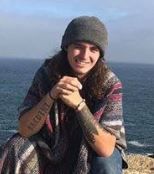 Giancarlo passed away Sunday, December 16, 2018
Addiction to opioids contributed to Giancarlo's death — though his beautiful qualities, those of love and respect of family, friends and for people from all walks of life, remained untouched to the very end.
Born to Amanda Poole Krueger and Daniel Luke Baldini in Napa Valley. Giancarlo was pure of spirit, honorable, kind and accepting. Giancarlo will be missed by family and friends who knew his observant nature, enjoyed his braided wit and insights delivered quietly, frankly and respective of tone. A loving, thoughtful son to his parents and a wonderful older brother to his brother Clyde, Giancarlo's shepherd-like quality for him was felt by others in his presence.
From a very young age Giancarlo's experiences with Nature's offerings led to his reverence and appreciation of the outdoors...becoming a second home of sorts, whether it was hunting in the Oregon back country, hiking along the Pacific, exploring with friends and loved ones, amongst the power and elements of nature Giancarlo, found comfort and tranquility.
Frequently, conversations of the days' sights and sounds revealed his true spirit and innate goodness outlasting the hikes we enjoyed together—punctuated with passion and humor of the animals two legged and four, of the trees and lichen, of the water in waves or trickling springs he thrived in the ceaseless theater of the outdoors. Giancarlo's other interests included ancient cultures, surfing and snowboarding…Captivating His attention, his girlfriend Luciana.
Recently employed by the County of Marin, Department of Public Works, Giancarlo was planning for a future with Luciana in Petaluma. Giancarlo's aspirations included providing a pathway for education to low-income groups promoting, growing and incorporating healthier alternatives into their diet.
Giancarlo is survived by his father Daniel Baldini of Ashland, OR, his mother Amanda Poole Krueger, stepfather Brian Krueger, his brother Clyde; Grandparents Steven & Kelley Viscia of Napa, CA; Bruce Poole of Sebastopol, CA; Joanna Baldini of Yountville, CA; and dozens of aunts, uncles and cousins.
A Memorial Service will be held on Monday, January 7, 2019 commencing at 11:00 AM with a reception to follow at 12 noon at Tulocay Cemetery, 411 Coombsville Rd, Napa CA 94559. We request attendees honor Giancarlo's struggle by refraining from alcohol at the reception and service.
Obituaries Newsletter
Sign up to get the most recent local obituaries delivered to your inbox.