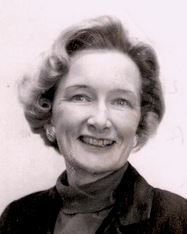 Greta Irene Ericson was a renaissance woman, an entrepreneur, a politician, a writer, a caring community activist, and a generous volunteer and also a wife, mother, grandmother and great-grandmother.
She was born in 1922 to Swedish immigrants who settled in Congers, New York, and built a a locally famous Swedish restaurant. She married her high school sweetheart, Richard (Dick) Ericson, in 1941 then, while he was flying troop carriers, she boarded a bus for Mobile, Al., to work drawing blueprints for battleships. After the war and college, Dick and Greta settled in Sonoma in 1955 and the Napa Valley in 1963. In St. Helena, she opened Wine Country Clothes.
A creative writer, Greta often wrote scripts for Follies du Val, the Soroptimist's Club and the Kiwanis Capades. She was active in the PTA, the Chamber and served on the Grand Jury, County Board of Education and the Metropolitan Transportation Commission (MTC). The MTC awards the Greta Ericson Distinguished Service Award annually to a deserving employee.
In 1976 she ran for St. Helena City Council and was voted its first woman mayor. As Mayor, she was proud of acquiring the land for Woodbridge senior housing, and also the library. She saved the Elm Tunnel when the state proposed cutting it down and the Soroptimist Club's Greta Ericson Achievement Award is annually awarded to a high school student for leadership in politics. She initiated Rianda House and led its first Board of Directors. In 2000, she was named 'Citizen of the Year' by the St. Helena Chamber.
Greta and Dick had four children, Sandra (Ed Breed), Rick (Jeanne), Steve (Marla) and Lee (Marji) Ericson and seven grandchildren, Michael, Rick, Craig, Carl and Kristina Ericson, Bethany Shaffer and Stephanie Halverson. They also adopted three sisters, Maria Tatman, Charmaine Koehler, and Cindy Kewell.
The family is grateful to Juana Gutierrez and Lupe Delgadillo for her care at home and to all those who treated her so kindly at Napa Valley Care Center.
As we mourn her, may we all model ourselves on her courage, joy for life and perseverance. Since the day she arrived in St. Helena, she had an enduring love of the Napa Valley and worked to keep it special for all. We will miss her always.
Obituaries Newsletter
Sign up to get the most recent local obituaries delivered to your inbox.