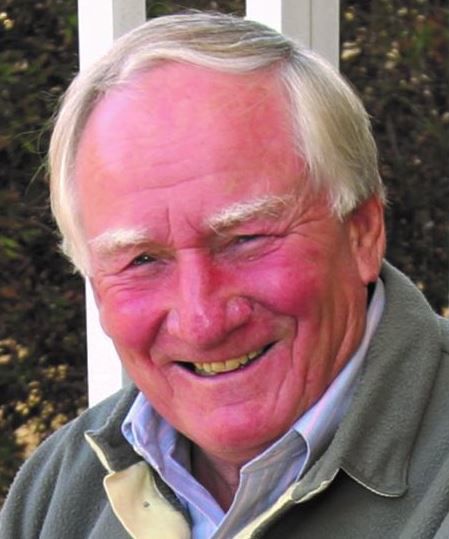 On March 4, 2020, Herbert Salinger packed his bags for his final big trip. Born May 26, 1926 in San Francisco, Herb's father died from a car accident when he was 12 years old, leaving his mother and three brothers in the peak of the depression. Graduating from Lowell High School at age 16, he was too young to enlist so to help the war effort, he signed up as a Merchant Seaman in the Merchant Marines.
He spent the next two years on a Liberty Ship, supplying the troops and war efforts in the South Pacific. When the war ended he enrolled into UC Berkeley (Go Bears!), majoring in Forestry. He went onto the University of Idaho, obtaining a degree in Wild Life Management, in the meantime, marrying his sweetheart, Marjorie Smith, whom he had met in class at Cal. After obtaining his masters, he was hoping to get on with California Fish and Game. Having blown the whistle on a big wig with the Fish and Game for poaching a great horned owl, he found himself blackballed from employment (sound familiar!).
A quick pivot and Herb and Marge headed to Chico where he obtained a teaching credential. His first teaching job was at Napa High School in 1952, teaching science. He quickly rose through the educational ranks as Dean of Students and later principal at Ridgeview Jr. H.S. in Napa.
During this time Anna was born in 1952, followed by Jon in 1954 and Tary in 1957. A leave of absence in 1962 to work in Washington DC as the Director of President Kennedy's Committee on Youth Employment, under Aurther Goldberg, was followed up with a promotion to Assistant and then Deputy Superintendent of the Napa Valley Unified School District. In 1966, he was named Superintendent of the Las Virgenes Unified School District in southern California.
The draw of the Napa Valley was too strong and he brought the family back to the Valley in 1969, building a house in St. Helena and commuting to UC Berkeley, where he headed up the Career Planning and Placement Center and taught doctoral courses in Education. In 1977 he was named Director of CSBA (California School Boards Association) and in 1985 he became the Director of AASPA (American Association of School Personnel Administrators), both in Sacramento. In 1982, her and Marge divorced but remained friends until her death in 2004.
He had his own executive search firm, helping school districts hire high end administrators and eased into retirement supervising educational candidates working on their administrative credentials. He did this for both Sacramento State and then Sonoma State after he moved to Calistoga in the mid 1990's. Herb retired to Calistoga in the mid 1990's, quickly diving into his passion of supporting children before they enter kindergarten. He coined the phrase "negative one", emphasizing that we begin supporting our children at conception. Herb was on the board of Hearts and Hands Pre School, the Napa County Board of First Five, and an active member of the Calistoga Rotary and Soroptomists clubs.
In 1999, he approached Diana Patrick in the Calistoga Roastery, asking to borrow her Sunday Chronicle. Never one to miss an opportunity, she told him he' d have to come over to her place to pick it up after she had read it. This sparked a 21 year romance full of travel, fun, food and friends and actively supporting the Calistoga Community. The Trinity Alps area was an annual trip for Herb and the family, with Herb first going there as a young boy. To know Herb is to know he also loved to write free verse poetry. He wrote thousands over the years, usually on the back of a bar napkin, a plane boarding pass or any scrap of paper he could find when moved by the moment to write. Here is one that seems so fitting:
swimming upstream to spawn
It is better to float down the
Trailing your fingers in the water
Herb spent his final two years under the loving care of Irais Lopez and the staff at the Cedars in Calistoga. Collabria Hospice was a perfect complement his final days.
Herb is survived by his three children Anna (partner, Bob), Jon (MaryAnn), Tary (Janie), his brother, George of San Carlos and stepsons, Tom and Andy from a second marriage. He was predeceased by his brothers Pierre and Rudin and son-in-law, Bill. He's survived by his loving grandchildren, Abbee (Joe), Emily (Noah), Justin (Danielle), Mollie (Greg), Patton (Malinka), Erik (Deva), Chris, Jenn, Jennifer and Josh (Gina); his partner in crime and companion of 21 years, Diana, as well as numerous great grandchildren, nephews and nieces.
A celebration of Herb's life has been put off until the Coronavirus has run its course. In lieu of flowers, donations can be made on behalf of Herb to the Hearts and Hands Pre School, 1504 Myrtle Street, Calistoga, CA 94515.
Obituaries Newsletter
Sign up to get the most recent local obituaries delievered to your inbox.