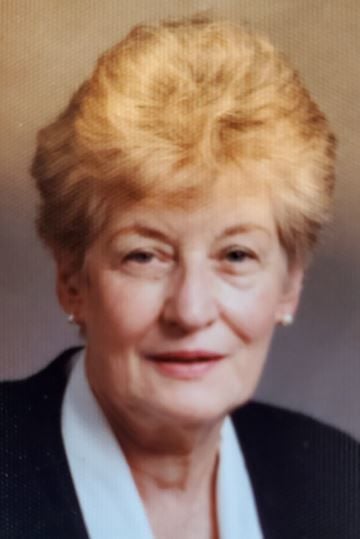 Irene Ann Lach, age 98, of Napa, CA, passed away on March 17, 2020, after a short battle with pancreatic cancer. Irene was born January 28, 1922 in Scranton, PA to George and Ella Kraynick. She was preceded in death by her husband, Paul Peter Lach, in 1967 after 20 years of marriage. Irene is survived by her sister, Eleanor Kraynick of Scranton, her daughter Larraine Ewing of Napa, her son Paul (Debra) Lach of Oakland, NJ, and 4 grandchildren: David (Samantha) Ewing, Santa Clarita, CA., Paul (Sharae) Ewing, Aliso Viejo, CA., Jennifer (Vincent Stout) Lach, Collingswood, NJ, and Kathryn Lach, Piscataway, NJ.
After graduating from Technical High School and Lackawanna Business College in Scranton in 1940, she started her career as a secretary in a legal office. In 1942, after war had broken out,
Irene went to work for the Department of Justice, Immigration and Naturalization Service in Wilkes Barre where she worked until 1947.
Irene and Paul married in 1946 after Paul's discharge from the army. Irene then worked for the International Salt Company until 1949 when Larraine and then Paul were born. In 1967, her husband Paul died suddenly and Irene returned to work. In 1967, she became the secretary for the principal at Blakely High School in Peckville, PA. In 1969, several of the local school districts consolidated and she became the executive secretary for the superintendent of schools, Valley View School District, where she worked for 25 years until she retired at the age of 70.
Volunteer work was always a huge part of Irene's life Not only was she a volunteer, she also held office in most of the organizations including being President and chairman of major events.
After rejoining the workforce, she became an active member of the Business and Professional Women's Club (BPW) of Peckville. She volunteered with Friends of the Library for the Interboro Library, Peckville and helped with sorting books and their book sales. Then she became very active with the Red Cross where she helped with the weekly blood drives every week in the greater Scranton area.
In the 1990s she became a volunteer at the Lackawanna County Long Term Care Center, a skilled nursing facility in Peckville. She helped there once or twice a week with activities for the residents such as arts and crafts and bingo. She was one of the staff to accompany residents to the local Walmart and push them around the store in their wheelchairs so they could do their shopping.
In 2011, at the age of 89, she moved to Napa to live with her daughter, Larraine. Continuing her dedication to volunteer work, she became a volunteer at The Napa Senior Center. She was a member of St. Appolinaris Catholic Church and the Women's Guild. She joined Napa Friends of the Library and was a volunteer with the quarterly book sales, where she was affectionately known as "the bag lady" helping on set-up day to organize all the bags that had been donated by local stores so they were neat and easy to access during the sale. She enjoyed playing Mah Jongg with groups at the church and the senior center. She was also a member and volunteer with the Napa Valley Orchid Society.
Over the years, she won numerous awards. In PA, these included:
1991-1992 – Woman of the Year Award from the Peckville Business and Professional Women's Club; 1996- Volunteer and Woman of the Year; 2003 – Woman of the Year from the Lackawanna County Health Care Center; 2010 – Veteran's Award – Legion of Honor for volunteer help
In California, in 2016, she received the California Parks and Recreation Services Community Service Award that covered Napa, Sonoma, and Marin Counties for her work at the Napa Senior Center.
Irene will be greatly missed by her family, friends and fellow volunteers who loved and admired her.
Irene will be buried next to her late husband, Paul, at Holy Ghost Cemetery in Blakely, PA. A private memorial and celebration of life will be held for her in Napa and Scranton at a future date.
Obituaries Newsletter
Sign up to get the most recent local obituaries delievered to your inbox.