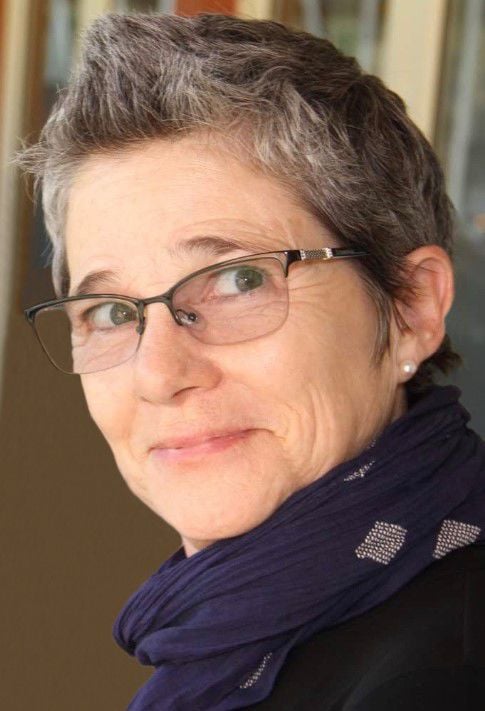 Jane Whitaker Mead was born on August 13, 1958, in Baltimore, Maryland, and died on September 8, 2019, at her home in Napa, California.
A poet of national distinction, Mead was educated at Vassar College, Syracuse University, and the Iowa Writers Workshop. She was the author of five books of poetry and a chapbook, all of which were given new issue in To the Wren: Collected and New Poems 1991-2019, published in August by Alice James Books.
Much of Mead's poetry was informed by her devotion to the land, a bond deepened in 2003 when, following the death of her father, she left her position as tenured Poet in Residence at Wake Forest University to oversee the management of her family's vineyard, Mead Ranch, in Napa. A recent review of To the Wren in Publishers Weekly noted "The natural world, in its bounty and brutality, is a grounding force for Mead, a reminder of a time scale beyond the human span."
Mead's fifth book, World of Made and Unmade, an account of her mother's dying, was long-listed for the National Book Award and a finalist for the L.A. Times Book Award and the Griffin Poetry Prize, about which the judge's citation stated "Her language serves loss as a bell serves its chime….These resonant poems discover what it means to live, die, and come home again."
Mead was the recipient of grants from the Lannan Foundation, a Whiting Writers' Award, and a Guggenheim Foundation Fellowship. Her poems appeared in The New York Times, The Washington Post, American Poetry Review, Boston Review, Poetry, New England Review, Colorado Review, Virginia Quarterly, Ploughshares, Iowa Review, and The Best American Poetry, among other publications and anthologies.
A beloved teacher, her tenure at Wake Forest University was complemented by teaching positions throughout her career at Colby College, Southwest Texas State University, Washington University, New England College, Drew University, and the University of Iowa.
An ardent advocate for the writing and reading life, Mead was co-owner, with poet Jan Weissmiller, of Prairie Lights, an independent bookstore in Iowa City, where she was a longtime resident, dividing her time between the Midwest and California, where working alongside her dedicated vineyard manager Ramon Rodriguez and his wife Silvia Rodriguez, she nurtured the vitality of Mead Ranch, producing zinfandel and cabernet grapes that supplied noted northern California wineries.
A committed conservationist and proponent of eco-justice and social justice, Mead championed issues as varied as water rights and the rights of immigrant workers. She sat on the board of her family's foundation, the Giles W. and Elise Mead Foundation, dedicated to preserving and improving the environment, the advancement of medical science, and other social and humanitarian issues.
Mead's respect and regard for animals was legendary. "The history of man is the history of animals: / door to the spirit world…" she wrote in her long poem "The World Per Se." Over the decades, she cared tenderly and diligently for the animals whose home she shared; her dogs Alice, Toby, Emma, and Leo played especially key roles in her life and her poems.
Equally legendary was her generosity of spirit that touched the human lives around her, from family to friends, employees, and others. Caring deeply for the happiness and well-being of those whom she loved, she often gave of herself through time, material support, or a gentle imparting of wisdom and humor that left indelible lessons in quiet, but influential, ways.
Mead was preceded in death by her father Giles W. Mead, Jr., a former Harvard professor of ichthyology and past director of the Los Angeles Museum of Natural History, and her mother Nancy Whitaker Mead Mahoney, who owned a prosperous pecan farm in southern New Mexico.
She is survived by her siblings Parry Mead Murray (William), Giles "Whit" Mead (Laura), Richie Mead (Tamara), and Gale Mead; nieces and nephews Shane and Aspen Ahmad, Alexandra Mead Rothing (Matthew), Mitchell Mead, Russell and Kevin Mead, and Peter Murray; and grandnieces and nephew Quinn and Audriella Ahmad and Lila Jane Rothing; as well as her ranch family the Rodriguezes and their children Israel, Jessica, and Eric. Along with family, she is mourned by a world's worth of committed and profoundly saddened friends.
Mead's death marked the conclusion of a relentless and unwavering response to cancer, against which she held out hope to the end, testament to the words she wrote in the final stanzas of her poem "The Origin," from her third book The Usable Field:
Twice I have walked through this life—
for facts: fairy-shrimp in the vernal pool—
glassy-winged sharpshooter
on the failing vines. Count me—
among the animals, their small
the living. My greatest desire—
to exist in a physical world.
Memorial services are being planned for Napa (springtime at Mead Ranch), Woods Hole (Cape Cod), Iowa City, and New York City.
The family recommends any organizations of choice that match Jane's range of concerns as potential recipients for those who might wish to make a donation in her memory.
Obituaries Newsletter
Sign up to get the most recent local obituaries delivered to your inbox.