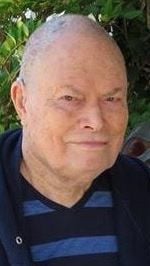 John Wight Jackson, age 94, died peacefully on Monday, July 13, 2020 at home in Napa, CA. He and his twin brother Ed were born in Seattle, WA on May 5, 1926 to Ada (Wight)and Morel Jackson. John grew up in Portland, Oregon living in residential hotels and rooming houses.
When John was eight years old, his mother died. During the summers of 1936 through 1939, John and Ed lived and worked at Tannock Farm on Dixie Mountain. When John was fifteen, his father died. John and Ed were taken in by Uncle Leon Jackson (Ellen)and their family, daughter Janice and son Lee, also of Portland.
John graduated from Washington High School in Portland in June 1944, and was drafted into the Army Air Corps a month later, working in the radio and radar shop at Irumagawa Air Base in Japan until he was honorably discharged as a sergeant in July 1946.
John attended Oregon State College and then the University of Oregon where he graduated in 1950 majoring in Far Eastern Studies. After working briefly in San Francisco, he re-enrolled at the University of Oregon, intending to teach in high school. But a surplus of history teachers and a shortage of librarians guided John into library classes. He earned a teaching credential and a MS in General Studies. Later, he earned his second MS in Library Science from San Jose State University. His love for reading began early during trips to the library with his mother, the "Big Little" books from his father, the "Tom Swift" books and pulp Westerns.
John's first job in education was as a librarian and history teacher at Reedsport High School in Oregon in 1954. After three years, he applied to the Department of Defense to work at a school in Europe, was initially offered a job in Morocco, but was ultimately placed in Japan. His first job was teaching 8th grade English at Green Park School outside of Tokyo. Next, he worked as the school librarian and teacher at Itazuke near Fukuoka. In 1957, he returned to Green Park School, where he lived in the Washington Heights DOD housing complex. There he met Alice Baumgardner. When it became clear that base schools would be phasing out, John decided to travel through Asia and Europe. Before he left, he asked Alice to marry him. He did not learn that she had accepted until after exploring Hong Kong, Bangkok, Singapore, Ceylon, India and Egypt. When John arrived in Tripoli, Libya to visit Ed, the first thing Ed did was to hand him a telegram from Alice accepting his proposal of marriage. Because Alice had signed a contract for one more school year in Japan, John used the time and the rest of his savings to explore Europe.
Upon returning to California, John married Alice in Berkeley on July 5, 1960, and accepted a job as a school librarian for the San Lorenzo School District. They resided in Hayward and had three children, Judy, Eric, and David. The Jackson family moved to Napa in 1967, where John and Alice have lived for the past fifty-three years.
John began work as a librarian at Solano Community College in 1967. He became Head Librarian, working there until his retirement twenty-two years later.
John enjoyed retirement by taking classes at Napa Valley College, playing tennis, appreciating the local plants and birds, and reading a lot of books. He enjoyed attending the Old Goats Club every week at the Napa Senior Center. He and Alice spent many summers traveling the world including Europe, Africa, and Asia, where their favorite stop was always Tokyo, the home of many friends.
John leaves behind his wife of sixty years, Alice Jackson; his daughter, Judy (Jim Christman, grandchildren Andrew and Grace); his two sons, Eric (Nikki, grandchildren Ethan and Zara); and David (Cheryl). His twin brother Ed predeceased him in April 2010. A private family celebration will be held in honor of John's life.
Most times, John had a book in hand, so in John's memory, pick up a book to read.
John's family would like to acknowledge the following caregivers who provided a lot of support and love. Thank you to Art Reyes, Juanita Overton, and his hospice family including his nurse Justine Hall, and Darryl Hayden. Thank you for making his final days comfortable.
Donations to hospice would be greatly appreciated. Their support was invaluable. Checks may be written to Kaiser Foundation Hospitals and sent to this address: Kaiser Vallejo Hospice, 1761 Broadway Street, Suite 101, Vallejo, California 94589 or call 510-987-4000 for more information.
Obituaries Newsletter
Sign up to get the most recent local obituaries delivered to your inbox.