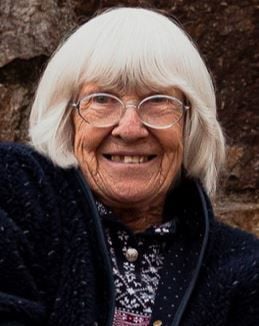 Jony McQuiddy passed on October 26, at the age of 88. She wrote her own obituary earlier this year:
She was born on June 12, 1931 as Joan Marie Lambrecht Corwin, at the Philadelphia (Pennsylvania) Lying-In Hospital, to James Henry Horton Elston Corwin and Else Anna Jacobi.
She was a child of the land, extremely proud to be the daughter and only child of a self-taught engineer/inventor whose Sunny Orchard Apple Farm near Princeton, New Jersey reflected his long farming ancestry. The first American Corwin family arrived at the Plymouth colony in 1633, and for three centuries continued to farm on Long Island and Middletown, New York.
On her maternal side, Jony's grandparents immigrated from Germany, adding an artistic background; her great-grandfather was part of early photography as the court photographer to the last Turkish sultan, and her grandfather was the last Persian rug designer in New York City.
Her early childhood in Florida was followed by many moves on the East Coast as her father designed farm machinery and then plastic items for several companies. Jony attended eight schools in twelve years, then worked her way through three years of college in Boston and Miami, Ohio, planning to become an architect.
You have free articles remaining.
Instead, an early marriage produced seven children in ten years. During their upbringing in six states (Ohio, Massachusetts, Rhode Island, Virginia, Pennsylvania, and Texas), she also worked at various part-time jobs in administration, retailing, research, and writing, all while pursuing her love of designing, remodeling, and landscaping homes.
Her personal desire to live in California was finally in sight after a 1968 trip to Napa Valley. The purchase of land on the Silverado Trail in 1975 achieved her life-long dream, and over twenty-five years, Deer Trail Farm, with its barn and homestead, was home to a walnut orchard, fruit trees, vegetable gardens with Forni-Brown Gardens, and always various dogs and cats.
Jony (a childhood nickname spelling carried on through adulthood) also worked at Folie a Deux Winery in its early years, the Heritage School, the Wine Lab and as caretaker for the Admiral's House. For two years, she wrote her "Straight from My Hearth" column for the St. Helena Star.
She was part of the initial Land Trust Fundraising Committee, the Lodi Farm Center (and "Ladies Dept."), Rianda House, and the Federated Women of Napa Valley.
In 2000, she bought and completely updated a small cottage in St. Helena, now and then still writing while becoming an urban farmer, spending her final years in her beloved garden with companions Ol' Blue and Willi. A good and full life.
She is survived by her seven children: Michael McQuiddy (Trudy), Robin McQuiddy, Erin Selby (Bob), Lainey Johns (Doug), Stephen McQuiddy (Debby Coulthard), Susan McQuiddy (Cameron Batchelder), Andrew McQuiddy. Grandchildren: Joshua Addison (Ingrid), Jessica Addison (Marco Brownstein), Cory McQuiddy (Lori), Jill Powell (Thomas), Marc Selby (Meghan), Alexander Hall, Brian Johns (Megan), Kevin Johns (Mariah), Daniel Johns, Grace Franklin (Darian), Alison Batchelder. Great-grandchildren: Izabelle Addison, Gabriel Addison, Sean Addison, Tristan Ayscue, Reece Powell, Brooklyn Powell, Cedar McQuiddy.
Those were her words. The family adds: Jony made many friends during her nearly 40 years in St. Helena, and there are too many names to list them all here. Her final days were made more comfortable by her kind and caring neighbors, and the various local organizations dedicated to end of life care. In lieu of flowers, please send donations to Collabria Care Hospice, St. Helena Fire Department, or the MILO Foundation. And be sure to shop often at Sunshine Market! A private celebration of life will be held at a later date. Interment will be at St. Helena Cemetery.