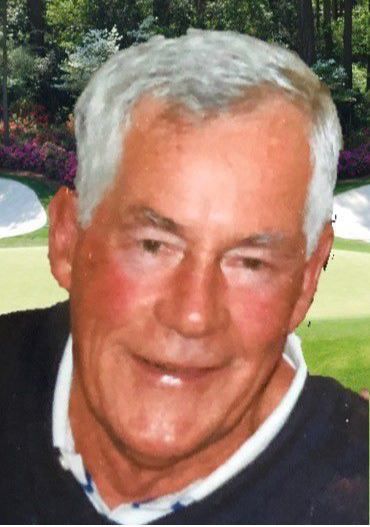 Joseph (Joe) Charles Jaeger, 84, of Lafayette, CA, died peacefully Thursday, January 30, 2020, surrounded by his loving family.
Joe is survived by his wife of 62 years, Pabby Jaeger; his three children, Mike Jaeger and his wife Anne of Alamo, CA; Doug Jaeger of Calistoga, CA; Julie Hollerbach and her husband Paul of Orinda, CA; his brother Marshall Jaeger and his wife Billie of Napa, CA and eight grandchildren, one great grandchild, his beloved dog Woody, and many close friends and relatives.
Joe was born on August 2, 1935, in Napa, CA, to Joseph and Marshalla Jaeger. While attending Napa High School, Joe was a three-sport athlete in football, basketball and baseball, and was voted into the school's athletic Hall of Fame in 2000. However, his most important high school accomplishment was meeting his future wife Pabby Brink. Joe was awarded an athletic scholarship to attend the University of California at Berkeley, where he was an active member of the Zeta Psi fraternity, a pitcher for the baseball team that won the 1957 College World Series, and graduated with a degree in Business Administration. After his active duty in the Air Force, Joe and Pabby settled in Berkeley, CA where they made many good friends that they still have to this day. In 1968 they moved to Lafayette, CA where they have lived ever since.
You have free articles remaining.
Joe had a very successful career in accounting and finance, beginning his career at the CPA firm Haskins and Sells, and eventually becoming the Chief Financial Officer at C&H Sugar and then Delta Dental. He retired at the age of 63, and then became involved in several board positions and charity organizations.
Joe had a passion for golf, Cal sports, and attending events with and for his children and grandchildren. Joe served as a President of the Lafayette Moraga Youth Association (LMYA) and was always the head coach of one of his children's teams, whether it was baseball, basketball, softball, or even soccer that he was completely unfamiliar with. His love for sports has been successfully passed down to all of them. Thankfully his barbecuing shortcomings and love for deeply charred chicken have not been passed down.
As an avid golfer, Joe played at least twice a week at the Contra Costa Country club where he was a member for 40 years and also made many wonderful friends.
A few of his best memories include the birth of his children and grandchildren, the monthly Bridge club, Cal vs Stanford "The Play" game, family get together's in Palm Desert, attending The Masters at the Augusta National Golf Club, and celebrating his and Pabby's 60th wedding anniversary in Carmel, CA with his entire family.
All who loved him dearly will never forget his integrity, humility, loyalty, generosity and undying love and care for them. A private burial will be held February 13 at the Oakmont Memorial Park & Mortuary in Lafayette, California. Friends and family are invited to his 'Celebration of Life' that will be held on Saturday, March 7th from 2pm to 5pm at the Stadium Club, 4th floor at the Cal Memorial Football Stadium in Berkeley, CA. Please contact a family member for further details. In lieu of flowers, donations are encouraged to the John Muir Health Fund or the Bruns House/East Bay Hospice in Alamo, CA where Joe spent the last few days of his wonderful life.