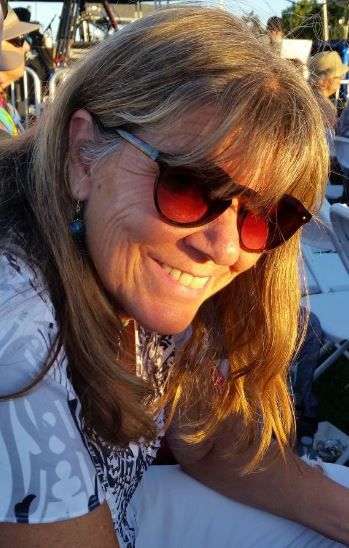 Joy Kathleen Atchley Wood
Joy Kathleen Atchley Wood had to leave us New Years Day 2020...
How does one detail and explain the life of a truly remarkable woman with tremendous spirit, curiosity, zest and wicked since of humor?
Look back, remember and know:
- I see her on her pony. She is a cowboy with her fringed vest, gloves,, cap guns hitched on her belt and high-tailing it down to the bottom barn. Hair is flying, eyes sparkle with glee
- I see Joy's competitive spirit at the 4-H livestock fairs with her sheep and goats. She was going to win!
- I see her corralling in her brothers and a gaggle of neighbored kids to create rodeos with our cows and pigs, or 4-H Share-in-the-Fun plays, or just making sure their school work was done and personally exhibiting how life was fun and rewarding.
- I see a star softball and basketball team captain and valedictorian to her high school class.
- I see Joy studying and working hard getting her Agricultural Economic degree at UC Davis.
- I see how Joy loved her K's and J's siblings - brothers: Kim, Kip, Kal and Ken - sisters Jan, Jil and Jen. She enjoyed debating "what was reality" with dad Frank and being there for support and understanding with mom, Flora.
- I see Joy finding the love of her life and marrying Rick Wood within six months of meeting him. They created a life that truly complimented each other - travel, work, animals, car shows, fishing, camping and creating an inviting warm home... She always knew how rich her life was with his love and companionship.
- I see Joy of with her "ladies" - drinking, laughing, telling stories and giving each other shit and support. They had total understanding and each other's backs no matter what!
But, all this does not detail her sometime biting humor about life and often-crazy family. Her often-deceptive stoic facial expressions could surprise you and her vast knowledge of football (go Dolphins), advertising jingles, muscle cars, Labradors, song lyrics or ability to analyze and create something from nothing. If you needed a solid, go-to friend, someone to bounce off ideas, explore, dream, play, drink, fish, decorate a phenomenal Halloween pumpkin Joy was where to go... Joy loved her dogs - her babies and thoroughly enjoyed her years teaching, volunteering, and showing with Napa Dog Training. She rarely got mad and when life did not go the way she wanted or health issues that held her back for she was bound and determined to not let anything get her down. Her optimism, curiosity and strength were unbelievable and she lived fully!
She was a rare, eternal bring. All our lives are less without her!!
A celebration of Joy's life will be held at 10 a.m. January 9, in the Tulocay Chapel with reception to follow in the Tulocay Reception Center. Memories and words of sympathy may be shared with the family at TulocayCemetery.org.
Joy loved all outside natural life, but she would wish in lieu of flowers a "Gift in Remembrance" to Collabria Care Hospice (www.collabriacare.org) or Queen of the Valley Cancer Center (www.queensfoundation.org)
Obituaries Newsletter
Sign up to get the most recent local obituaries delivered to your inbox.