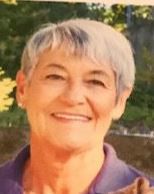 Judith Gillan Kannon, born in Waukegan, Illinois, passed away peacefully overnight on December 4th, 2019 at the age of 74 in Green Valley, California. Judi lived nearly her entire life in the Bay Area and had a deep love for San Francisco, all of its surrounding areas, and all that Northern California has to offer.
She attended Pleasant Hill High School and graduated from Fresno State University as an Art Major. Judi met her husband, Barry Kannon, in 7th grade and she was a loving wife for 53-years. She was the first child for her parents, Jack & Mary Fran Gillan, and loved her three younger brothers; John, Scot, and Steve Gillan. She was cherished by her mother & father in law, Walton & Florence Kannon. Judi's vocation was being a wonderful mother to her two sons, Brady & Tyler Kannon, and an incredible grandmother to her grandchildren, McKenzie, Jack, and Will.
You have free articles remaining.
Mrs. Kannon was known for her class, her dress, her honesty, creativity, determination, her smile, zest, innocence, her giving, teaching, cooking, and her unequivocal positive outlook on all things. She put her artistic heart into every facet of her life and was an artist to the core. Life to her was a dance, a painting, a well written piece, an amazing note played, a picturesque vista, a symphony of love, exploration, interpretation, and introspection to be taught, followed, and emulated locally and to be passed along globally. Judi spent years hiking the Sierra Nevadas, the Colorado Rockies, fly fished everywhere from California to Oregon to Montana, from Mexico to Croatia and to New Zealand and Australia. She was a coach and a referee for a local soccer league she helped found, took her first grandchild to Europe, danced to bluegrass music in Telluride, Colorado, went to fraternity parties with her sons, taught college courses in art, and woke up in the middle of the night to congratulate her soon to be in laws on their engagement. She loved baseball. Her favorite player was Willie Mays, who had a smile as big as hers.
Her artwork is and has been displayed in homes, restaurants, and museums throughout the world—because she touched people positively everywhere she went.
Judi Kannon asked her loved ones not to hold any funeral or memorial services but rather to throw a party as a celebration of her life, at which family and friends are to eat, drink, be merry, and dance to her playlist of music she drafted before leaving on a trip for her 50th wedding anniversary—a playlist that included such artists as John Lennon, Eric Clapton, Simon & Garfunkel, Janis Joplin, Ludwig van Beethoven, John Denver, Pyotr Ilyich Tchaikovsky, Led Zeppelin, Acker Bilk, Johann Sebastian Bach, Ray Charles, Etta James, and Creedence Clearwater Revival.
Judi spent her final months, as per her wishes, with those most close to her; Barry Kannon, Tyler Kannon, Brady Kannon, Traci Kannon, Jack Kannon, McKenzie Kannon, Will Wyman-Kannon, Ashlie Miller, Max & Raleigh Miller, Betty Jo Dubois, Evan Dubois, Lauren & Alex Yeates, Beckett & Elsie Yeates, Steve & Lynne Gillan, Georgia & Phoebe Gillan, John & Cindy Gillan, Sean & Jen Gillan, Kevin Gillan, Molly & Josh Colletta, Scot & Meagan Gillan, Grady Gillan, Cooper & Jen Gillan, Greg & Kelly Johnston, Lucas & Anna Gillan, Scott & Tara Sporrer, River & Georgia Sporrer, Joe Ebner, Allan & Gigi Melikian, Don & Chris Negus, Don & Kathy Garcia, Bob & Sally Sporrer, Tyler Sporrer, Rob & Marite Sporrer. Like Judi, her friends and family, stand thankful, humble, positive, and proud. She was a dreamer and a doer, a cerebral yet uncomplicated, uniquely special, ray of vibrant light. Men, women, and children alike, who crossed Judi's path, are forever grateful to have harvested her joy and experienced her person. She left the world a better place and it is not lacking with her absence but rather improved with the spread that she left in her wake.
In lieu of flowers and such, Judi would like for any expressions of gratitude be donated to LAPS of Napa http://www.lovinganimalsprovidingsmiles.org/ where she spent seven years training therapy animals for people in need.
Obituaries Newsletter
Sign up to get the most recent local obituaries delievered to your inbox.