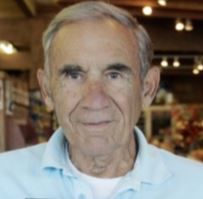 Ready to grow young again, Lawrence Joseph Giovannoni passed away on May 6th, 2020.
Born in Napa California in 1926, Lawrence was the third oldest of five children of Augustine Giovannoni, who emigrated from Lucca, Italy and Josephine Lanaro of Napa.
Starting with Augustine's horse-drawn ice cream cart in the early 1920's, Lawrence and his family began their life long journey of faith and fortitude determined to build something beyond the hardships that framed their generation.
Armed with the undeniable spirits that are the rewards of a passionate heart and a relentless work ethic forged early in their childhood, Lawrence and his family began selling milk, bread and veggies from their home garden door-to-door. The family had built a small grocery store on the first floor of their home on Oak and Brown St. within a stone's throw of the Napa River, called South Market Grocery. "The family didn't have much," Lawrence would say. "When they first opened the store all we sold was bread and milk. That's all we could afford, but we had a huge garden. We ate a lot of soup in those days." With the family living upstairs, the quintessential family market was born. Outgrowing the old home store, they moved the family home and built Giovannoni's Market upon where it once stood. An iconic market in the early formative years of Napa's growth, Lawrence, the self taught butcher, and his brother Ernest would spend the next 20 years working seven days a week, consistently logging double-digit hourly shifts. The market they built together would eventually feed multiple generations including quietly feeding untold hungry along the way. It was an endearing service they modeled from witnessing the same acts of compassion from their parents.
In 1957 Lawrence joined his brother Albert in opening the Napa Valley Marina. Starting with dirt, a dream and incredibly capable guardian Angels, the brothers turned 40 acres of nothing into Napa's one and only full-service Marina. Stories emerge to this day of the adventures of such an undertaking. This endeavor was one that required the Italian engineering of several close friends, as all tractors, dredgers, berths and buildings were self-constructed. It was a defining achievement of vision, work and sheer will.
Twenty years after the opening of Giovannoni's Market, Lawrence followed the familiar successful pattern that influenced his youth and opened Browns Valley Market on the same farm property in which he and his wife Diane built the home they would raise their eight children. Lawrence transformed the farm portion of the property and Napa's west side neighborhood market had arrived. The market lead by Lawrence's nearly unmatched work ethic, intuition and authentic Italian charm was a hit. All eight of his children have worked within the market over the course of its 40 year existence--learning and growing beside their Father, the local legend. Ten years later Lawrence completed Browns Valley Center on the remainder of the family property. This time the house stayed put and is currently the home to Hop Creek Pub.
Ever restless, Lawrence reveled in the challenge of a project. As his brother Albert once said, "You can't stop him from working. He's always looking for something to do or who to help; he never stops." Lawrence built, launched, assisted and guided multiple projects including a really, really long rock wall. He was abundantly generous. He had a great feel for creating and detecting opportunity. He found truth in humility and used that virtue as his moral compass.
Lawrence and his brothers Albert and Ernest shared an incredible bond of brotherhood during the course of their lifetimes. They had an authentic commitment to each other and to those of us blessed to stand in their company. Ernest once told us Lawrence was worth his weight in gold. All three brothers met that gold standard. All three are elemental to our identity as a family.
Lawrence was also well equipped to have fun when he allowed himself the time. He excelled in both hunting and fishing. Born with the gifts of a natural, he could quickly pick up most sports and numerous activities with uncanny ease. His lifelong, mostly Italian, friends were a cherished group. Their story of growing up together when Napa was young and wild were the type of life changing moments you always wished you might live. It was high character group of men that were deeply loved. Like every Father and Grandfather, Lawrence's favorite time was spent with his family. Glory days were spent in the outdoors and the other small moments that make up a life. He gave us who loved him more memories than our hearts could hold. Like all Italians, he also enjoyed a good party.
It was in music; however, where Lawrence soared. It was the outlet in which he allowed himself to partly indulge. Holding his own on drums and piano, it was singing Italian Opera that really made him grin. Training both locally and in San Francisco, Lawrence became a local favorite singing about town for his growing fan base. Practicing at home and in the aisles of the market before closing, "Ave Maria", "Panis Angelicus", and "Ole Sole Mio" rang true. The butcher turned grocer turned tenor was a Napa Valley original. We can still hear him.
The sweetest song Lawrence would sing was when he met Diane Morecraft. Crashing her senior sneak day he was taken by Diane's evident beauty but it was the purity of her soul that captured his heart. They married shortly thereafter and started a family. Raising eight children Diane quickly adapted Lawrence's motto of "work hard then work some more" as Diane navigated the home front. She is a Mother of great love, abundant faith, gentleness and grace. They were married for over 60 years. Lawrence loved her with all the gentle passion in his soul. It was a priceless gift they gave their children.
Lawrence was easy to love. His authentic call to this life drew us in. It drew everybody around him in. You couldn't help yourself. All he had to do was look at you and you saw it, you felt it. His humility allowed us to see beyond the cracks and flaws into the pure reflection of God's love. He did the work, like he always does, and made it easy for us to see the possibilities of an authentic human being fully alive in ourselves.
When you think about it, he spent the vast majority of his life working but there was more to it than just that. St. Paul writes, "Christ gives us the grace to grow in virtue according to our specific vocations with humility, gentleness and patience". That was him. He lived his Catholic faith and he seamlessly devoted his vocation of prayer in the work that he performed all his life. So whether Lawrence loved, married, raised, fed, helped, sang or bagged your groceries, you were part of his life-long prayer.
What a beautiful man... We love him unendingly.
Lawrence is survived by his wife Diane; children, Jerry, Lori, Gina, Michael, Thomas, Christine, Daniel, and Steven; sisters, Genevieve and Louise. He is also survived by 22 grandchildren and 17 great grandchildren. He was preceded in death by his parents Augustine and Josephine Giovannoni; brothers Albert and Ernest Giovannoni.
Obituaries Newsletter
Sign up to get the most recent local obituaries delivered to your inbox.