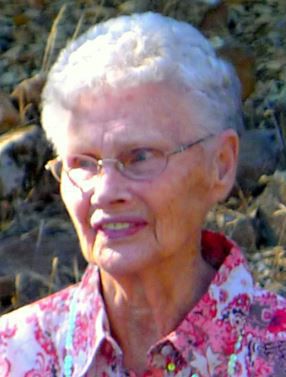 Marie Louise Mueller, age 93, passed away peacefully on July 11, 2019 in Corvallis, Oregon. A native of Napa, California she was born on August 13, 1925 to loving parents Mary and Herbert Borchers. She had two sisters and a brother; Dorothy (Borchers) Flanagan, Marge (Borchers) Miller and Herbert Borchers.
Marie had an early love of music, and was an accomplished pianist/organist. A highlight of her early musical career was at the age of seven, when she won first place in the City of San Francisco Annual Music Week piano competition. Four years later, at the age of eleven, she again won the same piano competition. At age 13 she started teaching piano lessons to other neighborhood kids, beginning her lifelong passion as a music teacher. Marie would continue as a piano teacher for 75 years, until retiring in 2012 at the age of 87.
Marie attended local schools and graduated from Napa High in 1943. She met her husband Robert Mueller, from Milwaukee, Wisconsin, at a church social in 1945. Marie and 'Bob' were married in St. John's Lutheran Church on April 27, 1946.
Marie's hobbies include playing the piano and organ, sewing, knitting and crocheting. Marie and Bob enjoyed many years of socializing with their friends in the "Sewing Club". She spent many years with her children, grandchildren and other family members and friends, enjoying waterskiing at Lake Berryessa. She taught many of them to ski as children, helping them get up for their first exhilarating ride.
In 1907, her grandfather John Henry Vienop was one of the original founders of St. John's Lutheran Church, Napa. Marie had a long association with St. John's Lutheran Church, and the church community was the heart of her life. She served her church as organist for over 65 years. In addition, she was a long time accompanist for weddings and memorial services.
Marie is survived by her loving husband of 73 years Robert Mueller Sr. of Corvallis, Oregon, her sister Marge Miller of Napa, California, her three children Robert (Sybil) Mueller of Santa Barbara, California, James (Deborah) Mueller of Santa Cruz, CA, and Michael (Deanna) Mueller of Corvallis Oregon, as well as grandchildren, great grandchildren, numerous nieces/nephews, and longtime family friend Peggy Meister. She is preceded in death by her dear sister Dorothy Flanagan and brother Herb Borchers. Marie will be greatly missed by all those she left behind.
Private interment will be at Tulocay Cemetery, Napa. Friends and family are invited to a memorial service Saturday, September 14, 2019, 11:00 am at St. John's Lutheran Church, Napa, followed by a reception.
In lieu of flowers, the family requests donations be made to St. John's Lutheran Church, Napa for the care of her beloved pipe organ.
Obituaries Newsletter
Sign up to get the most recent local obituaries delivered to your inbox.