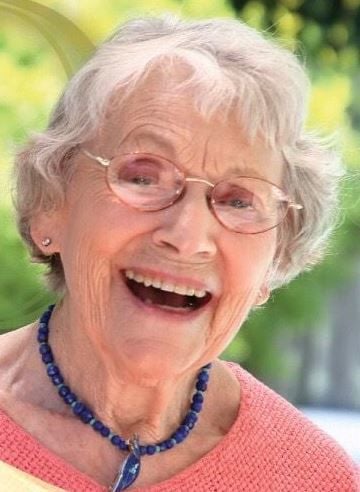 Marjorie "Midge" Burns of Saint Helena passed peacefully from this world on July 1, 2019, at age 101.
Born Marjorie Eileen Fox on June 26, 1918, in Cleveland, Ohio, she was one of three children of Raymond and Mary Fox. At that time, WWI was six months away from ending, Model Ts had crank starters, movies were silent and zippers were a newfangled invention. In her early life, Midge witnessed not only Prohibition and the suffrage movement but also the first radio news broadcast, the advent of television and the first trans-Pacific airline flight.
She married Henry ("Hank") Lee Burns on June 27, 1941, in Ohio. With war looming and eventually breaking out a few months later, the couple was unable to travel. While Hank worked, Midge attended the Cleveland School of Art, where she pursued her passion for painting. In 1946, shortly after the end of WWII, the couple moved to Oregon, where they made their home for many years. Hank sold his Oregon business, Retec, in the late 1970s, and the couple moved to Saint Helena.
During the decades following her husband's untimely death in 1984, Midge remained a vibrant and active member of the community, renowned as a watercolorist and participating in organizations such as PEO, Federated Women of Upper Napa Valley, Art Association Napa Valley, Upper Napa Valley Republican Women and the Presbyterian Church on Spring Street. Among her artistic contributions is a rendering she created in 1993 for Frank-Rombauer Larkmead Cellars, which still graces bottles of Frank Family wines today.
Painting well into her 90s, Midge's watercolors were shown at Rianda House in 2014. Midge loved entertaining and had a regular group of friends who came over every afternoon in the summer for a swim party with wine, cocktails and hors d'oeuvres. Her biggest passion, however, was being "Gramma" to her two grandsons, Kingsley and Austin.
"My mother's life was full and blessed. To have witnessed not only 18 U.S. presidents but also the advent of space travel and the incredible advances in technology simply is amazing," said her son Gordon Burns.
Midge is survived by her son Gordon and his wife, Marjorie; her son, Donald Burns of Portland, Ore., and her two grandchildren, Kingsley Burns and Austin Burns.
Donations may be made in her memory to the PEO Chapter PJ Midge Burns Art Scholarship. The PEO Sisterhood, founded in 1869, is an international philanthropic and educational organization promoting increased educational opportunities for women.
Obituaries Newsletter
Sign up to get the most recent local obituaries delievered to your inbox.